Film and Plot Synopsis
In Toy Story 4, Woody, Buzz Lightyear and the rest of the gang embark on a road trip with Bonnie and a new toy named Forky. Their journey turns into an unexpected reunion when Woody reunites with his long-lost friend, Bo Peep. As Woody and Bo discuss the old days, they realize that they're two worlds apart when it comes to what they want from life as a toy.
Buy the Film
Toy Story 4 (Feature) [Blu-ray]
16 new from $7.42
23 used from $3.98

as of September 28, 2023 7:52 am
*As an Amazon Associate we earn from qualifying purchases.
Add the film to your collection today!
'Toy Story 4' Movie Summary
The summary below contains spoilers.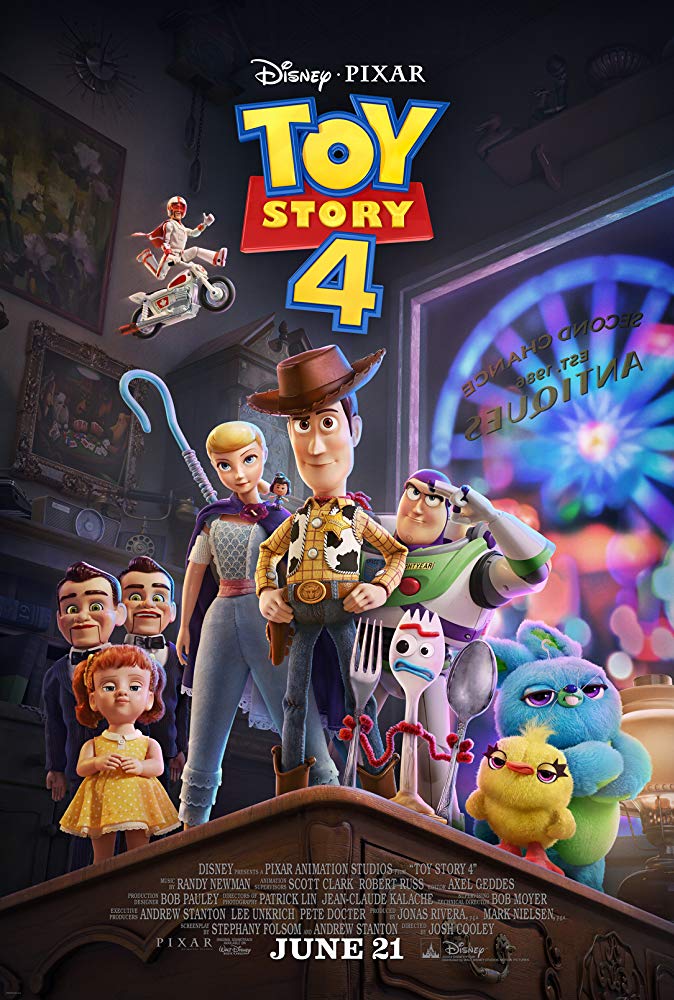 Toy Story 4
follows the events of Toy Story 2, Bo Peep (
Annie Potts
) and Woody (
Tom Hanks
) attempt to rescue Andy's remote-controlled car, RC, from a rainstorm. Just as they finish the rescue mission, Andy's mother gives Bo and her sheep away. Woody considers going with her, but decides to remain with his kid, Andy.
Years later, Andy has given all his toys to Bonnie (Madeleine McGraw) before he heads off to college. Woody is having difficulty adapting to a new world order where he is no longer the child's favorite as he was with Andy. On Bonnie's first day of kindergarten, Woody worries over her and sneaks into her backpack. After a classmate takes all of Bonnie's art supplies, Woody slyly provides her with some new materials, including some items out of the trash. With the supplies, Bonnie creates "Forky" (Tony Hale), a spork with googly eyes and pipe cleaner arms.
A new friend
To Woody's surprise, Forky comes to life in Bonnie's backpack with Woody. Thinking he is garbage, not a toy, Forky attempts to throw himself away in the trash. Understanding how important Forky is to Bonnie, Woody takes it upon himself to protect Forky, even from himself.
When Bonnie's family goes on a road trip, Forky jumps out of the RV window and without thought, Woody jumps out after him. As the lost pair of toys begin their trek to catch up to the family's RV, Woody explains to Forky how important he is to Bonnie. Understanding his new purpose, Forky gives up on his quest for the trash and decides to return to his kid.
Near the RV park where Bonnie's family is staying, Woody spots Bo Peep's lamp in an antique store window and goes inside the store to find her. Once inside, he and Forky meet a talking doll named Gabby Gabby (Christina Hendricks). Gabby wants to acquire Woody's voice box to replace her broken one. During their attempt to escape the clutches of Gabby's ventriloquist doll henchmen, they capture Forky while Woody escapes.
Reunited and it feels so good
In a nearby playground, Woody, Bo Peep, her sheep, Billy, Goat, and Gruff reunite. Bo now lives as a lost toy, one that is not dedicated to any one child. Bo agrees to help her friend save Forky and get the two back to Bonnie, even though Bo wants Woody to stay with her.
Meanwhile back at the RV park, Buzz Lightyear (Tim Allen) searches for Woody but becomes lost at a fairground and accidentally becomes a carnival game prize. He escapes the peg board with plush toys Ducky (Keegan-Michael Key) and Bunny (Jordan Peele), and they meet up with Woody and Bo. Joined by the pocket toy cop Giggle McDimples (Ally Maki) and her stuntman toy boyfriend Duke Caboom (Keanu Reeves), the toys return to the antique store to rescue Forky from Gabby. Gabby, the henchmen, and the store owner's cat thwarts the group, and they make their retreat.
After their failed attempt, Bo and the other toys argue over whether to go back and try again. Woody tells the toys that saving Forky is his remaining purpose and tells Bo that being loyal is something a lost toy couldn't understand. Going it alone, Woody returns to the antique store and encounters Gabby again. Gabby expresses her longing for a child's love, something that Woody can relate to. Woody makes a deal with Gabby, he will give her his voice box in exchange for Forky's freedom.
Woody gets his voice back
Once they install Woody's voice box, he watches Gabby's ideal owner, Harmony, reject her. Sympathetic, Woody comforts Gabby and invites her to become one of Bonnie's toys. Bo returns to the antique shop with the other toys to help. She and Woody reconcile after their prior argument. The group heads for the carnival, while Forky fetches Buzz and Bonnie's other toys. Buzz and the toys in the RV try to create interference to prevent Bonnie and her parents from leaving the area before Woody returns.
While in route to the RV, Woody, Gabby and the other toys encounter a crying girl who has become separated from her parents at the carnival. The child's cries moves Gabby, and she decides to become the little girl's toy. The discovery of the new toy causes the girl to approach a security guard who then helps the little girl find her parents.
Woody and the other toys climb to the top of the carousel so that they can get onto the roof of the nearby RV. Woody and Bo share a second bittersweet goodbye, but this time, Woody is hesitant to leave. After Buzz tells Woody that Bonnie will be okay without him, Woody decides to stay with Bo instead of jumping on the RV and returning to Bonnie. Woody passes his sheriff badge over to Jessie (Joan Cusack) and says farewell to his friends. Buzz, Forky, Jessie, and the other toys head off in the RV with Bonnie and her family.
A sunshine ending
The film ends with Woody and Bo beginning a new life together with Ducky, Bunny, Giggle, and Duke, dedicating their existence to finding new owners for lost toys. A year later, on her first day of first grade, Bonnie creates a second impromptu toy out of a plastic knife, who suffers the same problem as Forky did. Forky immediately falls in love with the new toy.
Toy Story 4 was nominated for 2 Academy Awards in 2020 for Best Animated Feature Film and Best Achievement in Music Written for Motion Pictures (Original Song) for Randy Newman's song "I Can't Let You Throw Yourself Away".
Add the film to your collection today!
Additional Film Information
Rate the Film!
Walt Disney Studios Motion Pictures released Toy Story 4 on June 21, 2019. Josh Cooley directed the film starring Tom Hanks, Tim Allen, and Annie Potts.