Film and Plot Synopsis
When Inspector Clouseau turns up missing—while on a case to find the newly stolen the Pink Panther diamond—a television reporter sets out to find out what happened. In the process, she comes up against some strange behavior from Chief Inspector Dreyfus, Clouseau's duplicitous ex-wife, and the Mafia!
Buy the Film
Trail of the Pink Panther
26 new from $3.24
25 used from $2.10
Free shipping
as of December 2, 2023 3:47 pm
*As an Amazon Associate we earn from qualifying purchases.
'Trail of the Pink Panther' Movie Summary
The summary below contains spoilers.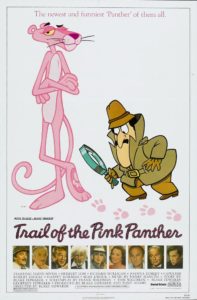 Once again, a mysterious thief has stolen the famous Pink Panther diamond in Lugash, and once again, the President of Lugash (Harold Kasket) requests France send their best detective to find it—Chief Inspector Jacques Clouseau (Peter Sellers). Once again, Chief Inspector Dreyfus (Herbert Lom) protests the assignment as he teeters on insanity.
In Paris, François (André Maranne) drives Clouseau to the airport so he can take a flight to London to first interrogate Sir Charles Litton even though Sir Charles lives in the South of France. On the drive there, Clouseau manages to blow his car up when he sticks a screwdriver in its pop-out lighter. Thinking the explosion is an assassination attempt, he disguises himself as a man with a broken leg and facial bandages. Once in London, Scotland Yard detectives easily spot him at Heathrow because Clouseau's disguise isn't fooling anyone.
Later that night, Scotland Yard calls Dreyfus to tell him that they believe terrorists will attempt to assassinate Clouseau if he goes to Lugash… which is great news for Dreyfus. He calls Clouseau at his hotel, but can not give him the message because the maid (Claire Davenport) keeps knocking him out the window when she barges into his room. Eventually the hotel's clerk (Harold Berens) gives him Dreyfus' message to GO TO Lugash. On the flight over, Clouseau's plane disappears over the ocean.
Back in Paris, word about the disappearance of France's greatest detective spreads quickly. Television reporter, Marie Jouvet (Joanna Lumley), decides to cover the story, and she begins interviewing those who knew Clouseau best. She first interviews Chief Inspector Dreyfus who can not come to tell the world what an idiot Clouseau really was. She has a nice sit down with Clouseau's old underling, Hercule Lajoy (Graham Stark) on his boat where he's retired. Cato Fong (Burt Kwouk) reminisces about his old boss before Jouvet interviews Sir Charles Litton (David Niven) and his wife Lady Simone (Capucine)—who is also Clouseau's ex-wife.
Jouvet gets a tip from Cato that Clouseau's dad, Monsieur Clouseau (Richard Mulligan), is still alive in the South of France where he owns a winery. Dad is as nutty as his son, but he tells Jouvet about Clouseau's childhood, his first love in college, and his inept time in the French Resistance. Monsieur Clouseau believes his son is still alive.
A lot of people do not appreciate Jouvet digging into Clouseau's disappearance—one of whom is Mafia don, Bruno Langlois (Robert Loggia). Even though he thinks Jouvet has a nice ass, he threatens her life if she continues snooping around. She gets angry and leaves before heading to Chief Inspector Dreyfus' office to demand he arrest Langlois. Dreyfus refuses to do so because it's her word against his.
Jouvet concludes the film with a television report, hoping that Clouseau might be alive somewhere. As she speaks, we see a man wearing Clouseau's signature trench coat looking out to the ocean on a seaside cliff. A seagull flies over him and poops on the sleeve of the coat. The man replies, "Swine seagull!" in the voice of Chief Inspector Clouseau.
Queue the clips of Peter Sellers playing Clouseau over the years as the end credits roll for a bitter-sweet ending.
Rate the Film!
MGM/UA Entertainment Company released Trail of the Pink Panther on December 17, 1982. Blake Edwards directed the film starring Peter Sellers, David Niven, and Herbert Lom.