Summaries
Tyler Perry's A Madea Christmas (2013)
A Madea Christmas (original title)
Film and Plot Synopsis
Madea gets coaxed into helping a friend pay her daughter a surprise visit in the country for Christmas, but the biggest surprise is what they'll find when they arrive. As the small, rural town prepares for its annual Christmas Carnival, new secrets are revealed and old relationships are tested while Madea dishes her own brand of Christmas Spirit to all. 
Buy the Film
Tyler Perry's A Madea Christmas [Blu-ray + Digital HD]
8 new from $5.95
21 used from $2.71
Free shipping
as of May 20, 2023 1:11 am
*As an Amazon Associate we earn from qualifying purchases.
'Tyler Perry's A Madea Christmas' Movie Summary
The summary below contains spoilers.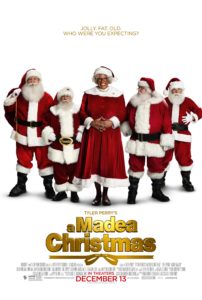 The film begins in Atlanta, Georgia where the reluctant Mabel "Madea" Simmons (
Tyler Perry
) has been talked into finally getting a job at a local store by her great-niece Eileen Murphy (
Anna Maria Horsford
). However, Eileen's efforts are quickly outdone when Madea gets fired from the job on her first day.
Meanwhile, Eileen's daughter, Lacey Williams (Tika Sumpter) is a teacher at a small school in nearby Alabama. Lacey lives with her husband, Conner (Eric Lively), who is white, something that Eileen does not know. Lacey's school does not have enough money to fund their annual Christmas Jubilee. Lacey takes it upon herself to ask her ex-boyfriend Oliver (JR Lemon) to provide the funds for the Jubilee from his business. As a result, Lacey calls her mother and tells her that she won't be coming home for Christmas. However, Eileen is determined to see her daughter for the holiday and brings Oliver and Madea with her to Alabama. Eileen secretly hopes that Oliver and Lacey will rekindle their relationship and is unaware of the marriage to Connor. Eileen does not wish for her daughter to be married to a white man based on her own prejudices.
Once they are in Alabama, Lacey takes Oliver to a town meeting to discuss the Jubilee and asks the unpredictable Madea to watch over her class. Madea tells the class a rather unorthodox version of the story of the first Christmas. One of the girls in the class steals Madea's purse while she is talking. Once Madea discovers the theft, Madea loses her temper and ties the girl to a cross decoration in the classroom.
Meanwhile, Connor's parents, Buddy (Larry the Cable Guy) and Kim (Kathy Najimy), arrive at Connor and Lacey's house to spend the holidays with them. The younger couple tell Buddy and Kim to keep their marriage a secret as to not upset Eileen. Eileen gets into conflict with Kim when she cuts down Kim's father's memory tree, not understanding the sentimental value of the tree. Eileen shows no remorse for her actions which escalates the tension in the house. Eileen harbors a belief that Buddy and Kim are members of the Ku Klux Klan after she sees Buddy with a sheet over his head, and she barricades the door to the room that she and Madea share. She does not realize that Buddy was merely engaging in foreplay with Kim.
Sometime later, Lacey discovers that the sponsors of the Jubilee are forcing the school to make the Jubilee a holiday themed event as opposed to a Christmas themed event. She also discovers that the sponsors are responsible for many of the town's citizens losing their jobs. Once these facts are revealed, Tanner (Chad Michael Murray), a man who is in constant conflict with Conner, demands the town's major fire Lacey. The major does, which further elevates the conflict in the Williams' home. At the house, Eileen and Kim continue to argue which causes Lacey to reveal to everyone that she is married to Connor. Eileen is devastated and reveals that her husband left her for a white woman, which is the source of her prejudice against white people. Lacey is upset with her mother because Eileen had always told her that her father was killed by a white man. Eileen storms out of the house and begins walking back into town, vainly trying to get a taxi to pick her up.
Back at the house, Lacey tells Conner that Tanner caused her to lose her job, causing Conner to be angry at Tanner. At the same time, Eileen comes across a car accident and finds Tanner in his overturned, burning truck. Eileen pulls Tanner from the truck and saves his life. Conner comes upon the accident himself and upon seeing Tanner, punches him. Conner tells Eileen to get into his truck. The grateful Tanner follows Conner and apologizes for everything and thanks Eileen for saving his life. Eileen also finds it within herself to accept Connor and Lacey's marriage.
At the Christmas Jubilee, the rehired Lacey thanks the sponsors for their contributions to the celebration and announces their "promises" to help the town recover, which the sponsors never agreed to. Lacey is aware that the sponsors will follow through with her promises due to the repercussions the company would face if they were to back out. Lacey also reveals to Oliver that she is married to Conner and that she loves her husband.
Additional Film Information
Rate the Film!
Lionsgate released Tyler Perry's A Madea Christmas on December 13, 2013. Tyler Perry directed the film starring Tyler Perry, Chad Michael Murray, and Tika Sumpter.