Summaries
Wall Street (1987)
Movie review coming on 8/7/2023
Film and Plot Synopsis
When a young hotshot—willing to do anything to succeed—sells out to an amoral investor, it plunges him into the world of high-stakes corporate espionage. He soon finds out that overnight wealth comes at a price he can't pay.
Buy the Film
Wall Street [Blu-ray]
2 used from $18.89
Free shipping
as of December 7, 2023 7:42 am
*As an Amazon Associate we earn from qualifying purchases.
'Wall Street' Movie Summary
The summary below contains spoilers.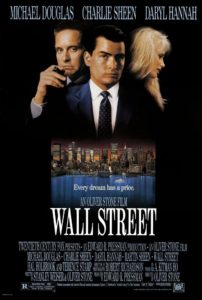 Wall Street is the story of an innocent stockbroker who takes a shortcut to the world of riches and insider trading, only to find out too late the price is too high and there's no turning back.
Buddy is a first-year stockbroker working the phones hard to sell dog crap stocks to dog crap clients while he waits for his ship to come in with the elephants of Wall Street. Buddy has been badgering one of Wall Street's biggest movers and shakers, one Gordon Gekko. After two months of daily calls, Gekko grants Buddy a quick interview to see if he has what it takes.
Innocently, Buddy tries the cold sell and gets nowhere, until he mentions an insider tip about his working-class father's airline that may be worth more than he knows. Gekko tells him to buy a few thousand shares to see if Buddy is telling the truth. The next day, the airline comes through and Buddy makes a killing for Gekko.
Gekko rewards him with a million dollar account and lots of perks, including high class escorts and penthouse apartments on Fifth Avenue, BUT he has to sell out to get it, meaning insider trading, which Buddy knows is illegal. Buddy gives in and starts trailing one of Gekko's rivals, Sir Larry, who is buying up a steel refinery but doesn't want Gekko getting in the way.
Buddy gives the inside info to Gekko who drives the price up on Sir Larry, creating a mortal enemy, while making Gekko and Buddy rich, and unknowingly opens a Securities and Exchange Commission investigation behind the scenes at the same time. Buddy is introduced to a high-class designer that wastes movie celluloid as Buddy is given power of attorney over Gekko's trader accounts and climbs faster and faster to the top while moving money into and out of his college friends' broker accounts, making everyone rich at the expense of insider trading.
Buddy comes up with an idea to take his honest father's airline public and make a ton of money for Gekko, his father, and himself with Buddy as president of the airline. Using Buddy's influence, they get the airline unions on board but Buddy's father sees through Gekko's lies and won't go along with it, embarrassing Buddy. The next day, Buddy visits his college friend's law firm and realizes Gekko breaks his promise and is planning on breaking up the airline and throwing everyone out of their jobs, including Buddy and his dad.
When Buddy confronts Gekko, Gekko lies his way out but Buddy has had enough. Buddy hatches a plan to save the airline with the unions and his dad's support by bringing in Sir Larry to destroy Gekko. The next day's trading, Buddy gives Gekko vague information but since Buddy has power of attorney over stock sales, Sir Larry's plan is working perfectly while Gekko starts losing money. As Gekko goes down in flames, enraging him and losing his grip on the airline as Sir Larry takes control, Buddy gets his revenge by saving the airline and everyone's jobs but loses Gekko.
The next morning, as Buddy arrives at work to celebrate the deal, the SEC shows up at Buddy's office and arrests him in front of all his friends. Buddy gets out of jail long enough to meet with Gekko in Central Park, where Gekko assaults Buddy after telling him he made him a king with multiple insider trading plans. As Buddy walks away, he goes to a nearby restaurant where he hands the SEC a tape recorder with Gekko's confession. Later, Buddy arrives at the courthouse with his parents who are sad he's going to jail and lost his broker's license, but are proud he did the right thing.
The End.
Rate the Film!
20th Century Fox released Wall Street on December 11, 1987. Oliver Stone directed the film starring Charlie Sheen, Michael Douglas, and Tamara Tunie.