Film and Plot Synopsis
Wayne Campbell and Garth Algar host the somewhat successful public access television show, Wayne's World. They are approached by a sleazy television producer who buys their show so that he can promote a series of video arcade stores. At the same time, Wayne falls in love with the singer and bassist for the band Crucial Taunt, Cassandra. However, Wayne finds that he is competing with the same producer for Cassandra's affections. When Wayne is fired from his own show and loses Cassandra, will he find a way to get it all back?
Buy the Film
Wayne's World
10 new from $12.26
6 used from $11.44
Free shipping
as of June 1, 2023 12:59 am
*As an Amazon Associate we earn from qualifying purchases.
'Wayne's World' Movie Summary
The summary below contains spoilers.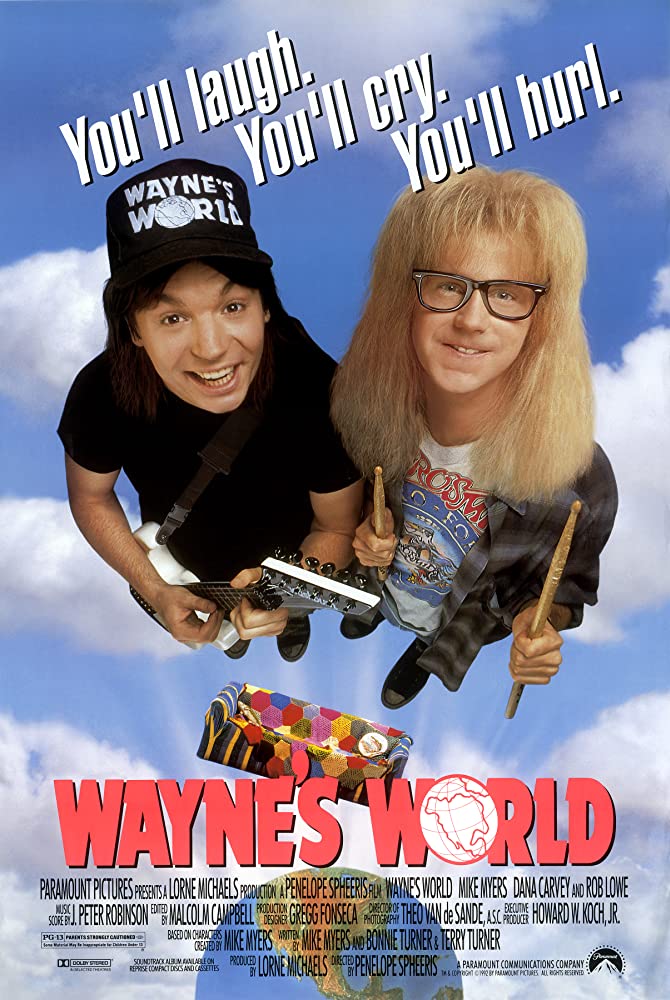 Wayne Campbell (
Mike Myers
) and Garth Algar (
Dana Carvey
) are hosts of the somewhat successful public access television show Wayne's World in Aurora, Illinois. They broadcast from Wayne's parents' basement using their long haired friends as crew. Television producer Benjamin Kane (
Rob Lowe
) is introduced to the show by his girlfriend, Elyse (
Ione Skye
), and sees an opportunity for business. Kane approaches Wayne and Garth who agree to sell the rights to the show for $10,000.00. Kane sells the idea of having a weekly spot on the show to arcade owner, Noah Vanderhoff (
Brian Doyle-Murray
) in exchange for sponsorship of the show.
Wayne meets the lead singer and bassist for the band Crucial Taunt, Cassandra Wong (Tia Carrere), one night when he is out at the club with his friends. Wayne falls for her, and she becomes interested in Wayne after he dazzles her with his Cantonese. Wayne faces competition for Cassandra's affections from Kane. Kane uses his wealth and good looks to try to lure Cassandra away from Wayne.
Kane tries to distract Wayne and Garth by giving them all-access tickets to an Alice Cooper concert in Milwaukee so that he can offer to produce a music video for Cassandra's band. At the concert, Wayne and Garth make the acquaintance of a bodyguard (Chris Farley) to influential music producer Frankie "Mr. Big" Sharp (Frank DiLeo), head of Sharp Records. The bodyguard provides them with useful information that they will need later in the film.
On the first night of the new Wayne's World, Wayne and Garth struggle with the new format. They don't like the idea of "selling out" to a sponsor such as Vanderoff. Kane informs them that their contracts require them to give an interview to Vanderoff on each of their episodes. Wayne publicly ridicules Vanderoff in his first interview, so he is fired from the show. Wayne's termination causes problems between him and Garth and the two end their friendship.
Wayne also struggles in his relationship with Cassandra. Wayne becomes jealous of the attention Kane is giving to Cassandra. Wayne tries to prevent her from participating in the music video shoot and accuses her of sleeping with Kane. Cassandra gets upset with Wayne for his lack of trust and breaks up with him.
Wayne and Garth are able to get past their differences and mend their friendship. They combine forces to come up with a plan for Wayne to win Cassandra back by having the music producer Sharp hear Cassandra and her band play. Garth and his friends infiltrate a satellite station with the aid of Russell Finley (Kurt Fuller), Kane's assistant. Meanwhile, Wayne goes to the video shoot. However, Wayne embarrasses himself in his attempt to expose Kane's devious motives. He does confess his love for Cassandra. As Wayne begins to leave in defeat, Cassandra changes her mind about Kane and goes with Wayne. Wayne apologizes to Cassandra and they go back to Aurora.
Wayne and Cassandra hook back up with Garth and the Wayne's World crew and hack into Sharp's satellite television and broadcast Crucial Taunt's performance from Wayne's basement. Kane and Sharp both arrive at the same time. Sharp tells the band that he is not interested in offering them a record contract. Cassandra is devastated and blames Wayne. She breaks up with and leaves with Kane for a tropical resort. Wayne's ex-girlfriend Stacy (Lara Flynn Boyle) reveals that she is pregnant with Wayne's child and a fire destroys Wayne's house, killing Garth.
Wayne and Garth talk to the audience to halt that ending and switch to the Scooby-Doo ending. They restart the scene and unmask Kane as Old Man Withers (Carmen Filpi). However, they are still unsatisfied with the ending and start again with the mega happy ending. In this ending, Cassandra signs a record contract and reunites with Wayne. Garth starts a relationship with his dream woman, the waitress from Stan Mikita's Donuts (Donna Dixon). Finally, Kane learns that money and good looks do not necessarily bring happiness.
Add the film to your collection today!
Additional Film Information
Rate the Film!
Paramount Pictures released Wayne's World on February 14, 1992. Penelope Spheeris directed the film starring Mike Myers, Dana Carvey, and Rob Lowe.