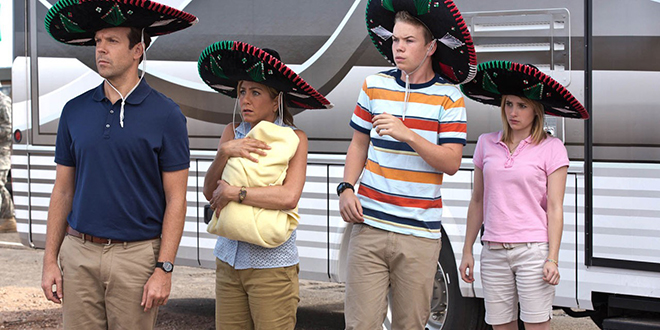 We're The Millers Movie Review by Chris Haley
When I fork over $10 to see a feature film that begins by showing YouTube videos that I saw a year ago for free, I'm not going to be in a jolly mood. When the movie is supposed to be a comedy, you're going to have to work extra hard to get my amusement back, and We're the Millers is never able to do that.
This movie is something of a National Lampoon's Vacation for the 2010's. The Clark character is David, a middle-aged drug dealer played by the affable Jason Sudeikis. The Ellen character is a stripper named Rose, played by my future ex-wife, Jennifer Aniston. The director doesn't even bother to give the Rusty character a twist. Kenny (Will Poulter) is a straight up Rusty clone ala Anthony Michael Hall, and every teen-aged kid Anthony Michael Hall ever played in the 80s. We round out the rip-off Griswold family with Aubrey's character, the homeless teen, Casey, played by Emma Roberts.
One night, David gets robbed thanks to Kenny and Casey. The robbers steal both his and his drug supplier, Brad's (Ed Helms) money. Now, David is forced to drive to Mexico, and get Brad more weed, or be killed. David notices that nobody looks twice at families on vacation, so he hires Rose, Kenny, and Casey to be his nerdy family, rents a RV, and heads off south of the border to smuggle the contra band.
Continuing the Vacation theme, nothing ever goes according to plan, but eventually, the Miller's make it to Mexico and cross the border back into the USA without too much trouble. Of course, the drugs David takes are not meant for Brad, and the drug lord he takes them from is in hot pursuit to get them back. The cousin Eddie and Catherine characters from Vacation are in the form of DEA agent Don Fitzgerald and his loony wife, Edie, played awesomely by Nick Offermen and Kathryn Hahn. They play the comic relief for most of the film, and help to bring this film to its obvious end.
This film tries very hard to be funny, but only supplies a few chuckles here and there over the course of an hour and 50 minutes. I don't fault any of the actors in this film, all of whom give solid performances. The script is just tired and predictable. I would have been better served to rent the Chevy Chase classic, and saved a few bucks for snacks. That would have been a much more enjoyable evening.
Disclaimer: This post contains affiliate links that will take you to Amazon.com and/or the iTunes Store. This means if you click on the link and purchase the item, we will receive an affiliate commission. Our content is not influenced by advertisers or affiliate partnerships. For more information, please read our
Terms of Use
about the inclusion of affiliate links on this site.
A veteran pot dealer creates a fake family as part of his plan to move a huge shipment of weed into the U.S. from Mexico.