Film and Plot Synopsis
In Whiskey Tango Foxtrot, Kim Baker is a journalist who is frustrated with her desk job at a television news network. To shake things up, she takes an assignment as a war correspondent in Afghanistan. Once there, she finds her perceptions of reality and simple definitions of right and wrong are constantly being challenged by the war and the Afghan culture. The question is will she figure out what the real world is before she gets herself killed.
Buy the Film
Whiskey Tango Foxtrot [Blu-ray]
7 new from $8.95
25 used from $2.07
Free shipping
as of February 7, 2023 9:21 am
*As an Amazon Associate we earn from qualifying purchases.
'Whiskey Tango Foxtrot' Movie Summary
The summary below contains spoilers.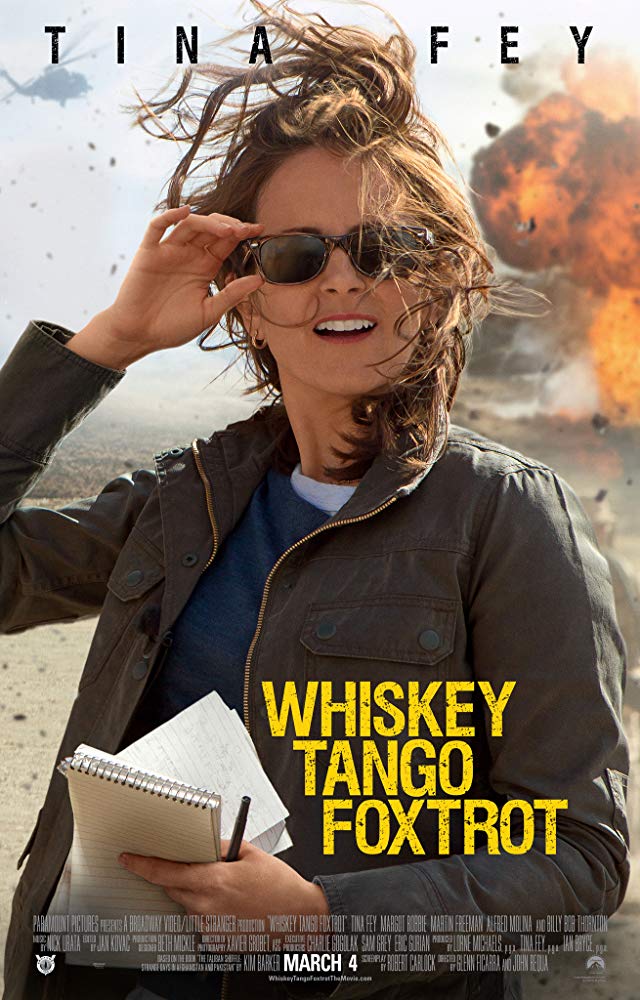 Whiskey Tango Foxtrot
begins in 2003. Television journalist Kim Baker (
Tina Fey
) has become frustrated with the lack of forward progress in her career. She wishes to get out from behind her research desk and wants to cover more stories in the field. She agrees to take a short assignment as a war correspondent in Afghanistan during Operation Enduring Freedom. She leaves behind her relationship with her frequently traveling boyfriend Chris (
Josh Charles
) and heads off to a world that she has never seen before.
Once in Afghanistan, Kim takes up residence with other international journalists. She becomes friends with a BBC correspondent Tanya Vanderpoel (Margot Robbie) and lecherous Scottish freelance photographer Iain MacKelpie (Martin Freeman). Kim is assigned a bodyguard Nic (Steve Peacocke) and an Afghan "fixer" Fahim Ahmadzai (Christopher Abbott). After a short adjustment period, Kim does well in her new assignment. She is willing to take on difficult and dangerous assignments. On an assignment while she is imbedded with U.S. Marines, she refuses to take cover when the convoy takes fire and charges into the firefight in order to get the footage. This earns the respect of American Marine General Hollanek (Billy Bob Thornton), who previously disapproved of her presence with his men.
Despite the constant danger, Kim stays in Afghanistan for years beyond her original assignment. The lengthy assignment has caused strife in her relationship with Chris who still lives back in New York. During one middle of the night video call, she catches Chris in bed with another woman which ends their relationship. In a desperate need for some affection, she begins a sexual relationship with Iain. Over the following weeks, the two become even closer although they don't talk about any long term plans.
Kim bristles against the Afghan Islamic society which places restrictive roles on women. However, she is also able to use it to her advantage. When a U.S. built well is continually blown up in a small village, she discovers that the women of the village are the one's destroying the well, so they can enjoy their daily walk to the river together with other women. She repeatedly gets information from the Afghan Attorney General Ali Massoud Sadiq (Alfred Molina) who is sexually interested in Kim, although Kim continually rebuffs his advances.
The longer she stays, the more she places herself in dangerous situations. Fahim, who used to be a doctor who treated opium addicts before the war, warns her that danger triggers the same physiological reactions as a drug and can become addictive. When Kim continues her dangerous path, Fahim refuses to participate in her self destructive behavior and quits as her "fixer". Nevertheless, Kim continues to try to take dangerous assignments.
Although friendly with each other in the compound, the journalists still compete with one another for stories and resources. Tanya takes a particularly dangerous assignment to meet with some Taliban forces in a warzone. The assignment goes bad when a United States drone destroys the vehicles bringing the terrorists to the interview, wounding Tanya and her bodyguard and killing her "fixer".
When Kim becomes frustrated that her stories are not getting any airtime and her resources continue to get cut, she flies back to the United States to confront her new boss Geri Taub (Cherry Jones). Geri explains to her that no one is really interested in the war in Afghanistan back home and she needs to divert the money to more headline grabbing stories. Geri also reveals that she is in negotiations with Tanya to bring her to their network and replace Kim. When Kim confronts Tanya about this information, she finds out that Tanya took the dangerous assignment that resulted in the death of her "fixer" to increase her leverage in the negotiations. Disgusted with Tanya's behavior, Kim walks away from her friend.
Meanwhile, back in Afghanistan, Iain is kidnapped and held for ransom while undertaking a particularly dangerous assignment that he previously agreed to go on with Kim. Flying back into the country, Kim goes to Ali and blackmails him into giving her the information of where Iain is being held. She passes that information on to General Hollanek and promises him that she will have her cameraman Brian (Nicholas Braun) imbedded with the rescue team in order for the Marines to have good press coverage. The rescue mission is successful, and Kim's story and footage are aired. However, shortly after Iain's rescue, Kim becomes aware that Afghanistan is not the real world, and that she needs to return home before she gets herself or someone else killed. She says goodbye to Iain and Fahim and returns to United States for an on-camera desk job in New York.
Once back in the United States, she looks up Lance Corporal Coughlin (Evan Jonigkeit), a marine she interviewed when she first arrived in Afghanistan. Kim had reported in her story that Coughlin didn't even chamber his weapon because they encountered so little resistance. This resulted in Coughlin being disciplined and sent to a new assignment where he lost both legs to an IED. Kim tries to apologize for her story, but Coughlin refuses to allow her to take the blame.
Later, Kim is working at her new on-camera assignment where she finds herself interviewing Iain via satellite as part of his tour to promote his new book. While they are on a commercial break, Iain tells Kim that he will be in New York in a few weeks as part of the tour and wonders if she would like to get coffee with him.
Add the film to your collection today!
Additional Film Information
Rate the Film!
Paramount Pictures released Whiskey Tango Foxtrot on March 4, 2016. Glenn Ficarra and John Requa directed the film starring Tina Fey, Margot Robbie, and Martin Freeman.