Film and Plot Synopsis
In Who Framed Roger Rabbit?, Detective Eddie Valliant has hated toons since one killed his brother. When someone tries to frame Roger Rabbit for the murder of Marvin Acme, owner of Acme Corporations and Toontown—for playing patty-cake with the toon's wife— Eddie takes the case. On the way, they have to avoid a suspicious Judge who wants to destroy all toons using a chemical dip that disintegrates them.
Buy the Film
Who Framed Roger Rabbit: 25th Anniversary Edition (Two-Disc Blu-ray/DVD Combo in Blu-ray Packaging)
14 new from $5.62
16 used from $3.43
Free shipping
as of November 29, 2023 2:06 pm
*As an Amazon Associate we earn from qualifying purchases.
'Who Framed Roger Rabbit?' Movie Summary
The summary below contains spoilers.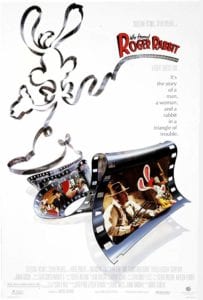 Who Framed Roger Rabbit?
takes place in 1947 Los Angeles. Toons are real cartoons who interact with humans in the real world. Most, live in Toontown, but some do not.
Eddie Valiant and his brother, Teddy, are two private dicks who once upon a time worked closely with toons on several famous cases. However, one fateful day, a toon killed Teddy, and Eddie became an alcoholic with no sense of humor; vowing never to work for toons again.
R.K. Maroon is the head of Maroon Cartoon Studios, and he has growing concerns about his star rabbit, Roger. There's rumors that Roger's wife, Jessica, is having an affair with Marvin Acme, owner of both the Acme Corporation and Toontown. Maroon hires Valiant to investigate those rumors.
Valiant goes to an underground nightclub to watch Jessica perform, and afterwards, he photographs her and Acme playing patty-cake in her dressing room. He shows the pics to Roger, and Roger gets upset before storming off. The next morning, Acme turns up dead at his factory, and Roger is suspect number one.
Judge Doom arrives on the scene
During his investigation, Valiant meets Judge Doom, Toontown's judge. He has formulated a toxic turpentine-like substance called "dip" that kills toons. Roger's co-star is Baby Herman, and he believes Roger is innocent. He says Acme has a will that's missing, and it will give the toons ownership of Toontown. He thinks that is the real reason Acme was killed.
Valiant returns to his office where Roger is frantically waiting for him. He wants Valiant to clear his name, so he takes Roger to a bar where his girlfriend Dolores works. Jessica shows up, and and says that Maroon wanted to blackmail Acme, and that's why she posed for the photographs.
Elsewhere in town, Judge Doom and his little weasels find Roger, but he escapes with Valiant and Benny; an anthropomorphic toon taxi. They hightail it to a theater, where Valiant reveals that a toon killed his brother Teddy when they were investigating a bank robbery.
When they go to leave the theater with Dolores, Valiant spots a newsreel detailing the sale of Maroon Cartoons to Cloverleaf. They are a shadowy company that bought the city's trolley system shortly before Acme's murder which is an odd coincidence.
Valiant confronts Maroon while Roger stands guard outside. Jessica pops up, and knocks Roger out. She then tosses him in the trunk, and drives off. Inside, Maroon tells Valiant that he blackmailed Acme into selling his company so he could sell the studio. He did it because he's afraid for his toon's safety.
Someone then kills Maroon before he's able to explain what's on the missing will. Valiant spots Jessica driving away, and assumes she is the killer. He reluctantly follows her into Toontown; a place he vowed he'd never return to once his brother died.
Jessica arrested for her killer curves
He arrests Jessica, but she says that Judge Doom killed Acme and Maroon. She also has Acme's will for safekeeping, but it's blank. Judge Doom arrives, and he has his weasels nab the two.
At Acme's factory, Judge Doom monologues on about his plot to destroy Toontown using his patented dip so he can build a freeway. Roger tries (and fails) to save Jessica, and the weasels tie them to a hook in front of the dip machine's hose. To kill the weasels, Valiant does a funny little dance, and they literally die of laughter. He kicks the head weasel in the balls and into the dip, killing him too.
Valiant goes after Judge Doom, and flattens him with a steamroller. The Judge lives because he's actually a toon as well; the same one in fact that killed Teddy. Valiant uses a toon boxing glove that hits the dip machine, and causes it to empty over the Judge, dissolving him until dead.
The machine, now empty, crashes through a wall and into Toontown. A toon train slams into it, and destroys it. Toons run in to the room through the new hole, and speculate what kind of a toon he was. Roger goes to read his love letter he wrote to Jessica on some blank paper, but that paper was actually Acme's will written in disappearing/reappearing ink. The will saves Toontown!
Roger is so happy, he gives the stodgy Valiant a big handshake with a joy buzzer which causes the toons to shudder. However, with Valiant's brother's death avenged, his sense of humor returns. Valiant gives him a big kiss on the old smacker, and then heads back into Toontown with Dolores, Roger, Jessica and the other toons for a happy sunset ending.
Additional Film Information
Rate the Film!
Buena Vista Pictures released Who Framed Roger Rabbit? on June 22, 1988. Robert Zemeckis directed the film which starred Bob Hoskins, Christopher Lloyd, and Joanna Cassidy.