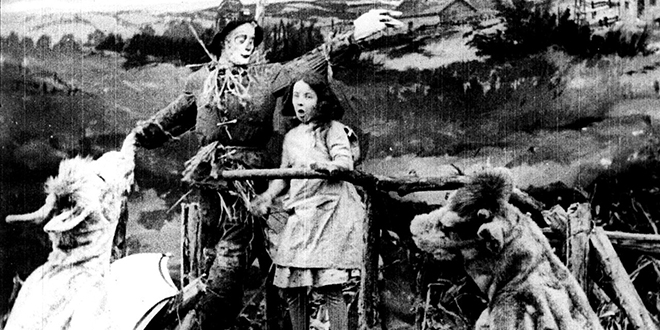 1910's The Wonderful Wizard of Oz is a silent film by Otis Turner. The short follows the musical stage play of 1902 a bit more than the 1900 book by L. Frank Baum.
At 13 minutes long, Turner omits a lot of the story most of us are familiar with. The whimsy and charm of the book is still there with child-like costumes brought to life. The exposition, however, is scant, and someone unfamiliar with the book may have trouble following along.
The film begins with Dorothy, Toto, and a cow on her farm in Kansas being chased by a donkey. Dorothy stumbles upon a scarecrow out in the fields. She discovers he's alive, and that he knows that a cyclone is on its way. Scarecrow builds a tall haystack for them all to take cover in. The cyclone spins the haystack around and around—all the way to the Land of Oz.
The Wizard of Oz longs to return home to Oklahoma, and he issues a royal proclamation. Anyone who can rid Oz of the evil witch, Momba, can have his crown.
Dorothy wakes to find herself in the Land of Oz with Scarecrow, Toto, the donkey, and cow in tow. Glinda, the Good Witch, transforms Toto into a brave lion, and the group sets out to explore the land.
In the forest, the Tin Man stands frozen in place. Dorothy oils him, and the Tin Man springs to life. The group continues on until Dorothy spots the Wizard's proclamation. They take up the challenge to rid Oz of Momba, and head over to her cottage.
Unfortunately for them, Momba's guards attack the group, and capture them all. Somehow, Dorothy manages to have a bucket of water in jail which she throws on Momba. The water kills her instantly, and the group escapes.
Having killed Momba, Dorothy is off to see the Wizard, the Wonderful Wizard of Oz. They arrive at the Emerald City, and the Wizard anoints Scarecrow as king. Now free himself, the Wizard boards a balloon, and returns to Oklahoma.
As the film ends, Dorothy, Scarecrow, the Lion, and the Court happily dance away.
In today's world, The Wonderful Wizard of Oz feels more like an extended trailer, but the basic charm and magic of the book shines through. Technology of the day wasn't good enough to do the story justice, but that all changes in about thirty years.
Rate the Film!
Selig Polyscope Company released The Wonderful Wizard of Oz on March 24, 1910. Otis Turner directed the film starring Bebe Daniels, Hobart Bosworth, and Eugenie Besserer.