Film and Plot Synopsis
Jack Malik was just another struggling songwriter… but that was yesterday. After a mysterious blackout, Jack discovers he is the only person on earth who remembers The Beatles! As he rockets to fame by passing off the Fab Four's songs as his own, Jack risks losing Ellie – the one person who has loved him and believed in him from the start. Before the door to his old life closes forever, Jack must decide if all he needs is love, after all.
Buy the Film
Yesterday [Blu-ray]
12 new from $8.42
10 used from $4.24
Free shipping
as of November 16, 2023 2:48 am
*As an Amazon Associate we earn from qualifying purchases.
'Yesterday' Movie Summary
The summary below contains spoilers.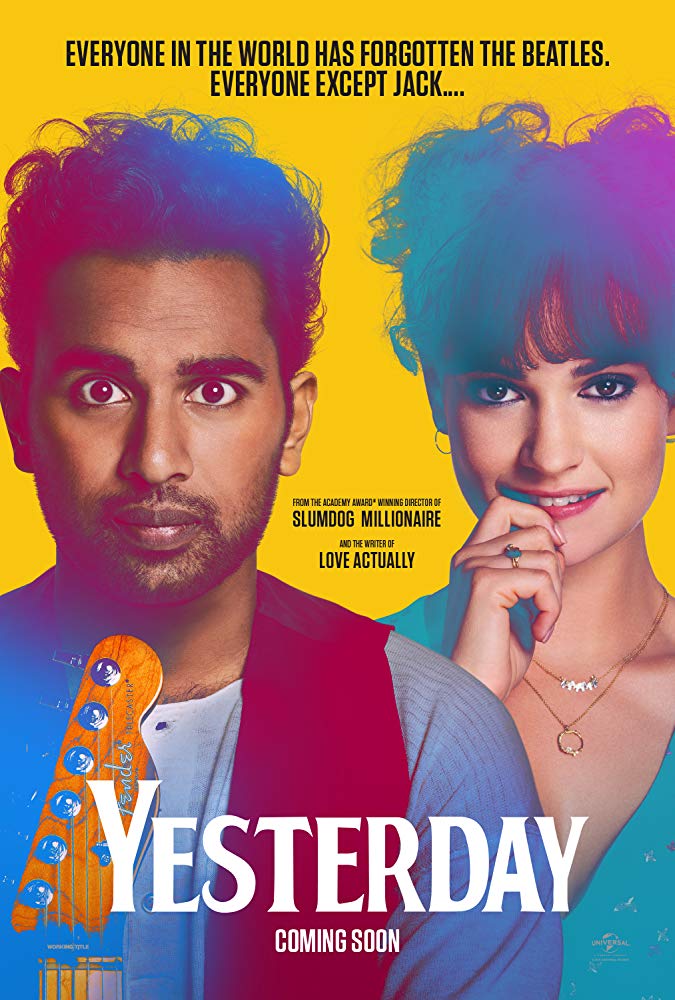 In
Yesterday
, Jack Malik (
Himesh Patel
) is a struggling singer-songwriter who has been trying to make a career as a performer for nearly a decade. Ellie Appleton (
Lily James
) is his childhood friend and manager. Jack's frustration with his lack of success pushes him to make the decision to give up his music career, although Ellie encourages him to keep trying. One night, Jack is riding home on his bike when the planet is hit by a global blackout and Jack is hit by a bus.
Jack wakes in the hospital missing two of his front teeth and missing his beard, but otherwise he is okay. After he is released from the hospital, Jack receives a new guitar from Ellie to replace the one that was smashed in the accident. Jack plays "Yesterday" by the Beatles with the guitar and is shocked when no one knows the song or the band. Jack goes home and looks up the Beatles on the internet and finds that they never existed as a band.
Jack decides to begin performing the Beatles' songs since the world no longer remembers them. Jack passes the songs off as his own. Jack records a demo with a local music producer which leads to a performance on a local television station. Ed Sheeran sees the appearance and hires Jack to open for him at his Moscow concert. Ellie doesn't make the trip due to her day job as a teacher, so Jack takes his roadie friend Rocky (Joel Fry) instead.
Jack is a huge hit, especially after he performs "Back In The U.S.S.R.". After the concert, Sheeran challenges Jack to a songwriting duel which Jack wins by playing "The Long and Winding Road". Jack is approached by Sheeran's manager, Debra Hammer (Kate McKinnon), who offers him a recording contract. Debra promises Jack that his album will be one of the biggest albums of all time and he will rise to global fame…once they fix his appearance.
Jack returns home and has a going-away party. A drunk Ellie confesses that she has always been in love with him since she saw him play his music when they were children. Jack responds awkwardly, having never thought of Ellie in that way. Jack goes to Los Angeles to record the album, but is struggling to remember the lyrics to some of the Beatles' songs.
Jack flies to the Beatles' hometown of Liverpool and visits Strawberry Field, Penny Lane, and the grave of Eleanor Rigby. Ellie joins him in Liverpool, and they go out on a date where they end up kissing. However, Ellie tells Jack she is not interested in a one-night stand, and Jack's life will be taking him away from her. She tells Jack that she cannot be a part of his celebrity life. Jack returns to Los Angeles with a broken heart.
Back in Los Angeles, the record label prepares to launch Jack's album, but Debra, the producers, the record label, the public relations team, and even Ed Sheeran pressure Jack to make changes. Jack's album is titled One Man Only despite Jack's request to name it after Beatles' album titles. Jack is able to persuade them to launch the album with a rooftop concert in his hometown. The concert goes well, but Jack is beginning to crack from the stress of lying and losing Ellie.
Two fans approach Jack after the concert and reveal that they remember the Beatles as well, but instead of being angry with Jack, they are happy that he is keeping their music alive. They give Jack the address for John Lennon (Robert Carlyle). Lennon survived into an old age, having not been shot in 1980. He tells Jack that he lived a happy life with his wife. He encourages Jack to pursue the girl that he loves and always tell the truth.
Jack calls Sheeran and asks to perform a set during Sheeran's concert at Wembley Stadium. Jack plays a short set of music and then reveals to the world that he plagiarized the music from the Beatles'. He promises not to keep any of the money from the sale of the songs and has Rocky upload the songs free to the internet. More importantly, he tells Ellie that he loves her. Backstage, Ellie chooses Jack after being in a relationship for a few months with Jack's previous producer.
Jack and Ellie get married and have two children. Jack becomes a music teacher where he teaches children by playing more Beatles' songs.
Add the film to your collection today!
Additional Film Information
Rate the Film!
Universal Pictures released Yesterday on June 28, 2019. Danny Boyle directed the film starring Himesh Patel, Lily James, and Sophia Di Martino.