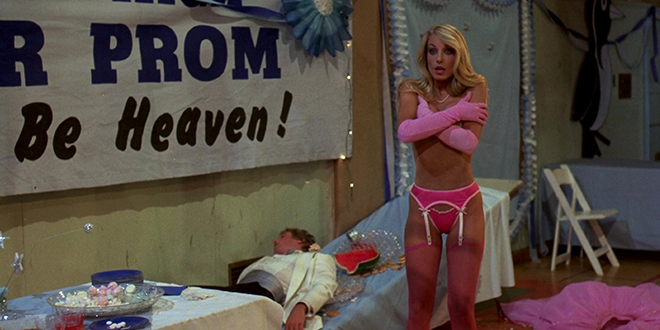 Podcast: Play in new window | Download
Subscribe: Apple Podcasts | Android | Google Play | Stitcher | RSS | More
Embassy Pictures released Zapped! to theaters on September 3, 1982. Robert J. Rosenthal directed the film starring Scott Baio, Willie Aames, and Robert Mandan.
Zapped! Movie Summary
In Zapped, sometimes referred to as Charles in Charge: The High School Years, nerdy Barney Springboro obtains a superpower ala Spiderman when a lab accident goes awry. He does not use his new telekinetic powers for good. In typical 80s style, he takes revenge on his bullies, cheats to win at sports, and gets the ladies naked, which is nice.
His BFF, Peyton Nichols eggs Barney along the whole time. Eventually, the main character's love interest, in this case Bernadette, finds out about his powers. These powers put their relationship at risk, but this is an 80s movie, so Barney will get the girl.
The film ends at the senior prom where Barney strips the bitches out of their gowns for shits and giggles, but a fire hose him on the head, and knocks him out. When Barney wakes, his powers are gone. He leaves with Bernadette and he levitates them into the night sky…so really, Barney lost nothing.
Disclaimer
This podcast is not endorsed by Olive Films and is intended for entertainment and information purposes only. Zapped!, all names and sounds of Zapped! characters, and any other Zapped! related items are registered trademarks and/or copyrights of Olive Films or their respective trademark and/or copyright holders. All original content of this podcast is the intellectual property of Movie House Memories, Lunchtime Movie Review, and Fuzzy Bunny Slippers Entertainment LLC unless otherwise noted.
This post contains affiliate links that will take you to Amazon.com and/or the iTunes Store. This means if you click on the link and purchase the item, we will receive an affiliate commission. Advertisers and affiliate partnerships do not influence our content. For more information, please read our Terms of Use about the inclusion of affiliate links on this site.