Film and Plot Synopsis
A Scanner Darkly takes place in a totalitarian society in the near future. Undercover detective, Bob Arctor, investigates a small time group of drug users n order to reach their larger distributors of a brain-damaging drug called Substance D. The New Path Corporation, a recovery center that sponsors his assignment to help rid the world of the drug. However, when Arctor begins losing his own mind and shows signs of schizophrenic behavior, his higher ups force him to submit to tests to check his mental condition. Will he bust the dealers before he busts his mind?
Buy the Film
A Scanner Darkly [Blu-ray]
4 used from $9.99

as of November 28, 2023 9:43 am
*As an Amazon Associate we earn from qualifying purchases.
'A Scanner Darkly' Movie Summary
The summary below contains spoilers.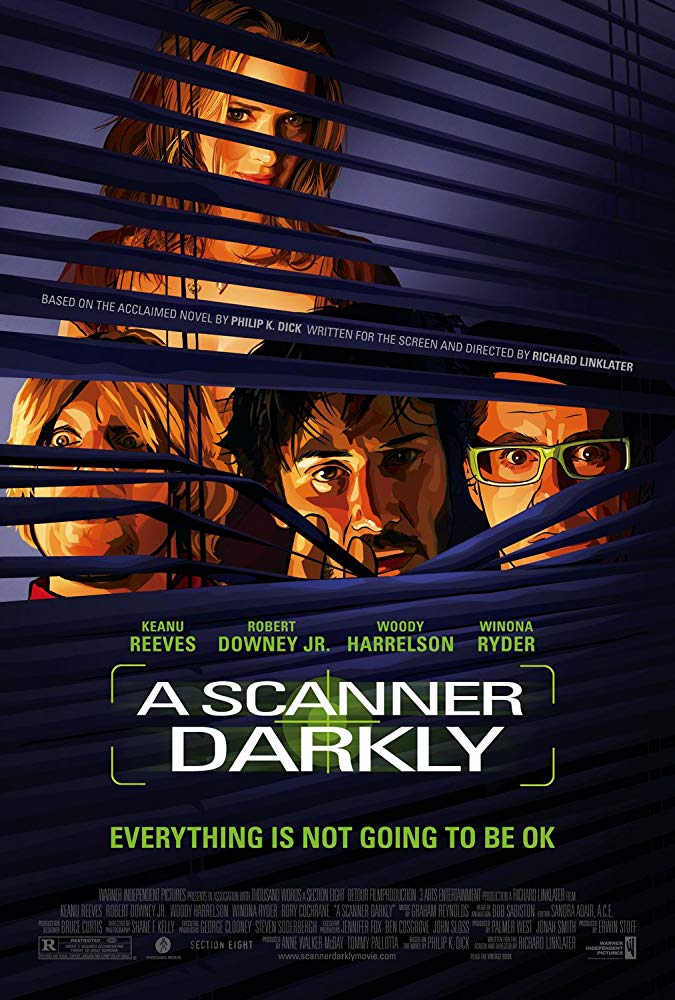 A Scanner Darkly
takes place seven years in the future in a dystopian Orange County, California. The United States has lost the war on drugs to Substance D; a powerful drug that causes bizarre hallucinations. The epidemic afflicts approximately 20% of the total population, and it's only getting worse. To combat this plague, the government developed a high-tech surveillance system, and filled the network with undercover officers and informants.
Bob Arctor (Keanu Reeves) is one such undercover agent. His assignment is to immerse himself in the underbelly of this drug world, and infiltrate its supply chain. Although Arctor has a vision of being in his Anaheim house with a wife and two children, his reality today is that he has two drug-addicted, jobless housemates: Ernie Luckman (Woody Harrelson) and James Barris (Robert Downey Jr.). The three men spend all their time taking D and having complex, but paranoid discussions of their experiences.
While at the police station, Arctor wears a "scramble suit" that constantly changes every aspect of his appearance and voice. Thus not even his co-workers know his true identity, and they use the code name of Fred to address him. Arctor's senior officer (as well as all other undercover officers) also wears the same type suit. Arctor calls his boss Hank.
Unfortunately for Arctor, since going undercover, he's developed a nasty addiction to Substance D himself. He buys his fix from a woman named Donna Hawthorne (Winona Ryder) whom Arctor hopes to eventually purchase large enough quantities of D from so that she must to introduce him to her own supplier. The two have an interesting relationship. While it appears that the two are every bit in a serious relationship, she won't have sex with him nor is she receptive to any of his physical advances.
While at work, Hank orders Fred to increase surveillance on Arctor and his associates. This oddly makes Arctor's own house the center of his own investigation as this is where Donna and the other addicts spend all their time. While Arctor does his best to balance this double life, his increasingly heavier use of D is irreversibly damaging his brain, and it's starting to show.
While this goes on, his roommate, Barris, turns informant on Arctor, and implies to Hank that Arctor is a terrorist. This information he claims he's freely giving so that he can become a cop himself. Unfortunately for him, he reveals this information to Hank while Arctor is present in the room in his disguise as Fred.
Arctor's downward spiral continues when his diminishing performance draws the attention of two psychiatrists. They discover that Arctor's use of D has caused permanent damage to his brain, and the left side now fights against its right.
In time, after Hank arrests Barris, he reveals to Fred that he knows, and in fact has known for a while, that he is Arctor. This revelation takes Arctor aback. When he repeats his own name to himself, his surprise seems to be as much the fact that his name sounds so unfamiliar to him as much as Hank knows his true identity.
Hank lets it be known that the real purpose of the surveillance was to catch Barris; not Arctor, and the police deliberately worked to increase Barris's paranoia until he attempted to cover his own tracks.
When Arctor notices Hank has his health file, Hank reprimands him for becoming addicted to Substance D. Additionally, he faces discipline for it. Hank tells Arctor how seriously the drug has damaged his brain. He then phones Donna to ask her to come pick up Arctor, and take him to New-Path; a corporation that runs a series of rehabilitation clinics.
Hank then immediately leaves to remove his scramble suit in private. As he takes it off, Hank is revealed to be none other than Donna. She takes Arctor to the clinic where we soon see him and several other D addicts with serious cognitive deficiencies.
Donna later meets with a fellow police officer named Mike (Dameon Clarke) at a restaurant. The two discuss how New-Path is secretly responsible for the manufacture and distribution of Substance D. Unfortunately, they still don't have the proof. Donna expresses her growing distain of police tactics as unethical; especially after they deliberately got Arctor addicted to D—without his knowledge—so that he might eventually enter a New-Path rehabilitation center unnoticed as a genuine addict. Then he'd be free to collect incriminating evidence of New-Path's D farms. However, Donna and Mike debate whether Arctor's mind will recover enough to grasp why he's there, and if he'd be able to help them.
Soon, the New-Path clinic give Arctor the name of Bruce, and sends him to a labor camp at an isolated farm. There he mindlessly repeats what others tell him since he's no longer capable of thinking for himself. While out tending to the crops, Arctor discovers hidden rows of the blue flowers that produce Substance D. He secretly hides one flower in his boot to bring to his friends at Thanksgiving from the farm.
Add the film to your collection today!
Additional Film Information
Rate the Film!
Warner Independent Pictures (WIP) released A Scanner Darkly on July 28, 2006. Richard Linklater directed the film starring Keanu Reeves, Winona Ryder, and Robert Downey Jr.