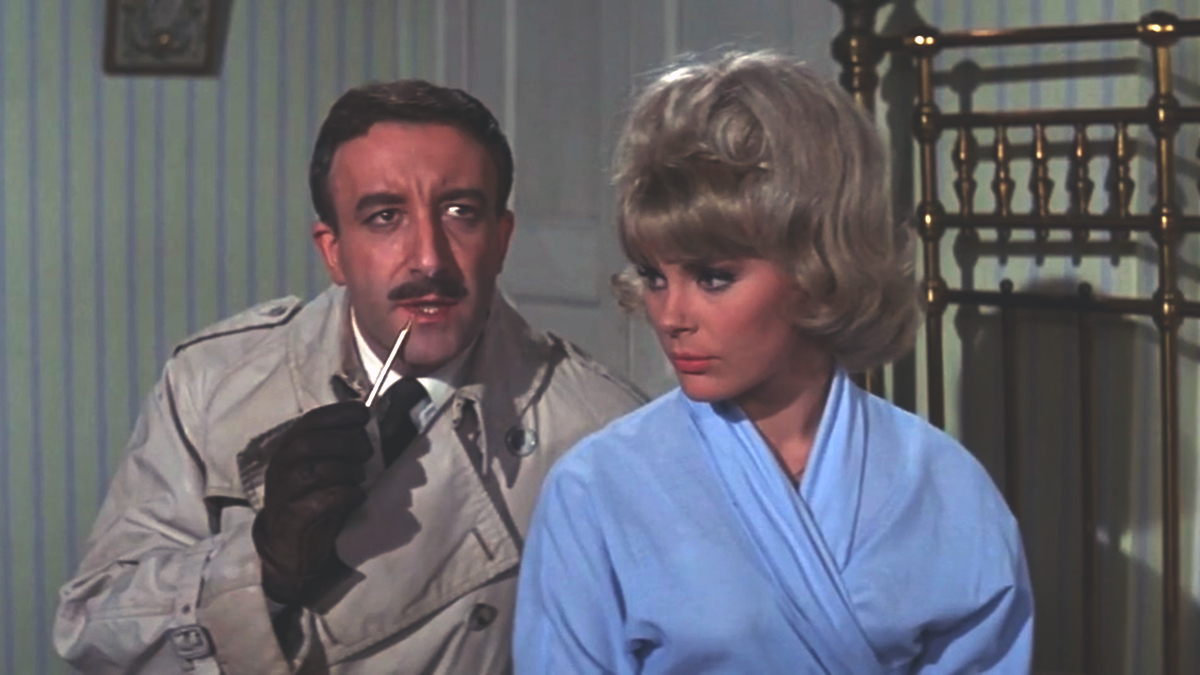 Film and Plot Synopsis
In A Shot in the Dark, Inspector Clouseau investigates a murder at a château in France. Every clue he finds towards the killer's identity points to a beautiful maid named Maria. As more murders occur, each new clue continues to implicate Maria. However, , Clouseau is smitten with the girl and continually releases her from custody to escort her around town. Soon, the detective will find himself in the middle of blackmail, a nude beach, and the wrath of his boss, Charles Dreyfus.
Buy the Film
A Shot in the Dark
8 new from $36.29
43 used from $3.00

as of June 29, 2022 6:57 am
*As an Amazon Associate we earn from qualifying purchases.
'A Shot in the Dark' Movie Summary
The summary below contains spoilers.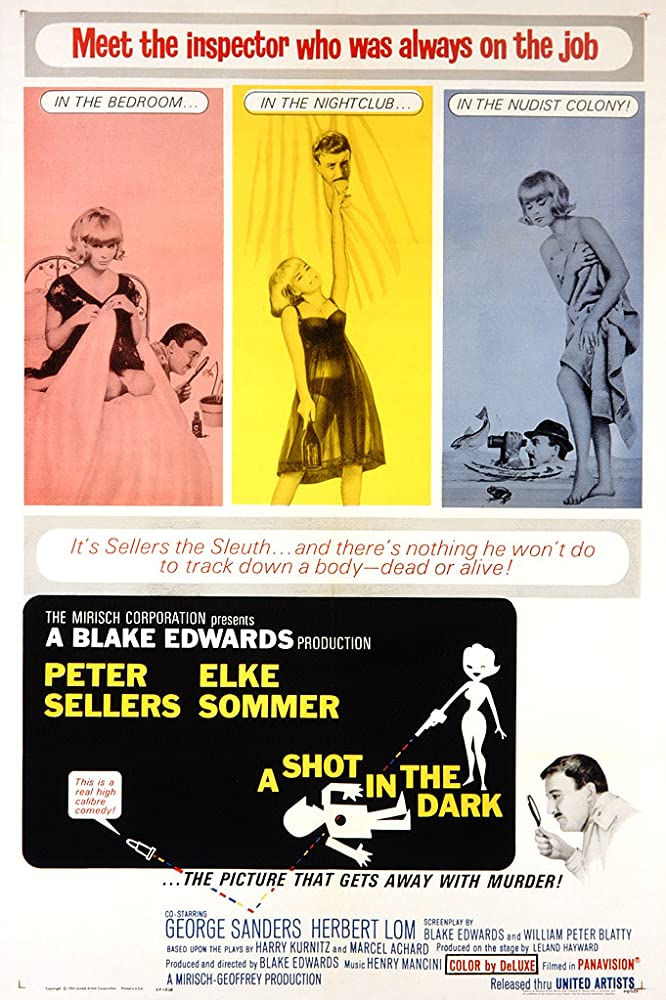 A Shot in the Dark
begins at night in the servants' quarters of a large château in France. Several men and women move throughout many of its rooms; hiding, spying, carrying on affairs, and sneaking around on one another. Suddenly, there's four shots in the dark.
Later that evening, we find out the estate is the home of the millionaire Benjamin Ballon (George Sanders). Inspector Clouseau (Peter Sellers) of the Sûreté—the French national police—arrives to investigate the murder of the chauffeur, Miguel Ostos who was having an affair with one of the maids named Maria Gambrelli (Elke Sommer).
During a little romp that night, Miguel tore off Maria's dress because he couldn't undo the buttons fast enough. The door to her room swung open, and someone shot Miguel four times. Maria was then found with the smoking gun in her hand, but she claims she doesn't know how it got there as someone knocked her unconscious. She even has a bump on her head to prove it. While all evidence points to Maria as the killer, Clouseau thinks she's innocent; mainly because he's completely smitten with her.
Clouseau's boss, Commissioner Dreyfus (Herbert Lom), arrives to remove his bumbling employee from the high-profile case. He personally takes charge of the investigation to keep Clouseau from embarrassing the Sûreté again. However, Mr. Ballon seems disappointed that Clouseau is no longer in charge.
Once home, an unknown Chinese assassin attacks Clouseau while he sleeps. As the two fight, the phone suddenly rings, and men stop fighting. The assailant politely answers the call to reveal that he's actually Clouseau's servant, Cato (Burt Kwouk). In order to keep his senses sharp, Clouseau ordered Cato to attack him when he least expects it.
On the other end of the phone, Commissioner Dreyfus huffs. He reluctantly reinstates Clouseau as the investigator on the Maria Gambrelli case. Even with the overwhelming evidence against her, Clouseau orders Maria's release from prison; convinced she is shielding the real killer, whom he plans to apprehend within 24 hours.
Back at the château, Ballon's gardener, Georges (David Lodge), blackmails him because he saw Mr. Ballon leave Maria's room the night of the murder. While this goes on, Clouseau is at the property; tailing Maria. When he follows her to the greenhouse, he finds Maria standing over a now dead Georges with bloody cutting scissors in her hands. Once again, the facts point to Maria as the killer. After her arrest for this crime, Clouseau sets her free again because he believes whoever killed Miguel, also killed Georges to cover up the original crime.
Back at the château, Clouseau, questions Mr. Ballon as the servants all spy on them. Clouseau accuses him of killing Miguel outright. Mr. Ballon admits he was having an affair with Maria, but did not kill Miguel in a "rit of fealous jage".
A phone call for the inspector interrupts the interrogation. His assistant, Hercule LaJoy (Graham Stark) has tailed Mrs. Ballon (Tracy Reed) to an apartment, and he asks the inspector to meet him there. However, the little event is nothing more than a private operatic performance.
The next morning, Clouseau spies on Mr. Ballon. He sees him and Maria leave in separate cars. Unfortunately, the game warden arrests him for hunting without a license for shooting a crow while surveilling the Ballon's house.
After his release, he meets with Hercule who has tailed Maria to Camp Sunshine. The inspector rushes off to to investigate the camp before Hercule can tell him the place is a nudist colony. While that revelation alarms Clouseau, he finds Maria checked into the colony an hour prior. So he strips down to his mustache, and sets off to the recreation area to track Maria down. As this goes on, Commissioner Dreyfus arrives to Camp Sunshine with his officers in tow because someone reported a murder on the site.
An unknown assailant strangled Mr Ballon's servant, Dudu (Ann Lynn), at a fountain there. Intriguingly, Maria is hiding in the nearby bushes in a panic. She calls Clouseau over for help as the police raid the colony. Dreyfus has everyone rounded up to investigate the murder, while Clouseau and Maria steal a car and drive off to his apartment in Paris.
Meanwhile, Dreyfus goes to Mr. Ballon's château to see if Maria is there. While she's not, Ballon's butler, Henri (Douglas Wilmer), turns up dead in a closet as well.
In Paris, Maria has a panic attack when she and Clouseau get stuck at an intersection while naked in the car. The police quickly arrest them.
Dreyfus demotes Clouseau and takes him off the case. However, when Dreyfus' assistant, Francois (André Maranne), suggests there's a possibility that Dreyfus' theory is wrong and Clouseau's is correct, Dreyfus puts him back on the case. Clouseau immediately releases Maria, and schedules a dinner date with her.
Clouseau's actions are now an embarrassment to the Sûreté with the press ridiculing the investigation at every step. Unable to remove Clouseau from the investigation, Commissioner Dreyfus suffers a nervous breakdown, and decides to get rid of Clouseau. However, he winds up killing four innocent bystanders instead.
Finally, Clouseau comes up with a plan that can not possibly fail. He calls the Ballon household together in a Thin Man style attempt to trick the murderer into unmasking themselves. Additionally, Dreyfus is there, and he plants a bomb in Clouseau's car to kill him.
However, before Clouseau can give him the Nick Charles treatment, an argument erupts among the Ballon household. It turns out that none of them (sans Maria) are innocent—much to Clouseau's surprise. Each one of them either killed a separate victim over an affair, or blackmailed someone else over knowledge of killings and affairs.
Mrs. Ballon accidentally shot Miguel; thinking she would catch her husband in the act with Maria. However, Ballon was hiding in the closet when the shooting took place. He knocked Maria unconscious with the closet door knob, and put the gun in her hand to protect his wife.
As Clouseau feebly tries to arrest everyone who's arguing in the room, Hercule, who's been hiding in the basement, cuts power to the building as Clouseau ordered. The six guilty parties pile into his car to make their escape. However, as they drive off, the bomb Dreyfus placed in it explodes, and it kills them all.
Dreyfus snaps and starts biting Clouseau's ankles like a mad dog. Hercule has to physically restrain him from the attack.
Clouseau and Maria share a kiss in the lavish driveway of the château to celebrate the clearing of her name. Suddenly, Cato pops out of the shadows for one last sneak attack in the driveway's fountain as the film comes to a close.
Add the film to your collection today!
Additional Film Information
Rate the Film!
United Artists released A Shot in the Dark on June 23, 1964. Blake Edwards directed the film starring Peter Sellers, Elke Sommer, and George Sanders.