Film and Plot Synopsis
Fresh off the train from New York City, Nick and Nora find themselves back home in San Francisco. However, there's one more mystery the duo needs to solve! On New Year's Eve, Nora's aristocratic family summons them to a dinner party. They learn that her cousin Selma's husband, Robert, has been missing for three days. Nick reluctantly agrees to look for him, but when Robert turns up dead from a gunshot, and the police blame Selma for it, the case takes a turn for the worse. After several more murders occur, Nick gathers everyone into the same room to reveal the true identity of the killer.
Buy the Film
After the Thin Man [Blu-ray]
10 new from $14.49
3 used from $22.99
Free shipping
as of May 30, 2023 9:39 pm
*As an Amazon Associate we earn from qualifying purchases.
'After the Thin Man' Movie Summary
The summary below contains spoilers.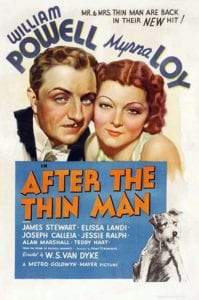 1936's
After the Thin Man
begins where 1934's
The Thin Man
leaves off…with Nick and Nora Charles on a train on its way from New York to San Francisco. They arrive on New Years Eve to find a surprise homecoming party raging in their home.
Nora's exceptionally over-privileged family surprisingly invites Nora and Nick to their family's formal dinner. Nora's Aunt Katherine, the family matriarch, looks down on Nick. His status is below Katherine's family because she doesn't consider Nick's job as a "flat foot" to be respectable. (A sentiment Nick's father, Dr. Bertram Charles, echos in 1944's The Thin Man Goes Home.)
We soon learn Aunt Katherine has ulterior motives for inviting Nick and Nora to dinner. The husband of Nora's cousin Selma disappeared three days ago. Aunt Katherine wants Nick to discreetly find him to keep the family from embarrassment.
Nick finds Robert drunk in a shady Chinese nightclub where he's been banging the equally married Polly, the club's star performer. Robert's also been busy trying to extort Selma's ex-fiancée, David, for $25,000 in a scheme where he will leave Selma once and for all for the money.
Meanwhile, Polly and the nightclub's part owner named Dancer plan to embezzle that money from Robert using checks with his signature forged on them. David does pay Robert to leave Selma. Robert returns home to get a few things before leaving, but someone shoots and kills him at the stroke of midnight in front of his house. Happy New Year!
Selma appears with a gun in her hand, and David arrives almost immediately afterwards. He takes her gun to dispose of it, and makes her go back inside her house like nothing happened.
The police still make Selma the prime suspect; especially after witnessing her manic emotional state. When Selma insists she never fired her gun, Nick believes her, and runs off to solve the murder.
Eventually, two more people wind up murdered; Polly's brother (who's secretly her husband) and a custodian at Polly's apartment complex (who also happens to be Nora's family's old gardener).
Nick soon finds a mysterious person with the name of "Anderson" is the killer. In traditional Thin Man style, he calls all the suspects together into one room. There he interrogates them until one of them slips up, and gives their innocence away.
David turns out to be Anderson, the elusive murder. David's secretly hated Selma since she dumped him, and Robert's death was part of his plan of revenge. David pulls a gun on the group, but they tackle him to the ground, and the police arrest him before he can pull a murder/suicide on Selma and himself for a happily ever after.
The film ends as Nick and Nora board a train to another adventure. There we learn that Nora has a bun in the oven! So, you all can look for Nick Charles Junior to appear in future installments.
Additional Film Information
Rate the Film!
Metro-Goldwyn-Mayer (MGM) released After The Thin Man on December 25, 1936. W.S. Van Dyke directed film starring William Powell, Myrna Loy, and James Stewart.