Film and Plot Synopsis
Mortimer Brewster is a newsman and author known for his diatribes against marriage. However, he gets married at city hall in the opening scene anyhow. When he returns home he must tell his two maiden aunts the news. However, while doing so, he learns his aunts' hobby; killing lonely old men and burying them in the cellar. Things get complicated from there.
Buy the Film
Arsenic and Old Lace (The Criterion Collection) [Blu-ray]
10 new from $19.99
3 used from $20.46
Free shipping
as of November 16, 2023 6:44 am
*As an Amazon Associate we earn from qualifying purchases.
'Arsenic and Old Lace' Movie Summary
The summary below contains spoilers.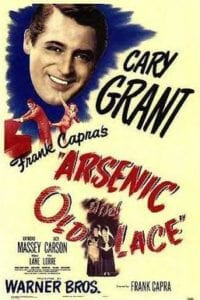 Arsenic and Old Lace
begins with Mortimer Brewster who is part of the Brewster family in Brooklyn, New York; descendants of Mayflower settlers. Mortimer is an eligible bachelor and writer who thinks marriage is an old-fashioned superstition. However, superstition isn't enough to keep him from falling in love with his next door neighbor, Elaine Harper; a minister's daughter.
He marries Elaine on Halloween day. As Elaine goes to her father's house to pack for her honeymoon, Mortimer returns the family home of his aunts, Abby and Martha, who raised him. It's a crazy household. Mortimer's brother, Teddy lives there. He believes he is Theodore Roosevelt, and yells, "Charge," each time he goes the stairs; mimicking Teddy Roosevelt's famous charge up San Juan Hill.
While searching for some notes for his next book, Mortimer finds a corpse hidden in the window seat. He thinks his crazy brother has committed a murder, but Abby and Martha happily explain that they are responsible for the body. They perform a service to lonely old bachelors; ending their alleged suffering.
They advertise a room for rent to lure in a victim, and then serve a cup of elderberry wine laced with arsenic, strychnine and a pinch of cyanide while getting acquainted with the man. Teddy, thinking the men have died of yellow fever they contracted while building the Panama Canal, buries the bodies in the basement.
As this is going on, Mortimer's brother, Jonathan, arrives with his alcoholic plastic surgeon Dr. Hermann Einstein. Jonathan himself is a serial murderer; on the lam from police, and looking to dispose of his latest victim. Einstein altered Jonathan's face while drunk, and he now resembles a Frankenstein-type monster more than a Brewster family member.
When Jonathan learns his aunts' secret, he looks to bury his victim in the cellar too. However, Abby and Martha object. Their victims were nice gentlemen while Jonathan's victim is a stranger and a foreigner. While the aunt's object, Jonathan wastes no time planning to kill his brother Mortimer too.
All this news about murder causes Mortimer to act very odd. While Elaine is wanting to leave for her honeymoon, Mortimer's actions are increasingly alarming her. Mortimer does his best to alert the police to Jonathan's location, but they don't have a clue. So, he decides to file paperwork to have Teddy committed; thus depriving his aunts of a necessary accomplice. Also, Mortimer is concerned about his family's history of mental illness, so he tells Elaine they can not remain married.
Finally though, the police arrest Jonathan, Einstein leaves, and Mortimer has Teddy committed to an institution. His aunts join Teddy so he's not alone, but not before revealing that Mortimer isn't a Brewster at all. His mother was just the family's cook, and his father was a chef on a steamship.
Free from all this insanity, Mortimer kisses Elaine, and takes her away to their long overdue honeymoon; all the while yelling, "Charge!"
Additional Film Information
Rate the Film!
Warner Bros released Arsenic and Old Lace on September 23, 1944. Frank Capra directed the film which starred Cary Grant, Priscilla Lane, and Raymond Massey.