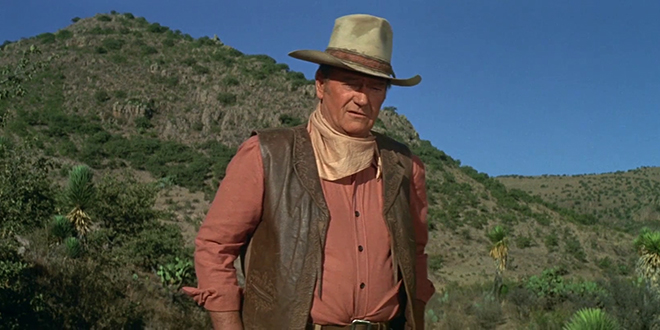 Podcast: Play in new window | Download
Subscribe: Apple Podcasts | Android | Google Play | Stitcher | RSS | More
National General Pictures released Big Jake to theaters on May 26, 1971. George Sherman directed the film which starred John Wayne, Richard Boone, and Maureen O'Hara.
Big Jake Movie Summary
John Wayne plays Jacob McCandles, or "Big Jake", in the 1971 western that takes place in 1909. Big Jake is an estranged father and husband to his family who is summoned back when his grandson is kidnapped and held for ransom. Big Jake has never met his grandson, Little Jake, since he has been gone for many years. Jake's wife, Martha, played by Hollywood icon Maureen O'Hara, feels that it will be "a harsh and unpleasant kind of business and will require an extremely harsh and unpleasant kind of person to see it through." Thus, Jake is sent for.
Jake sets out on his mission, along with the million dollar ransom and his Collie named Dog. Martha also sends the Texas Rangers, and her two surviving sons Michael and James, on a separate mission to cut off the kidnappers. The Rangers plan to cut off the kidnappers by outrunning the kidnappers in their newly fangled cars and motorcycle. If they fail, Jake will have to succeed.
Jake acquires the assistance of his old Apache friend, Sam Sharpnose, and then send outs on his mission. When the Rangers and his two sons are out ambushed by the kidnappers, Jake is the only remaining option. Jake's estranged sons join his quests, elevating the family tension.
Can the boys learn to trust the judgement of the man that they never knew? Can Jake trust the offspring who have learned to hate him? Will Apache Sam be a simple racial stereotype in the film and ultimately become the only character to meet his ultimate doom? And, of course, will the heroes learn to work together and ultimately save Little Jake? All will be answered by the end of Big Jake.
Theme Song "God Bless John Wayne" by Lowell Shyette
Buy Song On Amazon.com  Buy Song On iTunes
Disclaimer
This podcast is not endorsed by Paramount Home Video, and it is intended for entertainment and information purposes only. Big Jake, all names and sounds of Big Jake characters, and any other Big Jake related items are registered trademarks and/or copyrights of Paramount Home Video or their respective trademark and/or copyright holders. All original content of this podcast is the intellectual property of Sunday Seconds with the Duke, The MHM Podcast Network, and Fuzzy Bunny Slippers Entertainment LLC unless otherwise noted.
Affiliate links contained in this post will take you to Amazon.com and/or the iTunes Store. This means when you click a link, and purchase an item, the MHM Podcast Network will receive an affiliate commission. Advertisers and Affiliate Partnerships do not influence our content. See our Terms of Use about the inclusion of affiliate links on this site for more information.