Blogsville
Blade Runner 2049: A Ryan Gosling Man Crush Review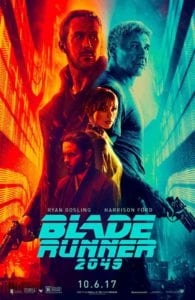 "Why the hell is the theater manager still standing at the entrance to the room?" I asked myself as I downed the cup of water and tried to covertly open the flask of gin to pour it over ice. I fucked up by booking my ticket too late, so I'm stuck in the front of the theatre with the rest of the mouth breathers. I guess the saying is true: the early bird gets to sit in the back and not risk permanent neck injury from looking straight up.
The previews start as my paranoia grows. I'm tense and very careful with movement because it feels like there is a spotlight on me as I sip the Rare Reserve. Suddenly, the latest Star Wars trailer appears. What the shit? That teaser was released 6 months ago. This can only mean one thing: they're building hype to release another trailer very soon. My mental erection is godly.
The movie starts and the ambiance is already very apparent: Denis Villeneuve is a master of visual and audible presentation. The juxtaposition of light and darkness is flawless. This movie is pretty.
Ok. Let's get Gosling out of the way. That fucking guy has been in some of my favorite movies. Villeneuve capitalizes on Ryan's relentless stare and silent screen presence. Gosling is the poster boy of non-dialogue driven movies. That son of a bitch could remake "Don't Mess With the Zohan" as a silent film and still gross 500 mil domestically. My blood boils at the thought of unbalanced distribution of talent.
Moving on. This movie is long. It clocks out at about two hours and forty six minutes . An hour and a half in I need to urinate, but I can't move. It is so visually stunning. I ruin both kidneys to catch every frame to the end.
In conclusion: Ana De Armas is ridiculously beautiful. Like, "introduce to my mother on the second date" beautiful. Wait…no. Dumb conclusion.
I text a close friend of mine when I exit the theatre. He asked how it was. I responded "short for how long it was," and I think that's a tremendous compliment. Villeneuve has been masterful AND prolific. His energy lends to a very special time in cinema where we can see classics almost year after year. I might see this twice in theaters. Ok. Talk to you soon.
'Blade Runner 2049' Movie Guest Review by Anthony Tellez
What do you think of the film? Let us know in the comments below.
MHM's Rating
Agent 'K' discovers long-buried secrets which leads him to track down former blade runner Rick Deckard, who's been missing for thirty years.