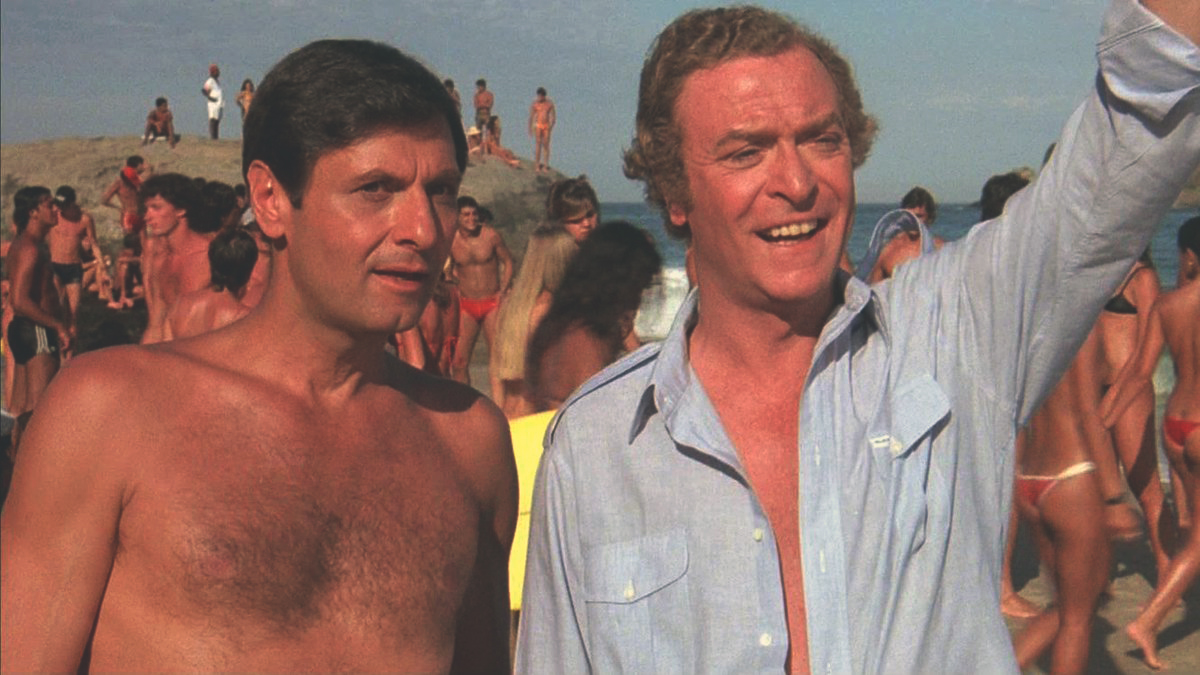 Film and Plot Synopsis
Welcome to the most exciting and sensual city in the world, Rio de Janeiro! Upon arriving to their exotic destination, longtime friends Matthew, Victor, and their teenage daughters are barely unpacked before this infamous pleasure spot begins to cast its torrid spell. Matthew quickly succumbs to Cupid's arrow, but when guilt gets the better of this married man, he vows to end the affair and keep it a secret… even from Victor. However, as his white lies grow, so does his libido, and Matthew continues his indiscretions; until his wife shows up.
Buy the Film
Blame it on Rio [Blu-ray]
3 new from $79.95
1 used from $39.95

as of May 21, 2022 12:31 pm
*As an Amazon Associate we earn from qualifying purchases.
'Blame It On Rio' Movie Summary
The summary below contains spoilers.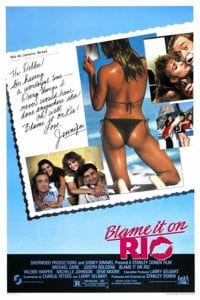 From the acclaimed golden years of Hollywood director of Seven Brides for Seven Brothers, Singin in the Rain, Charade and Funny Face, maestro Stanley Donen, comes Blame it on Rio, the film that Vogue magazine called with glee, The Ultimate Naughtiness!
Long time friends married on the rocks Matthew, and recent divorcee Victor are having irregular female trouble.Matthew's wife Karen is upset, but says nothing is wrong then announces she is off to another destination alone to think. While the boys go to Rio with their respective daughters Nicky and Jennifer.
The quartet arrive at the exotic location as the men decide to forget about their wives while the teenage girls just want to search for boys. During a free for all at a local wedding, the girls join in as the dads go bar hopping. Victor scores with a recently separated woman who admits to have made love to 12 men in 12 days but that's ok…because Victor is a team player.
Matthew wanders off into the wedding celebrations in full swing at the beach, and one thing leads to another; bringing him to kiss a near naked Jennifer instead of a midnight swim, because he's old and it's too cold.
An affair develops. After a couple more dangerous liaisons hiding the truth, Jennifer decides to tell her Dad, except she doesn't other than saying he's 43. Not twigging yet, Victor enlists Matthew to keep an eye on his wayward daughter to investigate who the older man might be.
The secret cannot last much longer. Even Nicky, who despises her dads insincerity and lack of family affection towards her, doesn't say anything either. Then, in an awkward situation, Victor finds Jennifer's diary reading it out loud to a nervous Matthew. His exploits are revealed, but still no name of the horny old culprit admitted.
Jennifer is in love with Matthew, and in a moment of need to settle her friends puppy love down. Nicky decides to take control ringing her mum to say come to Rio to save Matthew her dad from himself basically.
Karen arrives amid the madness, and with another twist Karen and Victor admit to have been banging eachother's booty behind Matthew's back. Jennifer is rushed to hospital after an overdose of birth control pills. She's okay, and won't grow a beard as Victor first thought.
The boys and Karen are off leaving the girls to play alone for another week in beautiful Brazil. Karen and Matthew stick together for some quality time heading to Club Med. Karen reject Victor because his fly is always open, and he says his goodbyes as we all Blame it on Rio.
Additional Film Information
Rate the Film!
Twentieth Century Fox released Blame It On Rio to theaters on February 17, 1984. Stanley Donen directed the film starring Michael Caine, Michelle Johnson, Demi Moore.