Film and Plot Synopsis
Set in the 1920's the film follows the adventures of Ayre "Mac" MacGillvary, a young 23-year-old American who after graduating from college sets out on a quest to lose her virginity and find love. Joined by her best friend Catalina and her loyal chauffeur Cotton, Mac travels to Morocco to find her dream sheik. When that fails, she travels to Spain where she encounters a man named Angel who is like no man she has ever known. However, Mac's quest hits a wall when Angel shows no interest in taking her virginity. What is a young heiress supposed to do to lose her virginity in the modern world?
Buy the Film
*As an Amazon Associate we earn from qualifying purchases.
'Bolero' Movie Summary
The summary below contains spoilers.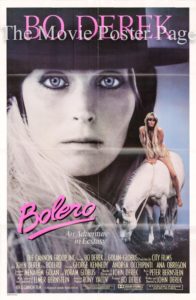 In the 1920's, Ayre "Mac" MacGillvary (
Bo Derek
) graduates from her stuffy, but exclusive British college. The 23-year-old is a young American whose parents died years before. She is awarded a large fortune upon her graduation from college by her Scottish barrister Robert Stewart (
Ian Cochrane
). To celebrate her graduation, Mac strips down naked and runs through the college courtyard until she is corralled by her chauffeur and good friend Cotton (
George Kennedy
).
After acquiring her money, Mac sets out on her next great quest…to lose her virginity. Mac is determined to find the right man for her first sexual encounter and is willing to travel the world to find him. For her quest, she brings along Cotton and her best friend Catalina (Ana Obregon), a fellow classmate from the stuffy British college. Mac envisions her perfect first sexual partner as an Arab sheik, so the trio heads off to Morocco.
Once there, Mac encounters a young sheik (Greg Bensen) and immediately offers up her virginity to him. The sheik immediately offers to pluck her flower, but Mac wishes to be romanced a little. The sheik takes her away in his private airplane to a small oasis in the desert. That night, the couple drink and engage in foreplay involving honey. However, the young sheik overindulges in the wine and passes out before completing his task. A naked Mac expresses her frustration that the scenario did not turn out the way she envisioned it and gives up on the fantasy of having a sheik.
I believe today is the day I become an excessively rich little bitch! Ayre "Mac" MacGillivary (Bo Derek)
Soon after, Catalina and Mac discuss where to travel next and they decide to travel to romantic Spain. Once there, the trio takes in the sights of Spain including watching a bullfighter named Rejoneador Angel Sacristan (Andrea Occhipinti). Mac is smitten with Angel, but the bullfighter shows little interest in Mac and chooses to spend his time with a 13-year-old local Gypsy girl named Paloma (Olivia d'Abo). Paloma plans to be the next love of Angel's life…once she turns fourteen. Angel's current love is another gypsy girl (Corinne Russell) that Angel began having sex with when she was only fourteen. Mac bribes Paloma to help her get closer to Angel so that she can seduce him. The young girl eventually befriends Mac, Catalina, and Cotton and becomes part of the rich American's entourage.
Mac makes several attempts to seduce Angel, but the bullfighter continuously rejects her attempts. Mac and Catalina go as far as to visit an opium den to catch Angel's eye, but that proves unsuccessful. Mac also inquiries into purchasing some of Angel's trained horses but the bullfighter tells her that he does not sell his horses, just his wine. Catalina and Mac come up with a plan to enter a partnership with Angel to sell his wine. As part of the deal, Mac convinces him to sell one of his horses to her. Mac brings in Robert to work out some of the legal issues with the business enterprise, and soon, the barrister and Catalina begin a relationship together.
Eventually, Angel begins to fall for Mac. Ultimately, the couple have sex and Mac loses her precious virginity during an early morning romp. During the courtship, Mac begins to fall in love with Angel. Unfortunately, the day after their love making, Angel is gored by a bull during a practice session. The injury leaves Angel unable to perform sexually and the doctors indicate that the condition might be permanent. The young bullfighter withdraws into himself. Mac expresses her love and commitment to him and promises that she will help him to make his penis work again. Angel's recovery is slow, and Mac attempts several times to get him to become intimate with her, but Angel rejects the invitations. During the recovery, the sheik returns and tries to abduct Mac for his own purposes. Mac informs the sheik that she is in love and that she has already lost her virginity to her love, and so, the sheik lets her go.
The near abduction causes Angel to appreciate how much he loves Mac. Angel begins to teach Mac how to ride and bullfight. The couple develop a stronger spiritual bond. Eventually, Mac comes to Angel early one morning and once again attempts to seduce her young bullfighter. This time, Angel's body responds. Mac climbs on top of Angel and the begin to have sex for the first time in many weeks, symbolizing that the couple now have a strong physical bond as well as spiritual bond. The film ends with Mac and Angel getting married at a local church.
Additional Film Information
Rate the Film!
Cannon Film Distributors released Bolero on August 31, 1984. John Derek directed the film starring Bo Derek, George Kennedy, and Andrea Occhipinti.