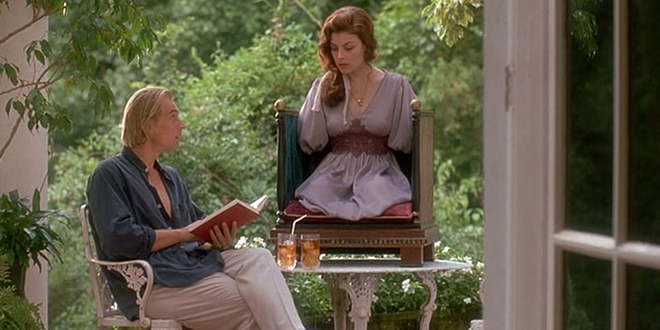 Podcast: Play in new window | Download
Subscribe: Apple Podcasts | Android | Google Play | Stitcher | RSS | More
MGM brought Boxing Helena hit theaters on September 3, 1993; grossing $1.7M worldwide. Jennifer Lynch directed the thriller which starred Julian Sands, Sherilyn Fenn, and Bill Paxton.
Boxing Helena 30-Second Summary
The film begins with a high society party. A young Nick Cavanaugh walks through the crowd where he finds his mother having sexual relations with a man. His reaction shows that Nick has serious Mommy issues.
A coffin next lowers into the ground, and a now grown up Nick (Julian Sands) is unmoved by his Mother's passing. He answers a call from the hospital where he's a surgeon instead of mourning her.
Later, at a bar with, Dr. Lawrence Augustine (Art Garfunkel), Nick spots a woman he had a one-night stand with. He is weirded out by it, and as a result, he makes Dr. Augustine leave with him.
The woman, Helena (Sherilyn Fenn), haunts Nick. One day while jogging in his neighborhood, Nick spots Helena's car. Instead of heading back home to his girlfriend, Anne (Betsy Clark), Nick climbs a tree, and peeps on Helena. From the tree top, Nick watches Ray (Bill Paxton) have sex with her.
Dr. Augustine calls out Nick over his obsession with Helena, but he ignores his friend. Sending Helena flowers isn't enough for Nick. Instead, he throws a big party at his Mother's house that he just inherited. Helena is unknowingly the guest of honor to his shindig. To the disgust of Anne, Helena strips to her underwear, and dances in a fountain upon arrival.
Helena Seduces Another Man
Helena seduces a yuppie named Russel, and promptly leaves with him. The next day, Helena calls Nick to retrieve her bag she accidentally left there. Nick arranges to meet Helena at the airport before she flies to Mexico with Ray.
Nick lures Helena back to his home, after some heavy begging, to have a candlelit dinner with her. His plan backfires, and Helena runs out of his house. A pickup truck slams into her, and drives away.
When Helena wakes up in bed, she finds that Nick has amputated her legs. He holds Helena against her will as a trophy of his psychotic love.
What follows next is an almost indescribable, surreal love story of sorts. Attempting to be provocatively shocking, the story fails by becoming unintentionally funny during "serious" moments. The Number Two Review discusses the bizarre set of circumstances that soon follow.
Disclaimer
This podcast is not endorsed by MGM Home Entertainment and is intended for entertainment and information purposes only. Boxing Helena, all names and sounds of Boxing Helena characters, and any other Boxing Helena related items are registered trademarks and/or copyrights of MGM Home Entertainment or their respective trademark and/or copyright holders. All original content of this podcast is the intellectual property of The Number Two Review, MHM Podcast Network, and Fuzzy Bunny Slippers Entertainment LLC unless otherwise noted.
This post contains affiliate links that will take you to Amazon.com and/or the iTunes Store. This means if you click on the link and purchase the item, we will receive an affiliate commission. Advertisers and affiliate partnerships do not influence our content. For more information, please read our Terms of Use about the inclusion of affiliate links on this site.