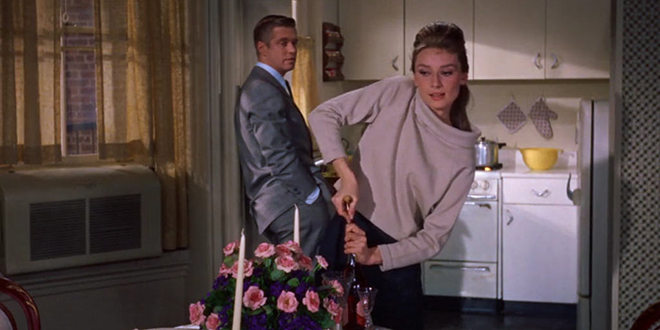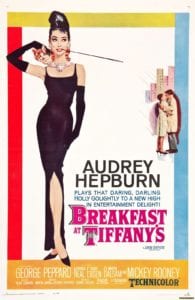 I know there are two schools of thought on this movie. One is in love with the timeless style and beauty of Audrey Hepburn and can't get enough of this movie. The other believes this movie is boring, overacted, and poorly written. I'm in the second group. And let me say, before starting… I do love movies from just about every era – if they are good movies and keep my attention.
Positives: The music is enchanting. Even 50 years later, "Moon River" is still amazing. Well done, Henry Mancini. Audrey is and shall remain forever THE fashion icon of the '60s. New York City has never looked as beautiful in the 1960s. All wonderful touches for a classic film for those lovers of this movie. Anytime Buddy Ebsen does hillbilly is incredible fun.
Unfortunately, it's the entire rest of the movie that just boggled my mind. For one, George Peppard is ridiculously stiff (method actors only fit a small percentage of roles – comedy is NOT one of them). He was a deadly anchor for the plot actually. A Jack Lemmon, Tony Curtis, Walter Matthau, Paul Newman, even Elvis Presley would have been a better lead-role choice (could you imagine Presley singing with Audrey just once??). The male character needed to be light and breezy and as likable as Holly. That might have worked. But, no. How a flighty, non-trusting, call girl like Holly Golightly could ever feel comfortable enough to share her innermost secrets with a bland, boring, unimaginative "stiff" like him is unbelievable.
Holly deserved MUCH better. The dialogue is so stilted and over-expository it's as though Blake Edwards (whom I do like) was trying to make sure the audience was always "with it". The conversation in Holly's "party" scene for instance where Holly's "manager" sidles up to the previously unknown – and unwanted it seems – Peppard and starts telling a perfect stranger EXACTLY what Holly does for a living (hello? she's a prostitute! the guy could be a cop!), where she came from, how he created her from a hillbilly to a high-class call-girl… Seriously? Oh, and throw in the fact the guy can clean up a hillbilly accent by teaching her French – and it will automatically come out as the Harvard-educated New England accent that Audrey Hepburn already had… Ummm, sign me up for those language lessons so I can sound intelligent too. Come on.
Oh… And then you have Mickey Rooney playing a caricatured Asian… W. T. F. was the director thinking??? Honestly. Just wow… That decision isn't only tragic by epic proportions. It's wrong on every level. Actual demonstrations by minority groups should tell you enough about what the general population thought of this misfire of the century. Offensive isn't the only word I'd use. I'm horrified and I'm not even a minority. This movie is a classic DESPITE this insensitive trash???
I won't speak anymore as I don't want to offend any "Tiffany" fans further. I'm sorry for my opinion. I know I'm in the minority and some of my own favorite movies are not generally loved either. I am happy you love this movie. I'm just not a fan. I've given my deluxe version DVD to a friend who adored it. I hope she gets much more enjoyment out of what would have been an expensive coaster in my home. This is a 3 out of 10 simply because New York is gorgeous and Audrey Hepburn is, well, class personified in the 1960s. But Mickey Rooney… he deserved a -5 by himself.
What do you think of the film? Let us know in the comments below.
Disclaimer: Affiliate links contained in this post will take you to Amazon.com and/or the iTunes Store. This Means when you click a link, and purchase an item, the MHM Podcast Network will receive an affiliate commission. Advertisers and Affiliate Partnerships do not influence our content. See our Terms of Use about the inclusion of affiliate links on this site for more information.
MHM's Rating
Audrey Hepburn is lovely and stylish - but the story... Hmmm