Film and Plot Synopsis
Dr. David Huxley is a mild-mannered paleontologist who is desperate to acquire funding for his museum. Seeking to receive a donation from the wealthy Elizabeth Random, David repeatedly comes into a contact with Random's niece, Susan Vance. Susan introduces all sorts of chaos into David's life, including the loss of a priceless dinosaur bone, a tame leopard, and a delay in David's marriage to fiancé Alice. Now, David must pull it all together in a matter of hours to save his museum and get the girl. But the question is, which girl?
Buy the Film
Bringing Up Baby (The Criterion Collection) [Blu-ray]
10 new from $26.23
2 used from $35.38

as of June 1, 2023 7:38 pm
*As an Amazon Associate we earn from qualifying purchases.
'Bringing Up Baby' Movie Summary
The summary below contains spoilers.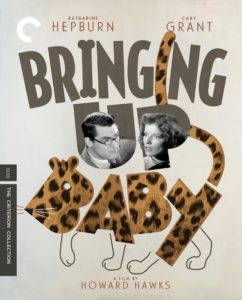 Dr. David Huxley (Cary Grant) is a mild-mannered paleontologist who is desperate to acquire funding for his museum and its dinosaur bone exhibits. He is about to complete the assembly of a skeleton of a brontosaurus which needs only one last bone, the intercoastal clavicle. David's anxiety is amplified by the stress of his impending marriage to his fiancé Alice Swallow (Virginia Walker), which is to happen the next day. Alice's reminds David that he has a meeting with lawyer Alexander Peabody (George Irving), who represents a potential wealthy donor, Elizabeth Random (May Robson). Mrs. Random is considering making a million-dollar donation to the museum. David goes to a golf course for his meeting with Mr. Peabody.
At the golf course, David is consistently frustrated with his lack of progress with Mr. Peabody. The attorney does not want to discuss financial business during their golf match, and then David encounters the flighty Susan Vance (Katherine Hepburn) who not only takes over playing David's ball during her golf game, but ends up stealing David and his car before David can have his conversation with Mr. Peabody over the donation during lunch.
Determined, David sets a second meeting with Mr. Peabody at a posh restaurant. Once again, David encounters Susan who constantly gets David into trouble. After knocking David down with an olive, Susan hands him a purse that belongs to the wife of affluent psychiatrist Dr. Fritz Lehman (Fritz Feld). Once David gets himself out of that conundrum, Susan accidentally tears the back of his formal dinner jacket. David returns the favor by accidentally tearing the back of her dress off, leaving Susan's underwear exposed to the world. David assists her by walking her out of the restaurant, but he misses his meeting with Mr. Peabody for a second time.
The next day, Susan calls David just as his intercoastal clavicle is delivered. David wants nothing to do with her, but when she feigns being attacked by a tame leopard named Baby, David rushes straight over to help her with the dinosaur bone. Once at Susan's, he discovers that Baby is tame and loves to hear the song "I Can't Give You Anything But Love." Susan tricks David into accompanying her and Baby to her farm in Connecticut so that she can drop off the leopard. Along the way, Susan steals a car to avoid having to pay a parking ticket for her own car, and David becomes covered in chicken feathers after Susan causes a car accident.
Now it isn't that I don't like you, Susan, because, after all, in moments of quiet, I'm strangely drawn toward you, but – well, there haven't been any quiet moments. Dr. David Huxley (Cary Grant)
Once at the farm, Susan allows David to take a shower to clean up so that he can be presentable for his wedding. She sends David's clothes out to be cleaned. In reality, Susan has fallen in love with David and wants to keep him at the farm. Susan's aunt, the wealthy Elizabeth Random, arrives at the farm and instantly takes a dislike to David. David is unaware that she is the same person that he is trying to get the donation from. Elizabeth's dog George runs off with David's intercoastal clavicle and buries it somewhere on the property. Without the bone, David can't return, so he calls Alice to tell her that he won't make the wedding.
That night, Elizabeth entertains her friend, former big-game hunter Major Horace Applegate (Charles Ruggles) for dinner. During the conversation, Susan learns that Baby was sent as a gift for Elizabeth from her brother. David constantly watches George and follows him everywhere in the hopes that it will reveal the location of the missing bone. After Elizabeth's gardener, Aloysius Gogarty (Barry Fitzgerald), sees Baby, the zoo is called to help capture the animal. Susan and David go out together to find the bone and Baby. During their adventure, they accidentally free a second, more dangerous, leopard when they come across the new leopard being taken by a nearby circus to be destroyed.
David and Susan eventually track a leopard to the top of Dr. Lehman's house. They attempt to sing to it, but they only wake the psychiatrist and his wife (Tala Birell). The police are called, and David and Susan are arrested by Constable Slocum (Walter Catlett). Slocum does not believe Susan's stories about being the niece of Elizabeth and chasing a leopard through the Connecticut countryside. Due to confusion and misidentifications, Slocum soon has Elizabeth, Aloysius, and Major Applegate behind bars as well. Susan talks her way out of the cell by pretending to be a gangster known as Swingin' Door Susie. However, she sneaks out of the jail and steals a car to locate Baby to prove their stories.
Mr. Peabody arrives at the police station with Alice and verifies everyone's identities. Baby walks into the police station and Slocum has him placed into a cell for safekeeping despite his tameness. Susan returns a short time later dragging the very irritated circus leopard. When David informs her that the leopard is not Baby, Susan panics. David rushes to her aid and shoos the leopard into an empty cell before he faints and collapses on the floor.
Some time later, Alice calls off the engagement to David. David continues to work on his brontosaurus reconstruction even though he will not receive the donation from Elizabeth. Susan arrives at the museum and provides David with the missing intercoastal clavicle. Susan climbs a ladder to talk with David. She informs David that she received her aunt's million dollars and that she wants to donate the entire sum to the museum. David tells Susan that the day he spent with her was the best day of his life, and the couple confess their love for each other. However, Susan climbs onto the brontosaurus skeleton when her ladder begins to fall. David saves her, but the dinosaur skeleton is destroyed. David resigns himself to the life of chaos that he will experience with Susan in future years as they embrace each other as a couple for the first time.
Additional Film Information
Rate the Film!
RKO Radio Pictures released Bringing Up Baby on November 23, 1938. Howard Hawks directed the film starring Katharine Hepburn, Cary Grant, and Charles Ruggles.