Film and Plot Synopsis
In But I'm a Cheerleader, Megan is your normal, All-American girl on the cheerleading team. She dates the captain of the football team who is the perfect boyfriend. However, her friends and family find it odd that she doesn't like kissing her boyfriend, has posters of girls in her locker, and likes listening to Melissa Ethridge. They all suspect Megan is the worst thing you could ever be; a lesbian! After an intervention, her concerned parents send her to a gay-to-straight conversion camp which opens Megan's eyes to a whole new world.
Buy the Film
But I'm A Cheerleader: Director's Cut [Blu-ray]
11 new from $18.19
3 used from $18.52
Free shipping
as of September 26, 2023 9:48 am
*As an Amazon Associate we earn from qualifying purchases.
'But I'm a Cheerleader' Movie Summary
The summary below contains spoilers.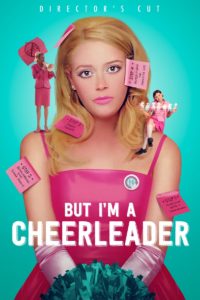 Megan Bloomfield (
Natasha Lyonne
) is a seventeen-year-old high school senior who's into cheerleading, cheerleaders, and her football player / boyfriend, Jared (
Brandt Wille
). However, Jared is a sloppy kisser, and Megan hates when he kisses her. She does love looking at her fellow cheerleaders, and wouldn't mind if they tried kissing her. Because Megan has pictures of women inside her locker, is into vegetarianism, loves Melissa Etheridge, and has flowers on her pillows, her family and friends suspect that Megan is a lesbian. They stage an intervention through True Directions who sends an ex-gay man named Mike (
RuPaul Charles
) to help supervise the meeting.
Megan's ultra religious parents, Peter and Nancy (Bud Cort and Mink Stole), then drive her to True Directions—a gay-to-straight conversion camp—which uses a five-step program to set its "confused" campers straight. Once there, Megan meets the camp's strict founder Mary Brown (Cathy Moriarty) and her supposed heterosexual son, Rock (Eddie Cibrian). Mary has one of the campers named Hilary (Melanie Lynskey) give Megan a tour and get her settled.
Step 1: Admitting You're A Homosexual
For her first meeting, they place Megan in a lone chair as all the campers form a semicircle around her. Jan (Katrina Phillips) is a softball player and a homosexual. Sinead (Katharine Towne) likes pain and is a homosexual. Joel (Joel Michaely) is a Jew and is a homosexual. Graham (Clea DuVall) likes girls—a lot—and is a homosexual. Andre (Douglas Spain) is an actor/dancer/homosexual. Dolph (Dante Basco) is a homosexual varsity wrestler. Clayton Dunn (Kip Pardue) works in retail and is a homosexual. Hilary we already met, and she's also a homosexual.
It's time for Megan's disclosure, but she says she's not a homosexual; everyone just thinks she is. She talks about the issues brought up in her intervention and the others help her realize that other girls might not look at girls the way she does. Megan has an epiphany; she's a homosexual.
Step 2: Rediscovering Your Gender Identity
The next day the campers split up to learn "proper" gender roles. Mary takes the girls indoors and teaches them how to clean, vacuum, paint nails, and prepare to be brides. Mike takes the boys outside, and he teaches them how to work on a car, chop wood, and kill.
The group comes back together to discuss the root cause of their homosexuality. Everyone but Megan has one. She doesn't really know what they are talking about. Mary then tells everyone to find themselves a friend to partner up with for the remainder of the program. Everyone quickly chooses someone except for Megan and Graham who are both kind of outcasts in the camp. They wind up together.
Step 3: Family Therapy
Now we get to family therapy where all the camper's parents join for a day. The kids talk about the root cause of their homosexuality. Megan figures that her root cause of her homosexuality was hen her dad, Peter, was unemployed for nine months, and her mother, Nancy, took over the male roles in the house. Mary quickly agrees this is her root cause. We also learn that Graham's dad is a rich prick who says if she doesn't graduate, he will not only disown her, but also cut her off from her Trust. He then storms out like a caring father.
After the meeting, the parents leave, and everyone else takes a break outside except Mary. Mike looks on as Rock seductively does yard work. (The two seem to be struggling with their sexuality more than the campers.) Megan and Graham begin to bond and fall for each other.
While Andre and Hilary chat, someone throws a paper airplane at him. It's a mysterious flyer that says, "There's another way out! Explore your alternatives! Live Free! Love Free! Meet out front! Midnight this Saturday!"
Later that night, a horny Megan goes to Mary's office to masturbate. Also in the room, Dolph and Clayton are about to have sex. When Mary spots them she screams. Mike catches the boys red-handed, and he takes them to Mary. She kicks Dolph out of the camp for starting it, and Clayton winds up in the literal doghouse when Mary locks him in one for a days.
Step 4: Demystifying the Opposite Sex
Mary shows the campers a slide show of how normal heterosexual life and the traditional roles they will be expected to perform. However, in the dimly-lit room, Graham, sitting next to Megan, begins caressing her arm. While Megan does nothing to stop her, she seems confused about her enjoying Graham's touch. We get a montage of the girls doing traditional girl things; Graham paints Megan's toenails, the two try to change a baby's diaper, Mary teaches the girls how to sit like proper ladies, they scrub floors, and wash dishes. This doesn't stop Megan and Graham from falling for each other.
It's Saturday night! We find that the flyer Andre picked up belongs to two of Mary's former campers, ex-ex-gays Larry (Richard Moll) and Lloyd (Wesley Mann). They disagree with Mary's methods, and they want the kids to know there's nothing wrong with being gay.
They take Megan, Graham, Sinead, Jan, and Andre to a local gay bar called Cocksuckers. While Andre sets the dance floor on fire, Megan reluctantly dances with a Lipstick Lesbian (Julie Delpy). Graham grabs Sinead and dances with her. They dance a little too close for Megan's comfort and she finds herself very jealous. Upset, she runs out to the back alley. Graham follows and the two reveal they have feelings for each other. They begin kissing and their friendly relationship develops into a full-fledged romance.
The next day, Mike leads a group meeting with the campers. Jan reveals that she's not really a homosexual. She likes guys, but she just isn't feminine. Everyone else decided for her she's a lesbian; not her. She quits camp and runs out of the room. Mike says she's in serious denial.
Meanwhile, Mary is cleaning in the girl's room and she finds a matchbox with Cocksuckers on the label. She confronts everyone; especially Graham, because she found the matchbox under her bed. Graham instead distracts her from the truth when says she has an announcement of her own. She's developed a crush on Joel. Mary is pleased. Joel is pleased. Megan is somewhat confused.
Mary brings Megan's parents in to confront her about the field trip to the Cocksucker. They tell Megan that if she doesn't graduate, she can't come home because they can not allow her to live an unhealthy lifestyle under their roof. Nancy continues on that Megan would be choosing to cut them out of her life; not vise versa. Dad's satisfied with the guilt trip they've gone on, and the end the discussion.
With that unpleasantness out of the way, Mary packs everyone up, and makes them picket Larry and Lloyd's house. They shout, "Adam and Eve not Adam and Steve" over and over. When a gay boy heads into their house, he recognizes Graham and yells out that he saw her last night. To cover for herself, Graham throws a rock at him because he saw her and Megan kissing. Larry and Lloyd then yell at Mary before they all leave.
We get another montage of everyone performing their traditional roles as a final test. If anyone fails, Mary will kick them out and they will not be able to go on to Step 5. Everyone passes except for Andre who is told to pack his bags. There's cake in the kitchen if he wants. Everyone else is to rest up for simulated sex.
That night Megan and Graham sneak out to have sex. However, in the morning Megan oversleeps and finds that Mary has caught her in the afterglow. By now, Megan is unrepentant about being a lesbian and won't play ball with Mary. She throws Megan out of True Directions. Graham's parents are with Mary and they pressure her to complete the camp and graduate. Not wanting to be cut off, she agrees to continue on even though it could cost her Megan.
Now homeless, Megan goes to Larry and Lloyd's home for the night. There, she finds Dolph is with them while he gets on his feet.
Step 5: Simulated Sexual Lifestyle
Now all the remaining kids are dressed in flesh-colored spandex with fig leaves over the private parts. The girls have a flower over their flower. Mary pairs them up (Clayton is finally out of the dog house) with the opposite sex, and Graham gets Rock. They are to simulate having heterosexual sex with no foreplay because, "Foreplay is for sissies. Real men go in, unload, and pull out."
That night at Cocksuckers, Megan and Dolph decide to win back Graham and Clayton before tomorrow's True Directions graduation ceremony.
Graduation
As the remaining campers get ready for the outdoor ceremony, Megan and Dolph arrive in a truck wearing camo to rescue Clayton and Graham. The graduates arrive and walk down the middle aisle one after the other like a bride on her wedding day while everyone's parents sit on both sides. Dolph walks up behind Clayton and runs off with him. Megan grabs Graham as she arrives at the aisle, and tries to get her to run off with her. However, Graham is still super afraid of her father, and says she can't go.
Megan doesn't give up that easy. She returns alone to the truck, takes her cheerleading outfit out of her bag, and puts it on. During Mary's commencement speech, Megan interrupts her with a cheer declaring her love for Graham. Mary chases Megan off and she runs back to the truck where Dolph and Clayton are waiting inside the cab. As she tells them to drive away, Graham runs up and jumps in the back of the flatbed with Megan. The two passionately kiss as the truck drives away.
A post credit scene, Megan's parents attend a PFLAG meeting as Peter shows his support for his daughter and her homosexuality.
Additional Film Information
Rate the Film!
Lions Gate Films released But I'm a Cheerleader on July 7, 2000. Jamie Babbit directed the film starring Natasha Lyonne, Clea DuVall, and Cathy Moriarty.