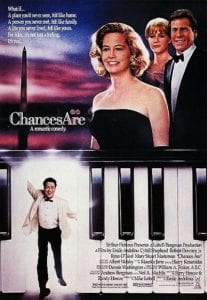 Another charming romantic-comedy with Robert Downey, Jr.!
"Chances Are" is one of several romantic-comedies in the late-80s/early-90s starring Robert Downey, Jr. as the romantic/comedic lead. In my opinion, this is one of his best.
Along with the under-rated 1993 "Heart & Souls", these two movies bookend one another beautifully. They could almost be confused as the same movie since they look the same, have the same sense of humor and have the same leading man playing essentially the same character with minor differences. It may be why the new "Chances Are" cover has changed from the original 1989 purple and white cover.
While "Chances Are" has RDJ being reincarnated to reunite with his long-lost love and her family, "Heart & Souls" has RDJ as the conduit for five ghosts to set things right with THEIR families. I believe "Chances Are" edges out the deserving "Heart & Souls" by a smidgen due to the better romantic theme and simple storyline vs. the more complicated "Heart & Souls" script due to the five ghosts' story lines.
As for "Chances Are" by itself, RDJ plays a reincarnated Louie Jeffries who was married in the 1960s to Cybill Shepherd (this was her last "beauty" movie where she looked stunning). Louie dies on his first anniversary and is reincarnated as RDJ. RDJ stumbles across the adorable Mary Stuart Masterson at university and eventually crosses paths with newspaper superstar, Ryan O'Neal, and Cybill, who has kept the candle lit for her dead husband for two decades, all within the first 15 minutes of the movie.
Through several twists and comedic turns, RDJ realizes who he was and tries rekindling the flames with someone old enough to be his mother – and everyone else thinks he's either a gold-digger extraordinaire and/or psychotic. The entire story reminds me of the old-time Jimmy Stewart and Cary Grant comedies of yesteryear where a little bit of overacting was allowed because it put a smile on your face no matter if the story was credible or not.
The movie is light, funny, charming, and just enough romance to make it a perfect date movie. The men will enjoy the humor and women will enjoy the romance. The cast looks to be genuinely enjoying themselves which makes the unlikely story easy to swallow. Robert Downey, Jr. has always been a special physical actor. He embodies the qualities of other actors into his own persona and magic comes out on-screen.
This may not be perfection, but it is worth watching as a light-hearted romantic comedy. I enjoy it every time I watch it again. It's in my top-20 rom/coms of all-time not because it's a classic – but because all the pieces fit so well to make a fun movie experience. I hope you will enjoy it as much as I do. 7 out of 10.
What do you think of the film? Let us know in the comments below.
Disclaimer: Affiliate links contained in this post will take you to Amazon.com and/or the iTunes Store. This Means when you click a link, and purchase an item, the MHM Podcast Network will receive an affiliate commission. Advertisers and Affiliate Partnerships do not influence our content. See our Terms of Use about the inclusion of affiliate links on this site for more information.
MHM's Rating
A reincarnated man unknowingly falls in love with his own daughter from his previous life. Once he realizes this, he tries to end their relationship before angels erase his memory.