Film and Plot Synopsis
Holden and Banky are two comic book artists and life-long friends. Everything's going good for them until they meet Alyssa; also a comic book artist. Holden falls for her, but the fact she's a lesbian crushes him. However, the two begin dating anyhow, and things get complicated.
Buy the Film
Chasing Amy [Blu-ray]
2 new from $19.94
12 used from $4.53
Free shipping
as of April 30, 2023 7:34 pm
*As an Amazon Associate we earn from qualifying purchases.
The summary below contains spoilers.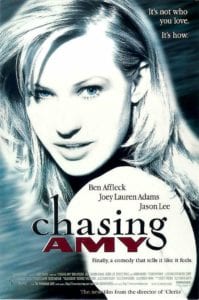 In
Chasing Amy
, comic book artists and BFFs, Holden McNeil and Banky Edwards promote their book, Bluntman and Chronic, at a comic book convention in NYC. There, they meet Alyssa Jones; another comic book artist.
Holden has the hots for Alyssa, but she's lesbian, and Holden is immeditely friend-zoned. Holden eventually tells Alyssa that he's in love with her. Although this angers Alyssa, she eventually calms down, and the two start dating.
Their relationship makes Banky jealous, and he does his best to sabotage the two by digging up dirt on Alyssa. He learns that Alyssa had a threesome in high school with two guys. This news irks Holden it breaks his fantasy that he is the only man she's slept with.
After Holden and Alyssa get in a big argument, Holden has lunch with Jay and Silent Bob. Silent Bob inspires Holden to not give up. He invites Alyssa and Banky to his place where he tells Alyssa that he still wants to be her boyfriend, and tells Banky that he knows he's in love with him. Holden says the only way to set things straight is for them all to have a threesome of their own. Both Banky and Alyssa end their relationship with Holden.
A year passes, and Banky, Holden, and Alyssa each promote their own books at the comic book convention in NYC. The two share a moment before Holden goes to say hi to Alyssa. After a brief conversation, Holden gives her a copy of his new book based on their failed relationship titled Chasing Amy.
Additional Film Information
Rate the Film!
Miramax released Chasing Amy on April 18, 1997. Kevin Smith directed film starring Ben Affleck, Joey Lauren Adams, and Jason Lee.