Film and Plot Synopsis
John Chisum is a cattle king determined to protect his empire against a land-grabbing developer as part of New Mexico's 1878 Lincoln County War.
Buy the Film
Chisum (BD) [Blu-ray]
3 used from $11.88

as of September 29, 2023 11:18 am
*As an Amazon Associate we earn from qualifying purchases.
'Chisum' Movie Summary
The summary below contains spoilers.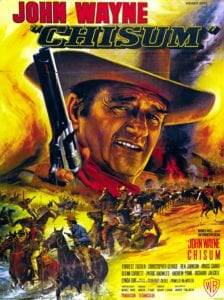 When Lawrence Murphy looks to take over Lincoln County, New Mexico, he finds that he must get through John Chisum (
John Wayne
) to succeed. Murphy has success buying all the stores in town, and then raising prices. He also uses his influence to appoint his own sheriff and deputies.
Murphy orders his men to steal Chisum's cattle before he can sell them to the United States Army. However, a passing buffalo hunter, Pat Garrett, warns Chisum's men of the plot.
Murphy hired Kansas City attorney, Alexander McSween to make his deeds legal, but Murphy's lack of scruples doesn't sit well with McSween. Henry Tunstall and Chisum decide to open their own bank and general store to compete with Murphy which they ask McSween to run.
Soon Garrett agrees to help Chisum, and he befriends William Bonney, Tunstall's hired hand. As they bring a wagon train of provisions to the new store, Murphy's men ambush them. Garrett, Bonney, and the rest of the men fight off the attackers, but Bonney winds up injured from the incident.
Tunstall heads out to Santa Fe to get assistance from the Governor. However, along the way Murphy's deputies accuse Tunstall for cattle rustling, and kill him. After Tunstall's funeral, Chisum and Garrett track down the deputies, and bring them back to town for trial.
Enraged, Bonney seeks revenge for the murder of his mentor because he doesn't believe the deputies will face justice in Murphy's town. As Garrett escorts the deputies back to town, Bonney sucker punches Garrett, and shoots both deputies dead. Before Sheriff Brady can whip together a posse to nab Bonney, Bonney rides into town, and kills him as well.
So Murphy appoints the bounty hunter Dan Nodeen as sheriff, and orders him to hunt down Bonney. He gladly accepts because he has a score to settle with Bonney for giving him a permanent limp.
Not satisfied with their deaths, Bonney goes to McSween's store for a dynamite loan to rob Murphy's bank. Nodeen spots him there, and he and Murphy's men surround the store. They let McSween's wife, Sue, leave, and soon an unarmed McSween comes out too, but Nodeen shoots him in cold blood.
Sue alerts Chisum, and he rides into town with his ranch hands. Murphy's men have blocked the main street, so Chisum stampedes his cattle through the barricades. He tracks down Murphy, and a fist fight ensues. Both men fall from a balcony, and when you mess with the bull, you get the horns, and Murphy ends up impaled on them. Now that Murphy is dead, there's no payday, so Nodeen leaves town. Billy follows in hot pursuit.
The film ends with Garrett now sheriff, and he and Sallie settle down together. With life back to normal, Chisum returns to the Pecos Valley; a solemn figure on a hilltop looking out at the land he owns.
Additional Film Information
Rate the Film!
Warner Bros. released Chisum on July 29, 1970. Andrew V. McLaglen directed the film starring John Wayne, Forrest Tucker, and Christopher George.