Film and Plot Synopsis
Coma is the story of a young woman doctor who discovers something sinister going on in her hospital. Relatively healthy patients are having 'complications' during simple operations and ending up in comas. The patients are then shipped off to an institute that looks after them, and the young doctor suspects there is more to this than meets the eye.
Buy the Film
Coma (BD) [Blu-ray]
11 new from $10.74
10 used from $6.04
Free shipping
as of September 15, 2023 11:28 pm
*As an Amazon Associate we earn from qualifying purchases.
'Coma' Movie Summary
The summary below contains spoilers.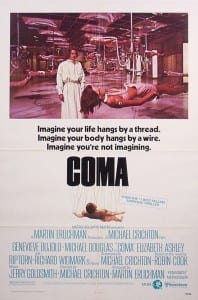 When
Coma
begins, something is not right at prestigious Boston Memorial Hospital. Employee Dr. Susan Wheeler (Genivieve Bujold) is devastated when her best friend becomes comatose and eventually dies from an abortion procedure at the hospital. She becomes suspicious when another healthy patient (Magnum P.I. Tom Selleck) also unexpectedly falls into a coma on the operating table.
Dr. Wheeler does some digging and finds that within the last year quite a few healthy patients have lost brain function after routine operations. All of the affected patients were in operating room eight, had a tissue sample taken, and ended up coma patients at the Jefferson Institute.
Susan does more detective work by confronting the hospital administration. She offends the Chief of Anesthesiology, Dr. George (Rip Torn) with her suspicions. She finds allies in her boyfriend, fellow doctor Mark Bellows (Michael Douglas) and Dr. Harris (Richard Widmark) the Chief of Surgery.
Dr. Harris suggests that Dr. Wheeler take a long weekend to relax and get away from the stress of losing her friend and working. Dr. Wheeler and Bellows head to a coastal resort and enjoy a pleasant weekend. On the way back they happen to pass Yhe Jefferson Institute. Dr. Wheeler insists on going to see it but Bellows refuses. Susan is turned away due to a "no visitor" policy but plans to come back for a doctor's tour.
Dr. Wheeler enjoys the tour but sneaks into unauthorized areas to continue her investigation. Security cameras catch her sleuthing and she makes a narrow escape on top of an ambulance. Dr. Wheeler's tenacity pays off and she discovers that the Jefferson Institute is actually a black market organ -harvesting ring and that carbon monoxide is used at Boston Memorial in O.R. 8 to provide more patients with more organs to sell.
Susan hurriedly tells Dr. Harris what is going on and that she thinks Dr. George is the mastermind. Dr. Harris is shocked but sympathetic and he offers her a drink. The drink is drugged and we learn that the corrupt doctor is actually Dr. Harris. He prepares Dr. Wheeler for an emergency appendectomy in O.R. 8. Originally, Room 8 was unavailable, but Dr. Harris' insistence upon using this room makes Dr. Bellows suspicious. He finds the carbon monoxide tank in the hospital basement and saves Dr. Wheeler from becoming another premature organ donor. Dr. Harris knows the jig is up when Dr. Wheeler wakes up much to his surprise and ruin.
Additional Film Information
Rate the Film!
Metro-Goldwyn-Mayer (MGM) released Coma to theaters on January 6, 1978. Michael Crichton directed the film starring Michael Douglas, Rip Torn, and Geneviève Bujold.