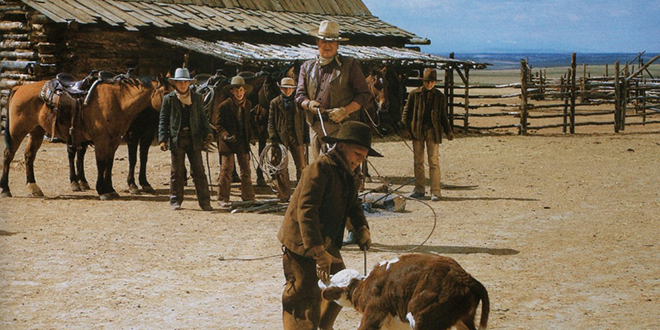 Podcast: Play in new window | Download
Subscribe: Apple Podcasts | Android | Google Play | Stitcher | RSS | More
Warner Bros. Pictures released The Cowboys to theaters on January 13, 1972; grossing $7.5 million worldwide. Mark Rydell directed the film which starred John Wayne, Roscoe Lee Browne, and Bruce Dern.
The Cowboys Movie Summary
60-something Wil Andersen must find a new set of ranch hands when gold fever strikes in his part of the state. He needs to drive his cattle 400 miles to Bozeman, Montana, and although it's a precarious journey, he hires a group of schoolboys to ride with him during their summer break.
One of the boys, Cimarron, is a bit older, and wants to join Andersen, but he has an angry demeanor, and Andersen doesn't want the extra headache. Anderson makes Cimarron leave while he teaches the others what they need to learn for the trip.
During the preparations, "Long Hair" Watts, the leader of a group of cattle rustlers, tries to convince Andersen to hire them instead of the boys. Andersen doesn't care that these men just got out of prison as much as he doesn't like Long Hair lying to him. When he figures out that Long Hair is indeed lying to him, he flat out refuses to hire the men.
Soon, Jeb Nightlinger arrives in a chuck wagon; ready for duty. With everybody ready for the trip, the group of boys kisses their parents goodbye, and they burn sunlight towards Bozeman.
Cimarron hasn't given up on being part of the crew, and trails the cattle drive for days. Luckily for a boy named Slim, Cimarron is there, because one day Slim falls off his horse while crossing the river. Unable to swim, Slim nearly drowns, but Cimarron is there to save him. The helps him prove himself to Andersen, who changes his mind, and lets Cimarron join them.
As they travel on, a boy named Charlie falls off his horse while retrieving some glasses, and the cattle trample him to death. Despite these setbacks, the boys learn to do their jobs well.
With less than a week left in the drive, Nightlinger's chuck wagon gets a flat, and he stays behind to repair it. As Andersen presses forward, he spots Long Hair and his men paralleling the herd.
Andersen, rightly so, figures the men will attack them at night to take the herd. When they do show up later that night, Andersen bests Long Hair in a fistfight, but Long Hair is a poor sport. He draws a gun, and shoots the unarmed Andersen a number of times; leaving him near death. The cattle rustlers steal the herd, but they let the group of boys live, and hightail it out of there.
The next morning, Nightlinger finally catches up to the group, and he finds Andersen breathing his last breaths. Once they bury Andersen, the boys overpower Nightlinger, and tie him up to retrieve their guns locked in the chuckwagon.
Surprisingly, Nightlinger agrees to help them form a plan to take back the cattle, and finish the drive. The boys are able to take out the cattle rustlers, and steal back their herd. They finish the drive, and pay to have a tombstone created in Andersen's honor. They place it at Andersen's gravesite, and then head back home.
Theme Song "God Bless John Wayne" by Lowell Shyette
Buy Song On Amazon.com  Buy Song On iTunes
Disclaimer
This podcast is not endorsed by Warner Bros. Pictures and is intended for entertainment and information purposes only. The Cowboys, all names and sounds of The Cowboys characters, and any other The Cowboys related items are registered trademarks and/or copyrights of Warner Bros. Pictures or their respective trademark and/or copyright holders. All original content of this podcast is the intellectual property of Sunday Seconds with the Duke, The MHM Podcast Network, and Fuzzy Bunny Slippers Entertainment LLC unless otherwise noted.
Affiliate links contained in this post will take you to Amazon.com and/or the iTunes Store. This means when you click a link, and purchase an item, the MHM Podcast Network will receive an affiliate commission. Advertisers and Affiliate Partnerships do not influence our content. See our Terms of Use about the inclusion of affiliate links on this site for more information.