Film and Plot Synopsis
Michael J. "Crocodile" Dundee is an Australian crocodile hunter living in the Australian outback. There he runs a safari business with his trusted friend and mentor Walter Reilly. One day, New York journalist, Sue Charlton, arrives to interview Mick about his life. After he saves her from a crocodile, she invites him to the Big Apple since Mick claims he's never been to a city. While Mick finds life in New York City a lot different than his home, falling in love is pretty much the same everywhere… he and Sue prove that.
Buy the Film
The Crocodile Dundee Trilogy [Blu-ray]
9 new from $22.49
Free shipping
as of June 5, 2023 12:41 pm
*As an Amazon Associate we earn from qualifying purchases.
'Crocodile Dundee' Movie Summary
The summary below contains spoilers.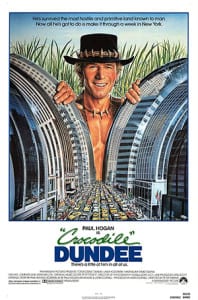 Over a decade before Steve Irwin hunted crocs across the Australian outback, the Academy Award nominated,
Crocodile Dundee
, was packing theaters down under. After a year of continuous viewings, the film exploded onto the global stage; shooting it's well known local star, Paul Hogan, into movie superstardom.
Pre Credits begin at a newspaper office in a New York City where word has filtered through from the southern hemisphere that a man has survived a brutal crocodile attack by dragging himself a few kilometers through feral bushland to safety. For our American listeners, kilometers are like miles, but shorter, and 10 times easier to keep track of.
Sue, played by Paul Hogan's future wife on and off screen, is sent to Walkabout Creek Australia, on assignment, to interview and spend a few days with the man who looked a croc in the eye and lived to tell the tale.
Upon arrival to the dusty 1 pub town, Sue is met by Wally, best friend and business partner to Michael J. Crocodile Dundee, and it isn't long before drinking games and dancing with a stuffed reptile is in order.
After a bit of sobering up the stuffed croc, Sue joins the rugged Aussie for 2 days of fun and sun in the scrub to see the location of the alleged incident. Once they get to the site of the attack, Sue believes Mick might be a lowly poacher when she finds empty shotgun shells in the immediate area of his wrecked boat, but after a confrontation with a group of the drunken Kangaroo hunters later that night, she and the audience are left wondering whose gun those shells really came from.
Around a campfire, Mick casually kills a king brown snake with the stealth of a teen boy silently rubbing one out while his brother sleeps in the bunk bed below him, and declares that Sue wouldn't last five minutes in the bush alone. Angered by this, Sue decides to go off on a solo walkabout the next morning near croc infested waters to prove that she's not some helpless sheila. I think she will be fine as long as she stays away from the water's edge.
Out on the water's edge of a lone billabong, Sue decides to cool off by stripping down to nothing but her black 80s leotard. Mick slyly takes in the scenery while hiding in the bush behind her, but he is interrupted when a mechanical crocodile, built by a group of blind men with no fingers, bursts out of the water, and makes a lunge for Sue's lovely lady lumps.
Mick dives in to save that junk inside her trunk, and kills the croc in one swoop. Sue is now 100% aflame with desire for our knife-wielding hunter, and presses her scantily clad body against Mick's mighty sword. Look out Sue, he might just give you a poke in the pond too.
Later that night, the Articulate Aborigine, Neville, stops by to say G'day on his way to a corroboree; a foot-stomping tribal dance where you twerk with your feet. Mick joins Neville and his brothers as it's now Sue's turn to spy from the bush. She tries to take a photo of the native disco in the dark, but is spotted by Mick.
Not satisfied with her brief frolic with Mick's billabong, Sue requests him to come back with her to New York City for the second stanza of the film. Who knew that a man who has never left the bush, let alone gone to a big city, has his passport ready to go in case a strange woman asks him to fly away with her. That's definitely the type of "be prepared" that the Boy Scouts of America don't teach.
Although being in a big city takes Mick out of his element, his innocent, Outback charm makes an instant impression on just about every transvestite and hooker north of the Jersey Shore.
We walk along the urban jungle with him, saying g'day to random New Yorkers. We ride sidesaddle with him on the back of a burly policeman's horse, and we learn how Aussies show off their huge knives to a bunch of kids who look too old to be touched by Michael Jackson.
The situation comedy hit its stride at a cocktail party where Mick empties cocaine into a bowl of boiling water to clear a yuppies head-cold, and when he joins a little Italian taxi driver for a drink and a squeeze of Gwendoline's crown jewels; a practice he later employs when another tall deep-voiced lady makes his acquaintance, but wouldn't it be rude not to?
Crocodile Mick is in disarray when Sue is proposed to by Richard, Rosanna Arquette's jerk husband from Desperately Seeking Susan. Can anyone logically tell me how that douche is able to get the trim he gets with that face and personality? Mick decides to leave town unannounced, and go out on his own Walkabout via the next Subway station. Sue gets wind of this, and runs barefoot across the grimy streets of New York City towards the Subway where she spots Mick's tanned hat and matching vest across the crowd.
They play Chinese whispers across the commuters which ends in Sue declaring her love for the stoked Australian; invoking him to jump up and step over the waiting riders. Like a sheep dog prodding across a field, Mick lands in Sue's open arms to the cheers of jaded New Yorkers. Fade to black and roll the credits. We have a second installment of Crocodile Dundee we need to get out in the next two years.
Additional Film Information
Rate the Film!
Paramount Pictures released Crocodile Dundee to theaters on September 26, 1986. Peter Faiman directs the film which stars Paul Hogan, Linda Kozlowski, and John Meillon.