Film and Plot Synopsis
In 18th century France, the Marquise de Merteuil and the Vicomte de Valmont play a fun little game of seduction. Since Valmont prizes his sexual conquests above everything else in his life, Merteuil challenges him to seduce the soon to be married virgin, Cecile de Volanges. He declines, claiming that it would be too easy. Madame de Tourvel is the one he really wants to seduce, so she challenges him to bed Tourvel instead, but he must submit proof in writing. However, when Merteuil learns that Valmont has actually fallen in love with Tourvel, she becomes wildly jealous. Death and shame follows soon thereafter.
Buy the Film
Dangerous Liaisons [Blu-ray]
6 used from $11.69
Free shipping
as of November 29, 2023 1:07 pm
*As an Amazon Associate we earn from qualifying purchases.
'Dangerous Liaisons' Movie Summary
The summary below contains spoilers.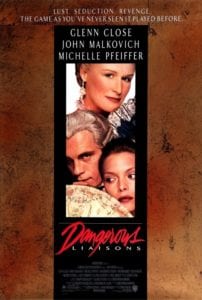 Bedrooms and Hallways. Gardens and Castles. Love and Revenge. Acknowledged suitors, unacknowledged suitors, anatomy, deceit, surrender, jealousy, distraction and sex are timeless threads through this Oscar winner.
For her own absorbed amusement wealthy widow Marquise de Merteuil uses her natural predatory instincts challenging notorious womanizer Vicomte de Valmont to seduce naive young newlywed Madame de Tourvel while also set a task of performing erotic education with a teenage daughter of a former fling Cecile de Volanges before the tender innocent is married off.
Cecile considers more than just piano lessons from from her music teacher Chevalier Danceny they writer letters of love until Valmont steps in under his own terms, for now. Merteuil offers sexual rewards to Valmont for inspiration, both have a history together and glimpses of actual solid attachment. Just when you think the comedy romance aspects set in, high stakes drama unfolds turning this immaculately photographed, designed and acted period classic inside out.
Decadence seeps through true love and loss, hardly balanced but taken to extremes with nothing good for anyone involved culminating in a raw final stanza that conforms full circle treachery has no part in true love.
Additional Film Information
Rate the Film!
Warner Bros released Dangerous Liaisons on December 18, 1988. Stephen Frears directed the film starring Glenn Close, John Malkovich, and Michelle Pfeiffer.