Film and Plot Synopsis
The D.C. Cab company is a down on its luck cab company in Washington D.C. New in town Albert comes to town to follow his dream of owning a cab company and sees his best opportunity to do so by joining his father's war buddy's company, D.C. Cab's owner Harold Oswelt. Harold oversees a rag tag group of drivers who are more like Animal House than Taxi. However, when the cab drivers come up against a group of child kidnappers and a mysterious priceless violin, D.C. Cab's may ultimately turn around for the good…if they survive.
Buy the Film
D.C. Cab [Blu-ray]
6 new from $17.99
1 used from $19.04
Free shipping
as of November 28, 2023 10:21 am
*As an Amazon Associate we earn from qualifying purchases.
'D.C. Cab' Movie Summary
The summary below contains spoilers.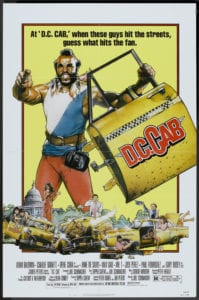 Albert Hockenberry (
Adam Baldwin
) arrives in Washington D.C. with dreams of making it big. However, Albert does not seek any political career, but instead seeks to make his fortune by becoming a cab driver. Albert's career ambitions depend on the assistance of his late father's army buddy Harold Oswelt (
Max Gail
), who owns the barely surviving cab company, D.C. Cab. Harold employs an army of misfits who collectively are looking for various ways not to be cab drivers anymore.
Samson (Mr. T) is muscle bound cab driver who wants to protect his niece and his neighborhood from the predatory drug dealers who thrive upon the downtrodden. Dell (Gary Busey) is the somewhat insane Elvis fan who sees conspiracy theories everywhere. Ophelia (Marsha Warfield) is the lone female cab driver who works harder than her male counterparts, but is growing tired of being robbed at gun point by a ski masked wearing bandit (Dennis Stewart). Baba (Bill Maher) is the wise ass cab driver who knows what is exactly wrong with the world and is not afraid to share it. Xavier (Paul Rodriguez) is the cabbie who moonlights as a gigolo with little success. Buddy and Buzzy (Peter Barbarian and David Barbarian) are two monstrous men who would rather resolve things with their fists than talking through their problems. Finally, there is Tyrone Bywater (Charlie Barnett) who is an angry cabbie who keeps everyone else at bay.
D.C. Cab is the bottom of the barrel of the cab company world. The local cab hack, Ernesto Bravo (Jose Perez), is constantly breathing down Harold's neck looking for a reason to shut them down. Harold hires Albert out of loyalty to Albert's father and has the young man shadow with the other cab drivers to learn the city. Harold wants to make D.C. Cab into a legitimate cab company, but lacks the financial capital to do so. However, Albert's enthusiasm inspires Harold to keep trying.
Shortly after Albert's arrival, all the cab companies are notified that a passenger left his expensive violin in an unknown cab somewhere in the city. All cab companies begin a frantic search for the valuable violin in the hopes of capturing the $10,000 reward for the musical instrument. Meanwhile, Albert and Tyrone begin to become friendly after Albert breaks through Tyrone's crazy, tough guy façade to understand the man behind the curlers.
One day, Albert is driving a cab for the first time by himself while Tyrone grabs some shut eye in the back seat. They encounter the ski masked bandit, who tries to line his pocket with Tyrone's green. However, Albert won't give in and begins to drive like a madman and challenges the gunman to shoot him, knowing that they will crash and likely die. Tyrone gets the gun away from the bandit and Albert drives the cab back to the D.C. Cab station. The bandit is arrested and Albert is hailed as a hero.
However, a few moments later, the D.C. Cab resident homeless man, Mr. Rhythm (Whitman Mayo) begins playing the missing violin. Mr. Rhythm tells Harold that he found the violin in the yellow cab when questioned whose cab he found it in. Ultimately, it is decided that Harold shall receive the $10,000 reward since he owns the company. Harold surprises everyone, especially his wife Myrna (Anne De Salvo), when he announces that he plans to share the reward with everyone, but he asks all the drivers to invest the money itself back into D.C. Cab so that the company can become a viable business. The drivers are not keen on the idea, especially Tyrone who wants to put his days as a cab driver behind him.
Everyone's expectations are thwarted when Myrna collects the reward money herself and locks Albert and Harold out of the house. She begins an affair with Bravo which does not upset Harold as much as it should. The drivers are enraged and threaten to quit. Albert surprises everyone when he offers to take his entire savings, a little over $6,000, and invest it directly into D.C. Cab. He believes that they can make the cab company into an upstanding business and he begs the other drivers to join in. Everyone agrees with the exception of Tyrone, who quits in protest. However, the combination of Albert's investment and the drivers' dedication to the company completely overhauls the business and D.C. Cab becomes the top cab company in the District of Columbia.
A few days later, Albert is driving Tyrone's old route and taking a couple of maids to a diplomat's house. Once at the diplomat's house, a group of kidnappers jump out and kidnap the diplomat's two children and Albert. The police and the F.B.I. begin to suspect Albert was involved in the kidnapping and shut down D.C. Cab while they investigate. The D.C. Cab drivers rally together and begin their own investigation. Meanwhile, Albert escapes from his bonds and gets to his cab's radio to call for help. He reaches Mr. Rhythm on the radio and tells the homeless man that he and the kids are on farm with a windmill. He also tells Mr. Rhythm that he sees Bruce Lee before he is recaptured.
Mr. Rhythm finds the D.C. Cab drivers, now joined by Tyrone, and tells them the information. The group breaks into the garage and steals their cabs back and begin searching the suburbs outside the city. Tyrone finds a drive-in movie theater that is playing a Bruce Lee film and finally understands Albert's description. Tyrone calls for the crew and they find the farm house. The kidnappers try to escape with Albert and the cabbies pursue in their cars. They free Albert while the kidnappers' van is in motion and just before the van crashes. The kids are also freed for good measure.
The film ends with a parade that is celebrating the D.C. Cab company for some reason. Presumably, the D.C. Cab company has been forgiven for the presumed crimes.
Additional Film Information
Rate the Film!
Universal Pictures released D.C. Cab on December 16, 1983. Joel Schumacher directed the film starring Max Gail, Adam Baldwin, and Mr. T.