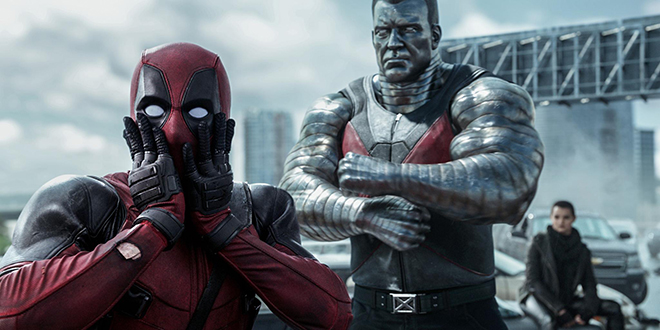 Podcast: Play in new window | Download
Subscribe: Apple Podcasts | Android | Google Play | Stitcher | RSS | More
Directed by: Tim Miller
Starring: Ryan Reynolds, Morena Baccarin, T.J. Miller
Deadpool Movie Summary
Our anti-hero Wade Wilson, played by Ryan Reynolds, is an ex-Army Special Forces badass turned mercenary for hire. One fateful night, he meets the lovely Vanessa Carlysle, played by Morena Baccarin (of Firefly fame). The two strike up a romance for the ages, only to discover that Wade has terminal cancer. Luckily (or unluckily) enough, Wade is contacted by a shadowy guy named Jared who offers him a shot at a cure.
With no choice but to try, Wade ends up in the clutches of the evil Ajax (Ed Skrein), who tortures, disfigures and ultimately transforms him into the hideously scarred, super funny, speedy healing Deadpool. An epic rivalry is born.
Deadpool, vowing revenge and convinced that Ajax (a.k.a. Francis) holds the key to a cure, works to track him down, but during one of his attempts to catch his nemesis, Deadpool is interrupted by Negasonic Teenage Warhead and Colossus, who try to recruit him into the X-Men, allowing Ajax/Francis to escape.
Along the way, Deadpool follows Vanessa, but stays away from her fearing her reaction to his disfigurement. Ajax and his faithful sidekick, Angel Dust, figure out that Vanessa is Deadpool's weakness and kidnap her.
Deadpool, Colossus and Negasonic Teenage Warhead band together to rescue Vanessa, who, not surprisingly, happily reunites with her former lover. Ajax/Francis is dead and Deadpool will never have the cure he's been looking for, but he does get the girl and, given his box office success, a sequel.
Disclaimer
This podcast is not endorsed by 20th Century Fox Home Entertainment and is intended for entertainment and information purposes only. Deadpool, all names and sounds of Deadpool characters, and any other Deadpool related items are registered trademarks and/or copyrights of 20th Century Fox Home Entertainment or their respective trademark and/or copyright holders. All original content of this podcast is the intellectual property of Movie House Concessions, the MHM Podcast Network, and Fuzzy Bunny Slippers Entertainment LLC unless otherwise noted.
Affiliate links contained in this post will take you to Amazon.com and/or the iTunes Store. This means when you click a link, and purchase an item, the MHM Podcast Network will receive an affiliate commission. Advertisers and Affiliate Partnerships do not influence our content. See our Terms of Use about the inclusion of affiliate links on this site for more information.