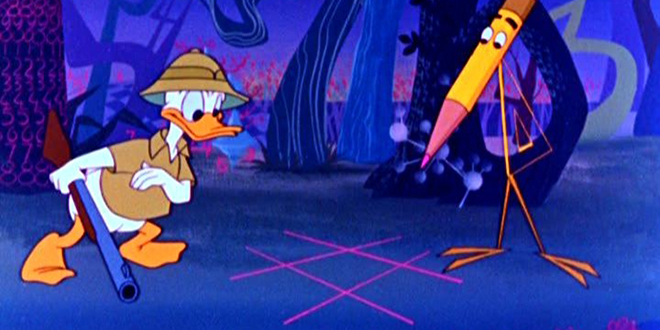 This movie is a must-watch by anyone from age 6+. It may be from Disney. It may have a cute, animated Donald Duck on the cover. It may be a classic "short" (27 mins). What is most impressive about this IMPORTANT piece of entertainment is the ability to converge entertainment with education to create something children, high school students, and professional mathematicians alike see the value of this excellent little film.
This is not your standard short about Donald playing hockey with his triplet nephews. It isn't Mickey and Pluto chasing Chip and Dale up one tree and down another. It isn't Goofy "YA-HA-hooey"ing his way along another bumbling adventure. This is good old fashioned egghead mathematics in the most joyful, silly, absorbing way possible. It is a marvel.
If you are a math teacher, PLEASE buy a DVD copy of this and show it annually to your classes, no matter what grade – 1st-12th — even university-level would find it invigorating. If you are a student of any age, track this down and watch it. You'll never look at music, chess, pool tables, or algebraic equations (yes, they are all in there) the same again.
The best review I can give is this: My sister-in-law teaches 4th grade math and had never heard of this show. I went home and pulled it out of our library to "loan" to her. When my college-age son saw what I had in my hand, his eyes lit up. "My Trig teacher put that on for us! It's AWESOME!!!" I'm 52 and flunked geometry in high school. My 19yo son was an honors math student through high school. If we can BOTH find this little short to be incredible, I could ask nothing more.
Disney, I applaud you. Thank you for this tiny slice of edutainment that is worth every penny and every second spent watching. It's pure "mathematical joy" – two words I never thought would share the same sentence in my vocabulary.
What do you think of the film? Let us know in the comments below.
Disclaimer: Affiliate links contained in this post will take you to Amazon.com and/or the iTunes Store. This Means when you click a link, and purchase an item, the MHM Podcast Network will receive an affiliate commission. Advertisers and Affiliate Partnerships do not influence our content. See our Terms of Use about the inclusion of affiliate links on this site for more information.
MHM's Rating
If I'd seen this as a kid, I probably wouldn't have flunked geometry in high school!