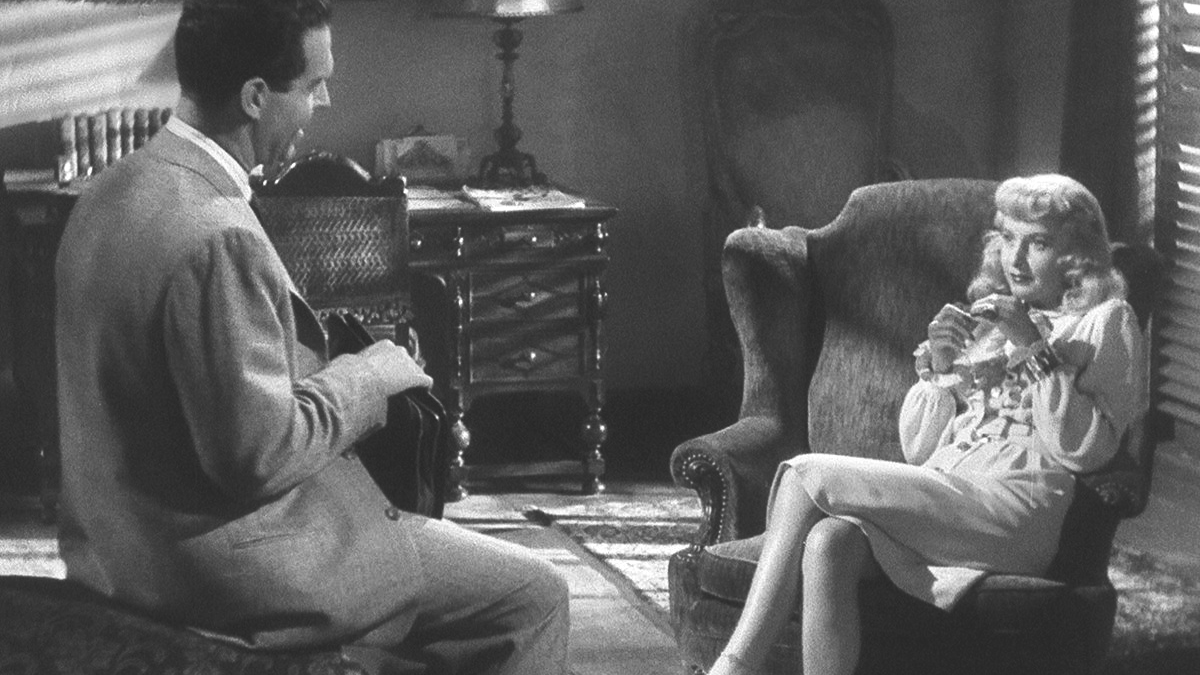 MHM Mart
Double Indemnity (1944) Seduces Criterion
Double Indemnity (The Criterion Collection) [Blu-ray]
16 new from $29.99
7 used from $36.32
Free shipping
as of December 7, 2022 2:31 pm
*As an Amazon Associate we earn from qualifying purchases.
The Criterion Collection released Double Indemnity to Blu-ray on May 31, 2022. Billy Wilder directed the film starring Fred MacMurray, Barbara Stanwyck, and Edward G. Robinson.
'Double Indemnity' Criterion Synopsis
Has dialogue ever been more perfectly hard-boiled? Has a femme fatale ever been as deliciously evil as Barbara Stanwyck? And has 1940s Los Angeles ever looked so seductively sordid? Working with cowriter Raymond Chandler, director Billy Wilder launched himself onto the Hollywood A-list with this paragon of film-noir fatalism from James M. Cain's pulp novel. When slick salesman Walter Neff (Fred MacMurray) walks into the swank home of dissatisfied housewife Phyllis Dietrichson (Stanwyck), he intends to sell her insurance, but he winds up becoming entangled with her in a far more sinister way. Featuring scene-stealing supporting work from Edward G. Robinson and the chiaroscuro of cinematographer John F. Seitz, Double Indemnity is one of the most wickedly perverse stories ever told and the cynical standard by which all noir must be measured.
Read the full summary, and listen to our Golden Age of the Silver Screen film review.
Also available on Apple TV and Amazon Prime Video.
SPECIAL FEATURES
New 4K digital restoration, with uncompressed monaural soundtrack
In the 4K UHD edition: One 4K UHD disc of the film presented in Dolby Vision HDR and two Blu-rays with the film and special features
Audio commentary featuring film critic Richard Schickel
New interview with film scholar Noah Isenberg, editor of Billy Wilder on Assignment
New conversation between film historians Eddie Muller and Imogen Sara Smith
Billy, How Did You Do It?, a 1992 film by Volker Schlöndorff and Gisela Grischow featuring interviews with director Billy Wilder
Shadows of Suspense, a 2006 documentary on the making of Double Indemnity
Radio adaptations from 1945 and 1950
Trailer
English subtitles for the deaf and hard of hearing
New cover by Greg Ruth
Rate the Film!
Paramount Pictures released Double Indemnity to theaters on July 3, 1944. Billy Wilder directed the film starring Fred MacMurray, Barbara Stanwyck, and Edward G. Robinson.