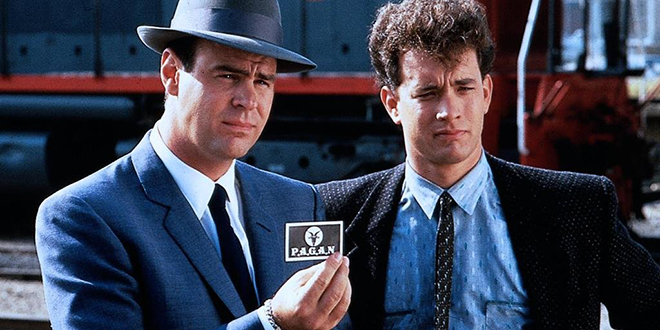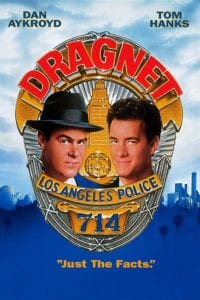 Funny spoof of the original series
I watched this many times years ago in college when it first came out (and thereafter). Tom Hanks was always a fabulous funnyman with impeccable timing. Dan Ackroyd was Jack Webb reincarnated with a comedy flare. It was funny in 1987, it was funny in the years following, it was funny last night while watching with my teenage son who had neither heard of the original series nor really had much experience with a young Tom Hanks circa-"Splash" era. The movie hasn't aged perfectly (how many mid-80s movies have?). However, the originality and genuine caring by the two stars to add some sensibility and joy into a classic dramatic series makes it worth watching. I enjoyed it then. I enjoyed it last night.
Tom Hanks is an American treasure as an actor. He's just that special. I'm so thankful he's stretched out into drama, but his physical comedy and timing are some of the best ever. Dan Ackroyd can spout the dictionary in his monotone "Joe Friday" tone and make it sound funny. He was awesome as the Los Angeles detective with the heart of gold and ethics above reproach. Pairing him with a lovely, innocent Alexandra Paul was a stroke of genius for the screenplay. It allowed these gifted comedians even more fodder for comic gold.
Some people mention this is an "unrealistic" movie. Of course it is. Just like the "Airplane" series is unrealistic. With spoofs, you will need to suspend reality a little to understand the point. "Dragnet" not only sticks close to reality, but even it's silly parts are joyous because the main characters and the character actors playing the minor parts are working so hard to make it believable. To have Dabney Coleman doing his impression of Hugh Hefner with a lisp is inspired lunacy. And naming Joe Friday's grandmother, "Granny Monday"… The jokes go on.
If you're looking for "Schindler's List" or even the Harrison Ford remake, "The Fugitive", you will be disappointed with "Dragnet". But if you love "Airplane", "Spaceballs" and other odd, clever, classic "banana peel" humor, pick up this movie. If you are in the mood for a silly memoir about a classic police show from the 1960s, you won't find much better. I would recommend watching just to watch Tom Hanks as a young comedian. He's worth the time. The rest of the movie is worth your time. Recommended for a night of lunacy. 🙂
What do you think of the film? Let us know in the comments below.
Disclaimer: Affiliate links contained in this post will take you to Amazon.com and/or the iTunes Store. This Means when you click a link, and purchase an item, the MHM Podcast Network will receive an affiliate commission. Advertisers and Affiliate Partnerships do not influence our content. See our Terms of Use about the inclusion of affiliate links on this site for more information.
MHM's Rating
The equally-straight-laced and "by the book" nephew of Joe Friday must work with his more laid-back partner to solve a mystery.