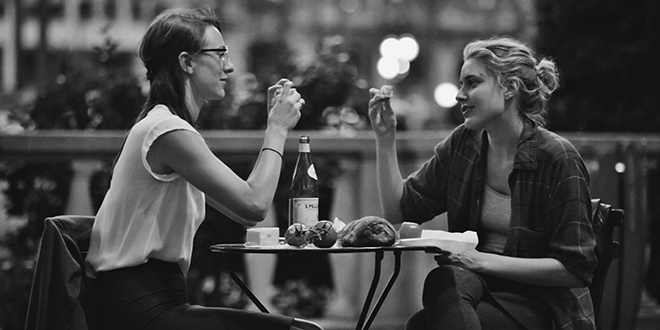 Podcast: Play in new window | Download
Subscribe: Apple Podcasts | Android | Google Play | Stitcher | RSS | More
IFC Films debuted Frances Ha at the Telluride Film Festival on September 1, 2012 with a limited released on May 17, 2013; grossing $11.3 million worldwide. Noah Baumbach directed the film which he and Greta Gerwig wrote. The mumblecore dramedy starred Greta Gerwig, Mickey Sumner, and Adam Driver.
Frances Ha Movie Summary
Frances Ha is a modern comic fable in the tradition of classic Woody Allen; not just because of the black & white cinematography or intricate authentic New York locations, but also for the refreshing observational wit Greta Gerwig possesses.
As cash strapped Frances Ha, she is epic in up tempo delivery; getting inside the character who has no real place of her own. She prefers to couch hop or crash in friends apartments while apprenticing for a established NY company. She's not exactly a dancer, but still looks to become a full time member. That, in turn, will allow her a chance to develop her own choreography.
Her best friend, Sophie, doesn't often see eye to eye with Frances often brushing her with the silent treatment.
Frances is a spontaneous and free wheeling individual that endears her to many. However it often prevents her confidence to shine at crucial moments.
She takes a two-day trip to Paris putting her into further financial turmoil.
Often finding herself surrounded in conversations regarding children, marriage, and careers and so forth, her own direction seems to be a continuous sway even resorting to a brief stage of lying to those close to her.
Exploring The Big Apple with Frances is hilarious, interesting, heartbreaking and ambitious with cool musical interludes that mean something.
Disclaimer
IFC Films does not endorse this podcast which is intended for entertainment and information purposes only. Frances Ha, all names and sounds of Frances Ha characters, and any other Frances Ha related items are registered trademarks and/or copyrights of IFC Films or their respective trademark and/or copyright holders. All original content of this podcast is the intellectual property of Movie House Concessions, the MHM Podcast Network, and Fuzzy Bunny Slippers Entertainment LLC unless otherwise noted.
Affiliate links contained in this post will take you to Amazon.com and/or the iTunes Store. This means when you click a link, and purchase an item, the MHM Podcast Network will receive an affiliate commission. Advertisers and Affiliate Partnerships do not influence our content. See our Terms of Use about the inclusion of affiliate links on this site for more information.