Film and Plot Synopsis
Robin "Stormy" Weathers is an apprentice attorney who turns a civil suit into a headline grabbing charade. However, he must re-examine his scruples after his shenanigans win him a promotion in his firm that leads to him defending a college professor who is apparently guilty of murder.
Buy the Film
From The Hip
6 new from $7.09
12 used from $2.66
Free shipping
as of June 1, 2023 6:02 pm
*As an Amazon Associate we earn from qualifying purchases.
'From the Hip' Movie Summary
The summary below contains spoilers.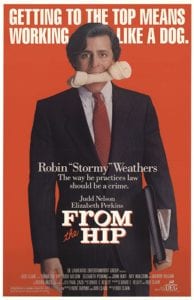 In
From the Hip
, Judd Nelson plays Robin "Stormy" Weathers, the cinematic cliché of a fresh out of law school lawyer. He's smarter than every other lawyer and judge around him. Legal research and writing at his six-figure salary firm bores him to death. So, he tries to elevate his status at the office as a take-no-prisoners type of attorney. This allows him to trick his way into a civil assault trial.
Stormy hides a trial date from one of his bosses; something they could fire and disbar him for. This allows him to get into the courtroom, where does many things that they could fire and disbar him for. Stormy's "guilty as shit" client in the civil assault wants a three-day trial. This will increase the legal expenses of the opposing party. So, Stormy obliges him.
He first convinces the court to have an evidentiary hearing on the admissibility of the word "asshole". (Anyone who practices in the legal field is well versed in that term of art.) Next, he conspires with opposing counsel to put on a "good" show in the trial to further both of their reputations and careers. Ultimately, Stormy wins the civil case against the expectations of all his superiors.
Stormy becomes the toast of the town with dozens of new clients hiring the firm. However, Stormy soon finds himself in hot water when a wealthy and famous defendant charged with murder, Dr. Douglas Benoit, hires Stormy's firm to represent him. Benoit insists Stormy will be his attorney.
The prosecutor charges Benoit with the murder of prostitute, and no, not the Julia Roberts type who dictates directions to you when you are new in town. Benoit's prostitute is probably more like the type you would find in Street Smart or Doctor Detroit. The kind with a big mean pimp, who coincidently has also disappeared. The cops never find the body of Benoit's victim, but they locate pieces of her brain, and the murder weapon, a claw hammer, in his car.
He claims he is innocent, but all the evidence seems to point in his direction. Benoit wants Stormy to put on one of his shows to win the case. Benoit is also egotistical prick who believes he is more intelligent than everyone. And apparently, he is, because he is constantly schooling Stormy on what is admissible, what is ethical, and what the defense in the case is going to be.
As the case proceeds, the unwinnable case begins to turn in favor of Benoit and Stormy. And the possibility of acquittal begins to weigh on Stormy's conscience, as he has come to believe that Benoit is a murderer. Stormy feels guilt over the conflict between his own ethical obligations to his client and his personal morals which wishes for Benoit to see punishment for heinous crime.
The film comes to dramatic conclusion during the cross-examination of Benoit, when Stormy begins a rambling, unethical, unprofessional monologue of all the evidence that may convince the jury that Benoit is not guilty by sharing all the embarrassing things that Benoit does not want the world to know–mainly that he can't get it up. Benoit tries to unsuccessfully take out Stormy with the claw hammer in front of the jury. After that courtroom display, the jury finds Benoit guilty. The judge finds Stormy in contempt, and everybody seems to learn something. I'm just not sure what it is.
Additional Film Information
Rate the Film!
De Laurentiis Entertainment Group released From the Hip on February 6, 1987. Bob Clark directed the film starring Judd Nelson, Elizabeth Perkins, and John Hurt.