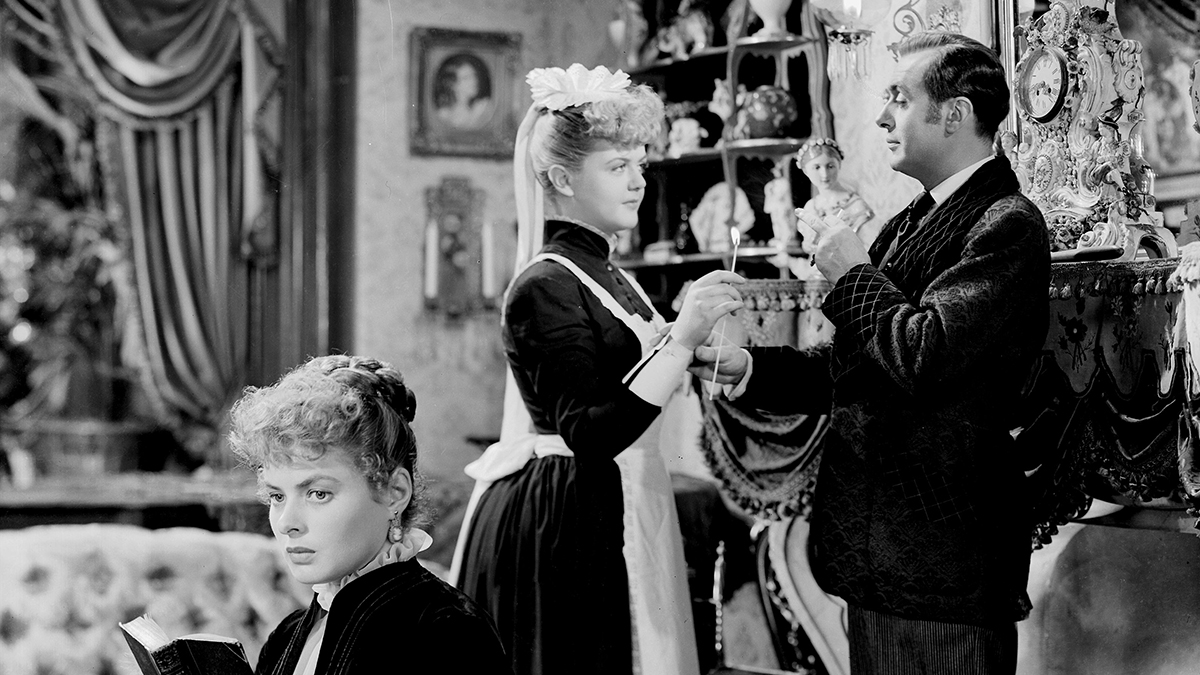 Podcast: Play in new window | Download
Subscribe: Apple Podcasts | Android | Google Play | Stitcher | RSS | More
Universal Pictures released Gaslight to theaters on October 20, 1944. George Cukor directed the film which starred Charles Boyer, Ingrid Bergman, and Joseph Cotten.
'Gaslight' Movie Summary
As a child, Paula's aunt, a famous opera singer, was murdered. The killer came for her jewels, but was unable to find them the night of the murder. Now as an adult, she meets and marries Gregory Anton. Gregory persuades Paula to move to her aunt's house in London, despite her traumatic memories of the home and the murder.
Gregory's displays angry, controlling behavior toward Paula. Paula struggles with returning to London as she settles in. While visiting the Tower of London, she loses an heirloom brooch that Gregory had given her. A picture disappears from the house, and Gregory insists that she took it, despite Paula having no recollection of doing so. Paula sees the gaslights dim spontaneously and hears footsteps in the house when nobody is around.
Gregory isolates Paula and convinces her that she is mentally ill. He plans to have her visited by doctors to have her committed to an asylum. A suspicious detective, however, trails Gregory. He learns that Gregory sneaks into the attic of their home at night through an abandoned house nearby. He waits for Gregory to sneak out one night and confronts Paula, convincing her she is, in fact, not crazy. The detective concludes that Gregory murdered Paula's aunt.
Gregory, however, finally found the aunt's jewels in the attic. When he returns, he is confronted by the detective and caught, where he is taunted by Paula and confesses to the murder.
Disclaimer
This podcast is not endorsed by Warner Home Video, and is intended for entertainment and information purposes only. Gaslight, all names and sounds of Gaslight characters, and any other Gaslight related items are registered trademarks and/or copyrights of Warner Home Video or their respective trademark and/or copyright holders. All original content of this podcast is the intellectual property of Movie House Memories, the MHM Podcast Network, and Fuzzy Bunny Slippers Entertainment LLC. unless otherwise noted.
Affiliate links contained in this post will take you to Amazon.com and/or the iTunes Store. This means when you click a link, and purchase an item, the MHM Podcast Network will receive an affiliate commission. Advertisers and Affiliate Partnerships do not influence our content. See our Terms of Use about the inclusion of affiliate links on this site for more information.
---
---