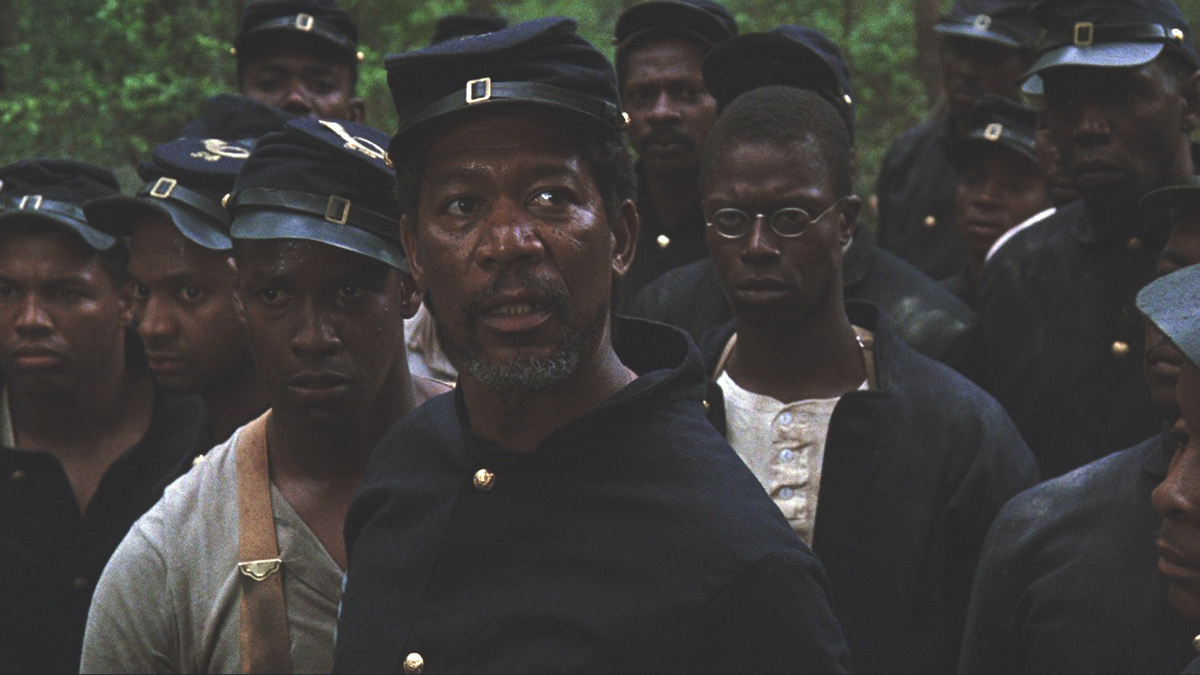 Film and Plot Synopsis
Following the Battle of Antietam, Col. Robert Gould Shaw is offered command of the 54th Massachusetts Volunteer Infantry. It just so happens to be the United States' first all-African-American regiment. Along with junior officer Cabot Forbes, Shaw puts together a strong and proud unit, including an escaped slave and wise gravedigger. At first the troops are only limited to menial manual tasks, but the regiment quickly fights to be placed one the front lines.
Buy the Film
Glory [4K UHD + Blu-ray]
7 new from $14.96
5 used from $9.73
Free shipping
as of December 7, 2021 9:08 pm
*As an Amazon Associate we earn from qualifying purchases.
'Glory' Movie Summary
The summary below contains spoilers.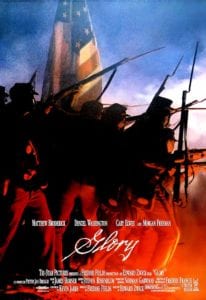 Glory
–based on the 54th Massachusetts Volunteer Infantry: the first unit of the U.S. Army made up entirely of black soldiers–takes place during the Civil War. This story of brave black soldiers, is told through the eyes of a white man. In 1989, there was but one white actor who possessed the qualities necessary to play emissary and spokesman for all African-Americans, only one man who had the gravitas one would expect of Surrogate Negro. That actor was Matthew Broderick, of Project X and War Games fame.
Matthew Broderick plays Robert Gould Shaw, one of the only historical figures in this movie based on history. Shaw was born in 1837 in Boston to a family of great wealth and social and political prominence. Shaw's parents were abolitionists, and Shaw took up the family cause by dropping out of Harvard, and taking a commission as an infantry officer shortly after the Civil War began.
Glory begins with Shaw, now a captain, leading an infantry unit at the Battle of Antietam, which would become the bloodiest single day in our nation's history, with about 23,000 casualties. Shaw suffers a minor flesh wound to his neck, but a greater wound to his psyche. He spends the rest of the movie wrestling with PTSD, or in playground terminology: whether or not to puss out. After the horrors he witnessed in the battle field and army hospital, Shaw now spills punch onto his dress blues any time a servant closes a shutter.
After the "victory" at Antietam, Lincoln issues the emancipation proclamation while Shaw's neck heals. At a reception hosted by his parents at their stately home, Shaw meets Massachusetts Governor John Andrew and Frederick Douglass. Governor Andrew informs Shaw that he and Mr. Douglass have worked together to form an all black infantry regiment entitled the 54th Massachusetts, which causes Shaw's mother to swoon, "Colored soldiers, Rob, just think of it!"
Governor Andrew then offers Shaw the commission to be colonel and commanding officer of the 54th Massachusetts. After a bit of racial needling by Shaw's close friend and drunkard Cabot Forbes, played by Cary Elwes . Shaw accepts his commission and asks Forbes to be his Major and second-in-command. Director Edward Zwick settled on the name of Cabot Forbes, after rejecting the names Preston Vanderbilt and Armstrong Cavendish, because those names just weren't white enough.
Also Volunteering for the 54th is Shaw's friend and Harvard classmate, Thomas Searles. Since Searles has received a classical education befitting of any respectable white man, he becomes the magic negro that adds class to the mostly illiterate band of runaway slaves that make up the rest of the 54th. However, Searles' foil, Private Trip, played by Denzel Washington, immediately confronts him. He calls Searles a house nigger and "Snowflake."
Searles also suffers the shock when Col. Shaw forbids him from having a friendly conversation with his friend and former Harvard classmate Forbes. Many more men join the regiment, including a freed black man with a stutter named Jupiter Shart, and the gravedigger John Rawlins, played by Morgan Freeman.
The rest of the movie shows the progress of the 54th Massachusetts. The stereotypical Irish Sergeant Major whips them into shape; in the case of Private Trip, literally whipped for going AWOL to find a better pair of shoes. Also, how the military deprives the infantry unit of necessities like uniforms, decent socks, shoes, food and provisions.
After spending time doing mostly menial work, Shaw realizes his unit is only for manual labor. Shaw confronts his commanding officers who are corrupt and profiting from the war. He threatens to report them unless they immediately deploy the 54th infantry for a suicide mission. They grant Shaw's request. Soon, the regiment participates in a skirmish in South Carolina, and they make those cowardly Rebs run away.
Soon after, Shaw volunteers the 54th infantry to lead an assault on Fort Wagner; an important Confederate stronghold near Charleston harbor. After nightfall, he leads the men in a charge upon the fort. Shaw attempts to rally the men forward, but the Confederates shoot and kill him. Numerous other soldiers in the regiment charge up the parapet and also die.
The final scene depicts the lifeless body of Colonel Shaw. He is buried in a mass grave alongside Private Trip and other soldiers from the 54th. For the commanding officer of the Confederate army at Fort Wagner, burying a white man with blacks was the ultimate insult. Shaw's father disagreed. He wrote, "We can imagine no holier place than that in which he lies, among his brave and devoted followers, nor wish for him better company."
Additional Film Information
Rate the Film!
TriStar Pictures released Glory on December 14, 1989. Edward Zwick directed the film starring Matthew Broderick, Denzel Washington, and Cary Elwes.