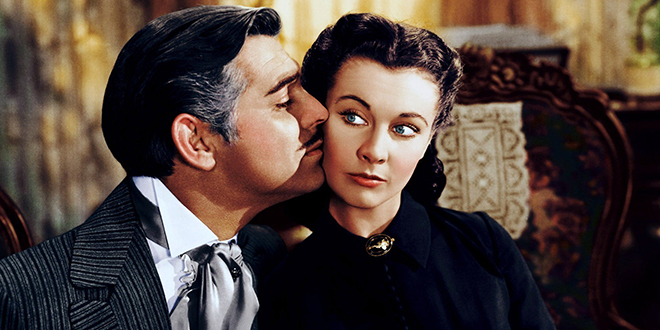 Podcast: Play in new window | Download
Subscribe: Apple Podcasts | Android | Google Play | Stitcher | RSS | More
Metro-Goldwyn-Mayer Studios Inc. released Gone with the Wind to theaters on December 15, 1939. Victor Fleming directed film which starred Clark Gable, Vivien Leigh, and Thomas Mitchell.
Gone with the Wind Movie Summary
Gone with the Wind (1939) is a love song to the antebellum South. Adapted from the best selling novel by Margaret Mitchell, it tells the tale of Scarlett O'Hara (Oscar winner Vivian Leigh) and the three loves of her life; Tara (her family plantation), Ashley Wilkes, and Rhett Butler (played famously by Clark Gable).
Scarlett is renowned as one of the most popular and strongest women in cinema and literary history. This is remarkable considering the status of women during the time the story is set.
Through three husbands and one child (in the film anyway), Scarlet uses all of her might to preserve Tara through the destruction of the American Civil War. She pines shamelessly for Ashley Wilkes despite his marriage to the saintly Melanie Hamilton (Olivia De'Havilland). Scarlett is her own worse enemy as she realizes too late that her true love is a man a lot like her, Rhett Butler. Rhett told her himself that he understands her, and loves her for who she really is.
This film stands the test of time and is a cinematic masterpiece.
Read the Full Summary
Disclaimer
This podcast is not endorsed by Metro-Goldwyn-Mayer Studios Inc., and is intended for entertainment and information purposes only. Gone with the Wind, all names and sounds of Gone with the Wind characters, and any other Gone with the Wind related items are registered trademarks and/or copyrights of Metro-Goldwyn-Mayer Studios Inc. or their respective trademark and/or copyright holders. All original content of this podcast is the intellectual property of MHM Podcast Network, Movie House Memories and Fuzzy Bunny Slippers Entertainment LLC. unless otherwise noted.
Affiliate links contained in this post will take you to Amazon.com and/or the iTunes Store. This means when you click a link, and purchase an item, the MHM Podcast Network will receive an affiliate commission. Advertisers and Affiliate Partnerships do not influence our content. See our Terms of Use about the inclusion of affiliate links on this site for more information.