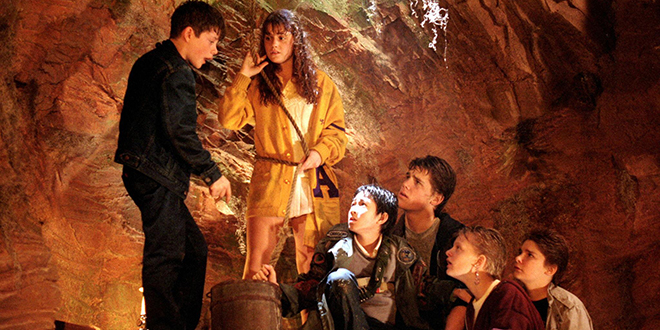 Podcast: Play in new window | Download
Subscribe: Apple Podcasts | Android | Google Play | Stitcher | RSS | More
Warner Bros. released Goonies to theaters on June 7, 1985. Richard Donner directed film starring Sean Astin, Josh Brolin, and Jeff Cohen.
The Goonies Movie Summary
Astoria is a small town in Oregon where it rains 194 days out of the year; for 170 more, it pours. That leaves one day for a Goonie adventure, but the rich douche bag of the town is putting a damper on it. He plans to expand the local country club with a kick-ass golf course. The site for this soggy sod is a neighborhood where the Goonies live.
Even though these families live near the country club, they are all somehow simultaneously facing foreclosure. With all the rain, I'd say they were underwater on their mortgages. Anyhow, the first house the greedy land developer targets is the local museum curator's abode. His son, Mikey, also known as Samwise Gamgee leads the Goonies. Samwise and his friends: Data, the token Asian; Mouth, the token coke head; and Chunk, the token fat kid are looking for some excitement on what could be their last weekend together…forever. If Facebook had existed back then his status update would have said, "I've already masturbated four times today to Phoebe Cates' breasts in Fast Times at Ridgemont High. Anyone want to go look for the rich stuff?"
Read the full summary
Disclaimer
This podcast is not endorsed by Warner Home Video and is intended for entertainment and information purposes only. The Goonies, all names and sounds of The Goonies characters, and any other The Goonies related items are registered trademarks and/or copyrights of Warner Home Video or their respective trademark and/or copyright holders. All original content of this podcast is the intellectual property of Movie House Memories, Lunchtime Movie Review, and Fuzzy Bunny Slippers Entertainment LLC unless otherwise noted.
This post contains affiliate links that will take you to Amazon.com and/or the iTunes Store. This means if you click on the link and purchase the item, we will receive an affiliate commission. Advertisers or affiliate partnerships do not influence our content. For more information, please read our Terms of Use about the inclusion of affiliate links on this site.
---
---