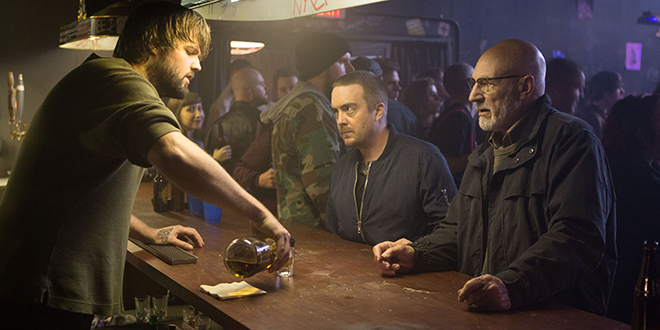 Podcast: Play in new window | Download
Subscribe: Apple Podcasts | Android | Google Play | Stitcher | RSS
Directed by: Jeremy Saulnier
Starring: Anton Yelchin, Imogen Poots, Alia Shawkat
Green Room Movie Summary
Punk Band members, Pat, Sam, Reece, and Tiger get a gig at a neo-Nazi skinhead bar outside Portland, Oregon. They piss off the audience with a cover of Dead Kennedys' "Nazi Punks Fuck Off," but they win the crowd back with their remaining songs.
The band gets paid for the show and hightails it out, but Sam has forgotten her phone in the green room. Pat goes back to retrieve it, but he enters without knocking, and stumbles upon Emily, who has just been killed with a knife to the head. Her friend Amber sits next to her in fear for her life.
Bouncers, Gabe and Big Justin, corral the band in the green room with the body at gunpoint, and take their phones until the club owner, Darcy, arrives. Darcy is not a nice man. He's a neo-Nazi drug dealer, and he aims to kill the kids to hide the original murder.
The rest of the film is a bloody tale of survival where band member after band member gets killed until only Pat and Amber are left. They go on the attack and eventually defeat the neo-nazis and Darcy. The two sit exhausted, on the side of the road, and wait for the police to arrive for a happy ending.
Disclaimer
This podcast is not endorsed by XYZ Films and is intended for entertainment and information purposes only. Green Room, all names and sounds of Green Room characters, and any other Green Room related items are registered trademarks and/or copyrights of XYZ Films or their respective trademark and/or copyright holders. All original content of this podcast is the intellectual property of Filmhouse Hustlas, MHM Podcast Network, and Fuzzy Bunny Slippers Entertainment LLC unless otherwise noted.
Affiliate links contained in this post will take you to Amazon.com and/or the iTunes Store. This Means when you click a link, and purchase an item, the MHM Podcast Network will receive an affiliate commission. Advertisers and Affiliate Partnerships do not influence our content. See our Terms of Use about the inclusion of affiliate links on this site for more information.