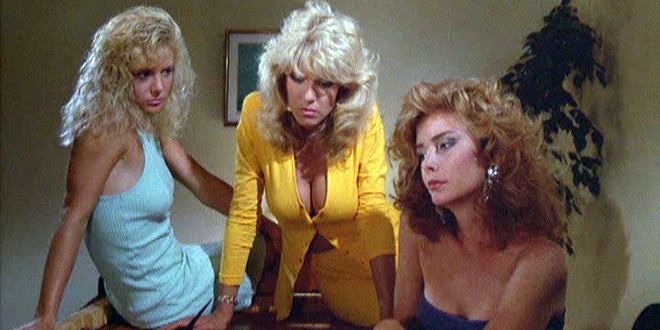 Podcast: Play in new window | Download
Subscribe: Apple Podcasts | Android | Google Play | Stitcher | RSS | More
Malibu Bay Films released Hard Ticket to Hawaii in March of 1987. Andy Sidaris wrote and directed the film starring Ronn Moss, Dona Speir, and Hope Marie Carlton.
Hard Ticket to Hawaii Movie Summary
Two women who love showing off their boobs and talking about sex end up as agents of some organization that has them run around in booty short, open sleeve side boob viewing onesies as uniforms while posing to be working for some other legitimate group. They pilot a plane with some tourists and a deadly mutated snake to Honolulu (I think – my brain is sorta broken.)
They find a cargo of diamonds dropped off via remote controlled helicopter and are attacked by some henchmen of the guy who was supposed to pick up the package. Some serious boobs are shown. A rocket launcher is shot at a sly undercover skateboard assassin and then his blow up doll. Some other agents get involved then. Boobs. Casual racism. Tourists are killed in snake side plot. We don't see her boobs and I really, really thought and hoped we would. Lame jokes. Rocket launchers! Some boobs. Little sex.
Plan to bring down the bad guy. Some boobs I hadn't seen yet on some women (I think – I didn't see their faces.) The boobs I've already seen. Razor blade frisbee. SNAKE OUT OF THE TOILET. Boss vs boobs vs snake showdown. Rocket launcher used on snake's head in precision shot from less than 10 feet away. The End. Credits. Boobs. More credits. Boobs. Boobs. The real end. Boobs.
Disclaimer
This podcast is not endorsed by Malibu Bay Films, and is intended for entertainment and information purposes only. Hard Ticket to Hawaii, all names and sounds of Hard Ticket to Hawaii characters, and any other Hard Ticket to Hawaii related items are registered trademarks and/or copyrights of Malibu Bay Films or their respective trademark and/or copyright holders. All original content of this podcast is the intellectual property of the Number Two Review, the MHM Podcast Network, and Fuzzy Bunny Slippers Entertainment LLC unless otherwise noted.
Affiliate links contained in this post will take you to Amazon.com and/or the iTunes Store. This means when you click a link, and purchase an item, the MHM Podcast Network will receive an affiliate commission. Advertisers and Affiliate Partnerships do not influence our content. See our Terms of Use about the inclusion of affiliate links on this site for more information.
---
---