Film and Plot Synopsis
Exhausted, on foot, and with his trusted dog in tow, a Cavalry dispatch rider named Hondo Lane arrives at Angie Lowe's small ranch; nested deep into war-brewing Apache territory. Isolated in their homestead, Angie lies about her husband, and defiantly ignores Hondo's advice to flee to safety. She instead decides to make a stand with her young son against chief Vittorio's menacing hordes of Apaches. As the drums of war begin to beat, Hondo becomes an unexpected protector of the land, and a true father figure for the boy.
Buy the Film
Hondo [Blu-ray]
19 new from $7.00
20 used from $2.34
Free shipping
as of December 6, 2023 3:01 pm
*As an Amazon Associate we earn from qualifying purchases.
'Hondo' Movie Summary
The summary below contains spoilers.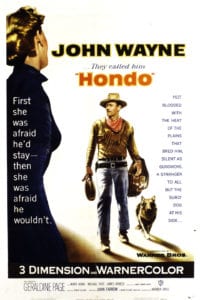 Hondo
takes place out on the New Mexico Territory, in the middle of Apache country. At the Lowe Ranch, Angie and her six-year-old son, Johnny, work the land while her husband is away.
One day, a man named Lane (John Wayne), arrives on foot asking for help after losing his horse in a confrontation with Indians. He does work around the homestead to pay for one of their horses to use. While Lane does these chores, he learns that Angie's husband has been gone for quite some time. Meanwhile, Angie learns that Lane's firs name is Hondo, and he killed three men a year ago.
Hondo soon leaves the ranch, and returns to his post where the commanding officer learns that C troop has been wiped out by the Apaches. Back at the ranch, the Apaches show up to kill Angie and Johnny. Instead, Chief Vittorio makes Johnny an Apache blood brother for his bravery in defending his mother. They leave the home in peace for now.
Back in town, Hondo beats up a man in a saloon who turns out to be Angie's husband, Ed. Since Hondo realizes that Angie's husband is still alive, he decides to return the horse to the ranch. Ed follows Hondo back to the ranch, but Hondo kills Ed in self defense before reaching it.
As Hondo continues on to the ranch, the Apache capture him, but they spare Hondo when they believe he's Angie's husband. They take a beaten Hondo back to Angie, and leave.
During Hondo's recovery over the next few weeks, he and Angie grow close, and fall in love. The Calvary arrives to safely relocate all settlers in the area from the Apache, but Hondo and Angie won't leave. The Calvary continues on, but they are ambushed down the trail from the ranch, and return with many casualties. However they do manage to kill Chief Vittorio in the attack.
Hondo takes the survivors, Angie, and Johnny back to the Army's fort, but not before telling Angie the truth about killing her husband. Hondo is set to tell Johnny that he killed his dad, but Angie won't let Hondo do it. She knows Ed is a bad person, but doesn't want to let Johnny know the truth.
The Apaches ambush the wagon train on the way back, and a battle ensues. Eventually Hondo kills the Apache's new chief, Silva, and they retreat to choose another new chief. Lieutenant McKay of the Calvary says General Crook will be arriving in the territory with a large force to pursue the Apache. Hondo laments that it will be the end of the Apache way of life, and that's too bad. Now, it's off to California with his wife-to-be, new step son, and sunshine sprinkles for the white man.
Additional Film Information
Rate the Film!
Warner Bros. released Hondo to theaters on November 27, 1953. John Farrow directed the film starring John Wayne, Geraldine Page, and Ward Bond.