Film and Plot Synopsis
In a Lonely Place begins with Hollywood screenwriter, Dixon Steele, who hasn't written a hit movie since before the war. His agent gets him a job turning a potboiler into a screenplay, but Dix thinks the story is crap. Unfortunately, he soon finds himself as a person of interest in the murder of restaurant hat check girl, Mildred Atkinson, who was last seen leaving his apartment late at night. Dix had invited her over so she could tell him about the book, which she just finished reading. While Dix is known for his anger management issues, his neighbor, Laurel Gray, gives him a reliable alibi. Soon the two fall in love, and he hires Laurel as his muse since she's inspired him to write again. However, Dix's frequent bursts of rage along with the police's incessant investigation on him causes Laurel to have her doubts over Dix's innocence.
Buy the Film
In a Lonely Place (The Criterion Collection) [Blu-ray]
8 new from $19.99
7 used from $19.94
Free shipping
as of November 19, 2023 5:14 am
*As an Amazon Associate we earn from qualifying purchases.
'In a Lonely Place' Movie Summary
The summary below contains spoilers.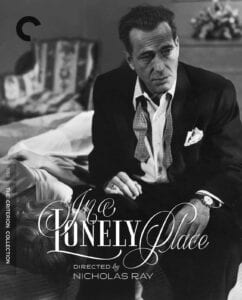 In a Lonely Place
begins with a somewhat over the hill Hollywood screenwriter named Dixon "Dix" Steele looking for his first hit movie since before the war. As Dix drives to a nightclub to meet his agent, Mel Lippman, he gets in an argument with another motorist in a little road rage spat. We learn that Dix teeters between his mild-mannered disposition and a violent temper. Anyone who knows Dix constantly walks on eggshells with him.
Once at the nightclub, Mel gives him a book he wants Dix to adapt into a movie. The hat-check girl named Mildred Atkinson is busy reading the book, and she asks Dix if she can have a few minutes to finish reading it before she hands it over to him. Not enthusiastic about the job, he obliges her request.
While Dix waits with Mel and his friend Charlie, a brash young director begins bad mouthing Charlie because he's a washed up actor and drunk. For a second time in this brief opening, we witness Dix' erratic behavior and violent temper. He attempts to punch out the director before everyone breaks the two up.
By this time, Dix claims to be too tired to read the novel. He asks Mildred to cancel her date with her boyfriend Henry Kesler, and go back to his place to tell him all about the story. As they arrive, Dix catches sight of his new neighbor, Laurel Gray, and there is a bit of a spark between the two of them.
In Dix's apartment, Mildred is a bit apprehensive that Dix is trying to schtoop her, but once she learns he really only wants her to tell him the story, she does. As she retells it, Dix concludes the book is utter garbage. He gives Mildred two $10 bills to take a cab home, and sends her on her way.
In the morning, Police Detective (and Dix's old army buddy) Brub Nicolai asks him to come downtown with him. His boss, Captain Lochner, wants to question Dix in the death of Mildred Atkinson. He tells Dix that Mildred was found dead that morning; strangled and thrown from a moving vehicle. Dix has a very flip and unemotional reaction to the news which makes the Captain very suspicious of Dix. However, Dix says obviously Henry Kesler killed her. The Captain doesn't buy it.
The police also bring in Dix's new neighbor, Laurel Gray for questioning. She confirms seeing Mildred leave Dix's apartment alone, alive, and unharmed around 12:30 in the morning. However, with Dix's recorded violent history, the Captain considers Dix a prime suspect. As callous and unsympathetic as Dix appears towards Mildred's fate, on his way home from the police station, he anonymously sends her two dozen white roses.
During the Captain's questioning of Laurel, she reveals that she likes Dix's face, and he's now infatuated with her. He has Mel look her up in a casting book, and learns she's an aspiring actress in town, but has only managed a few low-budget films. He meets Laurel again, and gets her to type up his screenplay he's writing for Mel. The to begin to fall in love. Laurel is something of a muse for Dix, and their relationship inspires him to write a story he's been mulling around in his head, but didn't have the proper mindset to go through with it until he met Laurel.
This new love affair doesn't stop Dix's erratic and violent behavior. Little comments he makes lead Mel and Detective Brub's wife, Sylvia, to wonder if he really did kill Mildred. When Captain Lochner calls Laurel down to his office again to share Dix's record of violent mishaps, she too begins to wonder if Dix could have killed the girl.
While at the beach on a night picnic with Brub, his wife, and Laurel, Dix learns Laurel had a meeting with the captain she didn't tell him about. He has another violent fit that leads him to jump in his car and angrily drive off. Laurel manages to get in before he speeds away, but the drive only serves to terrify the woman.
Dix speeds down winding roads until he sideswipes a car. That driver gets out to confront Dix, but Dix beats the kid unconscious, and as he gets ready to smash his face in with a rock, Laurel stops him; now more fearful than ever that Dix is in fact capable of murder.
By now, Laurel cannot sleep without the aid of sleeping pills. She's both afraid and distrustful of Dix, and she's cracking from the stress of it all. Dix, sensing something is amiss, asks Laurel to marry him. Fearful of what he'd say or do if she said no, she says yes. However, she makes a plane reservation for New York to leave town as soon as possible.
Dix eventually finds out, and becomes so angry and violent that he almost strangles Laurel to death. Luckily, he comes to his senses before anything bad happens. The phone rings, and interrupts the scene. Brub is on the phone to tell Dix the good news that Mildred's boyfriend, Henry, confessed to killing Mildred.
The Captain asks to speak to Laurel to apologize for any inconvenience this ordeal caused them, but unfortunately, they are a day late, and a dollar short. Nothing can salvage Dix and Laurel's relationship. Dix walks out of Laurel's apartment, down the sidewalk, and out of her life for good.
As she looks on, you are left to remember Dix's line from the film, "I was born when she kissed me. I died when she left me. I lived a few weeks while she loved me."
Additional Film Information
Rate the Film!
Columbia Pictures released In a Lonely Place on May 17, 1950. Nicholas Ray directed the film which starred Humphrey Bogart, Gloria Grahame, and Frank Lovejoy.