Film and Plot Synopsis
A C-47 transport plane, named the Corsair, makes a forced landing in the frozen wastes of Quebec. The plane's pilot, Captain Dooley, must keep his men alive in deadly conditions while waiting for rescue.
Buy the Film
Island In The Sky (Special Collector's Edition)
26 new from $4.00
85 used from $1.99
Free shipping
as of September 25, 2023 2:15 am
*As an Amazon Associate we earn from qualifying purchases.
'Island in the Sky' Movie Summary
The summary below contains spoilers.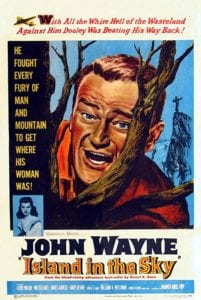 Island in the Sky
is based on one of the chapters in the 1944 novel
Fate Is The Hunter
which Ernest K. Gann wrote. The film follows the story of a pilot and crew of a World War II-era Douglass C-47 Skytrain. The pilot, Dooley (
John Wayne
), is a former airline pilot; pressed into service during the war to fly war supplies across the northern route to England.
During a return run, Dooley and his crew encounter formidable weather conditions that begin to ice their plane over. Dooley lands the plane in the uncharted wild lands near the Quebec-Labrador border due to low visibility and icy conditions.
Unfortunately, they are unsure where they have landed specifically, and cannot radio their specific location to would be rescuers. To make matters even worse, the arctic conditions that they find themselves in as well as their lack of food make the crew's chances of survival on land almost as bad as their chances in the sky.
Dooley's men encounter extreme winter cold with temperatures plummeting to -70°F with visibility a mere few feet. Dooley's co-pilot, Lovatt, dies during a storm after a whiteout prevents him from finding his way back to shelter. Things begin to look grim for Dooley and his crew.
However, Dooley's pilot friends will not rest while their fellow airman's life is in danger. The rag tag group of pilots begins a methodical search of the snow covered mountains, desperately listening for the ever fading radio signal from Dooley's portable unit. They look for Dooley's plane and smoke from the crew; but despite flying near Dooley's landing site a couple of times, they just don't see the small plane on the frozen lake.
Ultimately, the rescue teams make one last attempt to find the nearly frozen airmen, and fortunately, come across them in the nick of time. The rescue planes drop supplies and messages for the stranded airmen. The planes will soon return to save Dooley and his men from their island in the sky.
Additional Film Information
Rate the Film!
Warner Bros. released Island in the Sky on September 3, 1953. William A. Wellman directed the film starring John Wayne, Lloyd Nolan, and Walter Abel.