Film and Plot Synopsis
Jack Frost is the lead singer of a band that spends much of the year on the road touring the country. As a result, Jack doesn't spend as much time with his wife, Gabby, and his son, Charlie. Jack loves his family very much, and ditches out on a gig at the last minute near Christmas. However, he is killed in a car accident. A year later, his son's love and loneliness resurrects Jack in the form of a snowman that his son makes shortly before Christmas. Now, Jack has a second chance to be a father to his son, and get his family on the road to recovery.
Buy the Film
Jack Frost
14 new from $5.98
63 used from $1.99
Free shipping
as of September 20, 2023 12:26 pm
*As an Amazon Associate we earn from qualifying purchases.
'Jack Frost' Movie Summary
The summary below contains spoilers.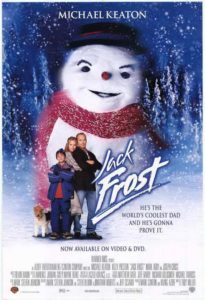 Jack Frost (
Michael Keaton
) is the lead singer of "The Jack Frost Band", a rock band. Although the band is based out of Medford, Colorado, Jack and the band spend many months out of the year away from home performing blues covers and some original songs in the hope of being signed to a record deal. Jack comes home and discovers that his 11-year-old son Charlie (
Joseph Cross
) has just gotten into a snowball fight with the local bully Rory Buck (
Taylor Handley
). Jack and Charlie build a snowman together in the front yard. Once they are done, Jack gives Charlie his best harmonica, the one Jack got the day Charlie was born. Jack tells his son that the harmonica is magical, and that he can hear it wherever he is.
Being away from home has affected Jack's marriage to his wife Gabby (Kelly Preston). Jack promises Gabby that he will attend his son's hockey game later that day, but ends up missing the game so that he can record "Don't Lose Your Faith". Jack tries to make up for missing the hockey game by promising to take the family on a Christmas trip in the mountains. However, Jack is called to do a gig that could make his career and chooses to go to the gig while his family goes to the mountains without him. On the way to the gig, Jack realizes his mistake and borrows his friend's car to go and rejoin his family in the mountains. Unfortunately, a bad storm moves in and Jack has difficulty seeing through the windshield. He crashes the car and dies.
One year later, Charlie is still trying to recover from his father's death. He has withdrawn into himself and away from his friends. One night shortly before Christmas, Charlie makes another snowman in the form of his father. He plays Jack's harmonica before going to sleep. As Jack told his son, the harmonica is magical and resurrects Jack in the form of Charlie's snowman. Jack is thrilled to be alive again and attempts to greet his son, but ends up terrifying Charlie.
The next day, Charlie finds Jack in his yard and runs away from him. However, Charlie runs into a snowball battlefield where Rory throws snowballs at Charlie. Jack jumps into the battle on Charlie's behalf and hits Rory and the other children with snowballs. Afterwards, Jack and Charlie escape on a sled. Once the two of them are safe, Charlie realizes that the snowman is his father after Jack uses his nickname for Charlie. Jack reconnects with Charlie and teaches him the values that he never got to teach him when he was alive.
Jack teaches his son some hockey lessons. Jack tells Charlie to rejoin the hockey team instead of grieving over this death. Charlie soon becomes the best player on the team. At the same time, Mac MacArthur (Mark Addy) who was Jack's keyboard player and best friend, continues to be a friend of the family and becomes a father figure to Charlie.
Soon, winter begins to come to an end. Jack begins to melt and struggles to get to Charlie's hockey games. Charlie decides to take his father to the mountains where it is much colder. However, he has a difficult time convincing Gabby to take them. Charlie encounters Rory again, who insults both Charlie and Jack. Jack speaks and corrects Rory's grammar in front of the bully in his snowman form. Rory changes his behavior after learning the snowman is alive and sympathizes with Charlie for not having a father. Rory helps sneak Jack onto a truck that is heading to the mountains.
Once at the mountains, Jack and Charlie arrive at the cabin that the family was going to stay at before Jack's death. Jack calls Gabby on the phone and asks her to come to the cabin to pick up Charlie. Gabby is dumbfounded by the sound of her deceased husband's voice, but recognizes Jack's voice and follows his instructions. Once Gabby arrives at the cabin, the snowman shell dissipates, revealing Jack in his ethereal form. Jack tells Charlie he will be with him wherever he goes and, after saying farewell to both Charlie and Gabby, he returns to the afterlife.
The film ends with Charlie playing hockey with his friends, which now includes Rory. Gabby watches her son play with enthusiasm while Mac plays music on the organ. The final street scene shows that all the front lawns have snowmen on them.
Additional Film Information
Rate the Film!
Warner Bros. released Jack Frost on December 11, 1998. Troy Miller directed the film starring Michael Keaton, Kelly Preston, and Joseph Cross.