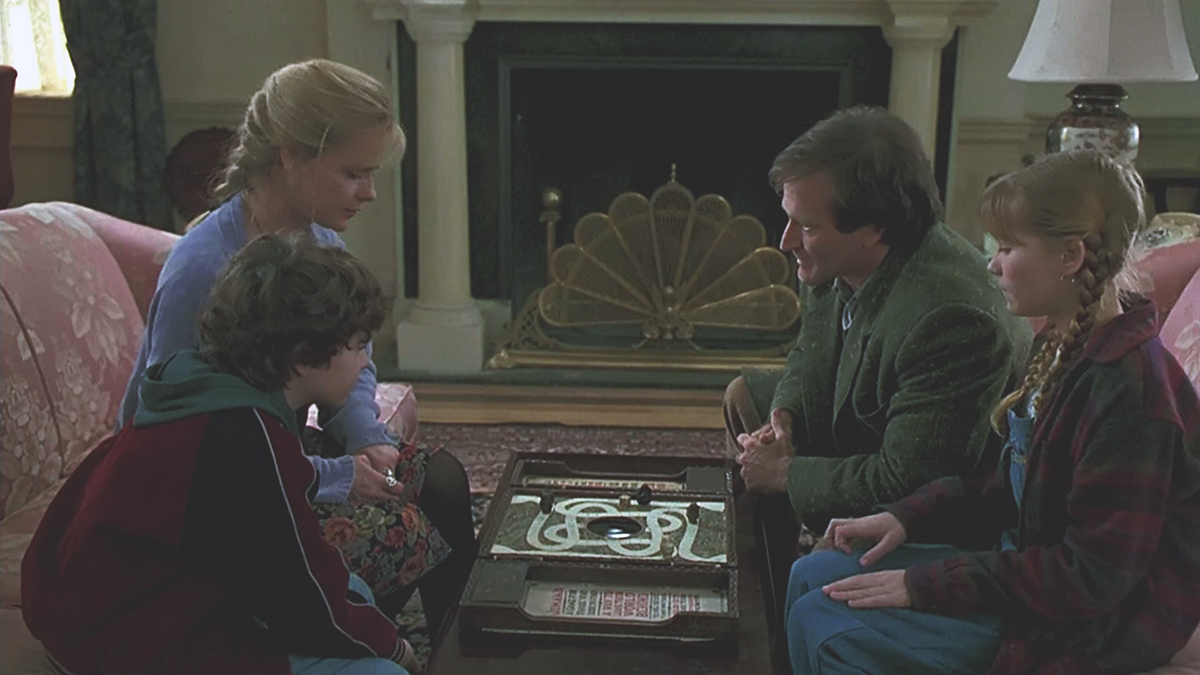 Film and Plot Synopsis
When young Alan Parrish discovers a mysterious board game named Jumanji, he doesn't realize its unimaginable powers until he is magically transported–before his friend Sarah's startled eyes– into the untamed jungles of Jumanji. He remains there for 26 years until two unsuspecting children free him from the game's spell. Now a grown man, Alan reunites with Sarah, and they and the children try to outwit the game's powerful forces.
Buy the Film
Jumanji (4K UHD + Blu-ray)
9 used from $9.01
Free shipping
as of June 26, 2022 2:53 pm
*As an Amazon Associate we earn from qualifying purchases.
'Jumanji' Movie Summary
The summary below contains spoilers.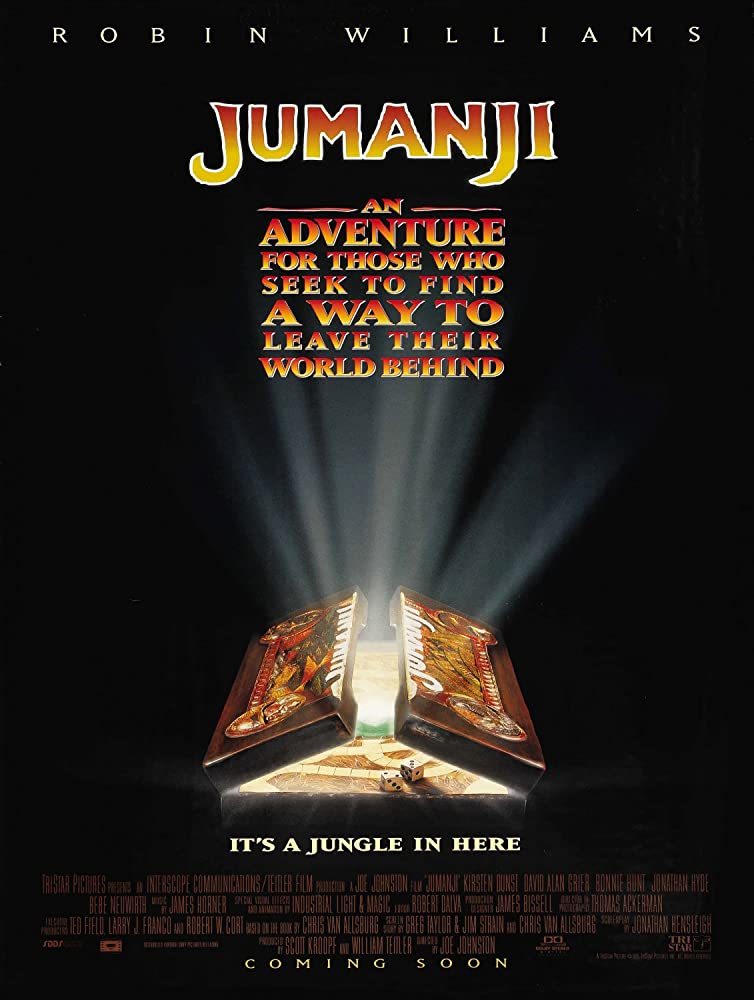 Jumanji
begins in 1869, near Brantford, New Hampshire when two young boys bury a chest deep in the Earth. The chest continuously produces some tribal drumbeats until it is buried. Nearly 100 years later, Alan Parrish (
Adam Hann-Byrd
) is chased by a group of bullies and seeks shelter at his father's shoe factory. Alan talks to Carl Bentley (
David Alan Grier
), a factory employee who has a vision for a new shoe prototype that he believes will revolutionize the shoe industry. Alan misplaces the shoe and it damages a machine. Alan's father, Samuel Parrish (
Jonathan Hyde
) fires Carl after he accepts responsibility for Alan. Samuel also sends Alan home. The bullies beat up Alan and steal his bike after he leaves the factory.
Alan walks home and hears the mysterious tribal drumbeats. He goes into a construction site and finds a sealed chest. Once he opens it, he finds the board game Jumanji. Alan take the game and heads home. Alan fights with his father at home about his father's plan to send him to boarding school in order to make him a man. His father and his mother, Carol-Anne Parrish (Patricia Clarkson), leave to go to a dinner party. Alan packs his things and plans to run away. There is a knock at the door and his friend Sarah Whittle (Laura Bell Bundy) is at the door with his stolen bike.
Alan shows her the Jumanji game and Sarah inadvertently starts a game by throwing the dice on the board. Each time the dice are rolled, the pieces move on their own and a mysterious message appears at the center of the game. Sarah rolls the dice, and a squeaking noise comes from the fireplace. Alan rolls the dice and he is taken into the jungle within the game until someone else rolls a five or eight. Alan disappears in front of Sarah's eyes, and then bats come out of the fireplace chasing Sarah from the house.
Twenty-six years later, Judy and Peter Shephard (Kirsten Dunst and Bradley Pierce) are moving into the vacant Parrish home with their Aunt Nora Shephard (Bebe Neuwirth). Judy and Peter's parents were killed in an accident several months before and the kids were placed with their single aunt. Nora and the kids unpack their things and set up the house. Judy and Peter find the Jumanji game in the attic one day and begin playing it. Their rolls summon giant mosquitos and a pack of monkeys. They read the instructions which states that everything will be restored when the game ends, so they continue playing. Peter's rolls a five which releases a lion and a grown up Alan (Robin Williams).
Alan locks the lion in Nora's bedroom and then leaves the Shephard house looking for his father. Judy and Peter follow. Alan runs into Carl, who is now a deputy police officer. While Carl interrogates Alan, a group of monkeys get into his squad car and drive away. Alan, Judy, and Peter go to the now abandoned shoe factory. A homeless man tells Alan that Samuel Parrish was devastated by the disappearance of his son and abandoned the business to look for him, eventually closing the factory. Alan also learns that his parents died.
Alan realizes that they need to finish the game after encountering more monkeys and the giant mosquitos. He also realizes that they need Sarah to finish the game, so they track her down. Sarah (Bonnie Hunt) is now a traumatized adult after witnessing Alan disappear in front of her eyes twenty six years earlier. Alan and the kids have to convince her to play. Once they are back at the Shephard house, Sarah's next move releases dangerous fast-growing plants that almost swallow Peter. Alan's next move releases the hunter Van Pelt (Jonathan Hyde) whom Alan has met previously in the jungle. The next roll releases a stampede of various animals. A pelican steals the game and flies away as the group recovers from the stampede.
Peter is able to retrieve the game, but Alan is arrested by Carl while they are outside. The kids continue to play and Peter begins to transform into a monkey after attempting to cheat. The stampede causes chaos and destruction as it runs through town. Van Pelt steals the game in an attempt to lead Alan to him. Peter, Sarah, and Judy track Van Pelt to a department store, where they set booby traps and reacquire the game. Meanwhile, Alan reveals his identity to Carl and apologizes for not confessing to ruining the machine that resulted in Carl's termination years before. Carl sets Alan free.
Alan, Sarah, Judy, and Peter all return to the Shephard house. The house is now overgrown by jungle plants. They continue to play the game, creating quick sand, earthquakes, and other calamities. Van Pelt returns and corners Alan, intending to kill him. Alan drops the dice and lands the winning roll. Everything that has been created by the game is suddenly pulled back into the game. Also, everything that happened as a result of the game is reversed.
Suddenly, Alan and Sarah are returned to 1969 as children. They still have their full memories of everything that happened. Alan reconciles with his father, who tells him that he doesn't have to attend boarding school. Alan confesses to his father that he damaged the machine at the factory, not Sam. Alan and Sarah throw the game into river. Sarah kisses Alan, showing her affection for her friend.
Twenty six years pass again. Alan and Sarah are married and are successfully running the shoe factory. They live in the Parrish mansion and are expecting their first child. Alan and Sarah meet Judy, Peter, and their parents, who did not die in this timeline. Alan offers their father a job and convinces them to cancel their upcoming ski trip, averting their deaths.
The film ends with two young girls hearing the drumbeats of the game while walking on a beach. A short distance away, the Jumanji board lies half buried in the sand.
Add the film to your collection today!
Additional Film Information
Rate the Film!
TriStar Pictures released Jumanji on December 15, 1995. Joe Johnston directed the film starring Robin Williams, Kirsten Dunst, and Bonnie Hunt.