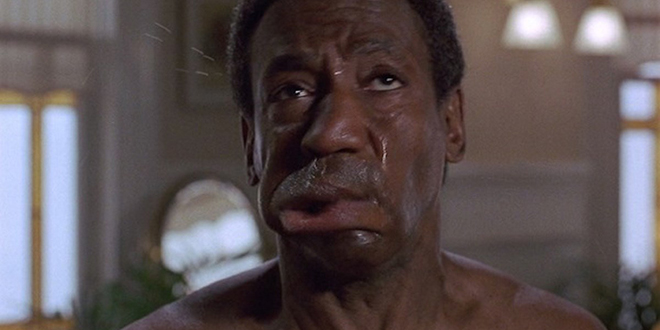 Podcast: Play in new window | Download
Subscribe: Apple Podcasts | Android | Google Play | Stitcher | RSS | More
Columbia Pictures released Leonard Part 6 to theaters on December 18, 1987. Paul Weiland directed the film starring Bill Cosby, Tom Courtenay, and Joe Don Baker.
'Leonard Part 6' Movie Summary
Leonard Parker may be the world's most dangerous spy, but this former CIA agent has decided to retire from the game and become a wealthy restaurateur. However, when active agents start getting executed by housecats, squirrels, gophers, and bullfrogs, the CIA pulls Leonard back into the game. His mission: break into the International Tuna factory and confiscate the device controlling these animals from Medusa Johnson, the evil vegetarian terrorist.
Leonard fights off a flock of vegetarians dressed in bird costumes and horny workers bees to retrieve the mind controlling sphere, successfully completing his mission. However, his happiness is short lived. Medusa's goons kidnap Leonard's estranged wife, using her as leverage to get the sphere back from the CIA. Leonard, using a little mind control of his own, enlists lab rabbits to attack CIA agents so he can regain possession of the mind controlling device.
Leonard returns to the Tuna factory to save his wife, but is taken captive, then briefly tortured by a pod of lobsters. Parker, being the super spy that he is, utilizes the lobsters' claws to help him break free. Once out of his shell, excuse me…cell, Leonard uses hamburger patties, wieners, and Alka-Seltzer tablets to bring down the evil vegetarian terrorist and destroy her lair. Leonard narrowly escapes the burning factory on the back of a friendly ostrich and makes it back safely to his wife and daughter.
THE END
Disclaimer
This podcast is not endorsed by Sony Pictures Home Entertainment, and is intended for entertainment and information purposes only. Leonard Part 6, all names and sounds of Leonard Part 6 characters, and any other Leonard Part 6 related items are registered trademarks and/or copyrights of Sony Pictures Home Entertainment or their respective trademark and/or copyright holders. All original content of this podcast is the intellectual property of the Number Two Review, the MHM Podcast Network, and Fuzzy Bunny Slippers Entertainment LLC unless otherwise noted.
Affiliate links contained in this post will take you to Amazon.com and/or the iTunes Store. This means when you click a link, and purchase an item, the MHM Podcast Network will receive an affiliate commission. Advertisers and Affiliate Partnerships do not influence our content. See our Terms of Use about the inclusion of affiliate links on this site for more information.
---
---