Film Synopsis
In Mean Girls, Cady Heron moves to the United States from Africa. On her first day at her new school, she meets Janis and Damian. Her new friends warn her to stay away from the Plastics—the school's most exclusive clique—comprised of Regina, Gretchen, and Karen. When Cady meets Aaron Samuels, she falls in love with him, but Regina gets jealous, and steals him. Now Cady, Janis, and Damian plot to bring Regina's down peg or two. However, Cady spends more time with the Plastics, she begins to become one of them. Everyone just might lose something in the end.
Buy the Film
Mean Girls
4 new from $9.99
9 used from $4.14
Free shipping
as of March 29, 2023 12:00 pm
*As an Amazon Associate we earn from qualifying purchases.
'Mean Girls' Movie Summary
The summary below contains spoilers.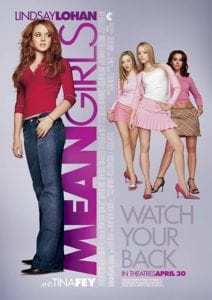 In
Mean Girls
, Cady Heron is a 16-year-old transfer student from Africa whose parents have home schooled her for her entire life. After 12 years of research there, it was time for them to return back to the United States.
Not surprisingly, Cady isn't prepared for her first day of public high school. Janis Ian and Damian Leigh take her under their wing to teach her about the school's cliques. They do warn Cady about the Plastics, the school's most exclusive clique.
Regina George is that group's queen bee, and she takes an interest in Cady's arrival to the school. She invites Cady to sit with her and the other Plastic members—the insecure, Gretchen Wieners and the not-so-bright, Karen Smith—at lunch. After school, they also all go shopping together. When Janis realizes that the Plastics have accepted Cady into their group, she plans to use Cady to get her revenge on Regina.
Regina and her Burn Book
Soon the Plastics share their Burn Book with Cady. It contains Regina's top secret notebook full of rumors, secrets, and gossip about all the other girls and even teachers in their class. However, when Cady falls for Regina's ex-boyfriend, Aaron Samuels, Regina gets jealous and steals him back.
With hurt feelings, Cady goes on with Janis' plan in turning Aaron, Gretchen and Karen against her. She pretends that she's having trouble in math to get Aaron's help, and then lies to him that Regina was messing around with another boy. Next, Cady fools Regina into thinking some high-calorie nutrition bars called Kälteen really help you lose weight. Finally, she makes Gretchen think Regina likes Cady more.
The more revenge Cady gets on Regina, the more she assumes Regina's personality. She quickly becomes just as mean as Regina, and eventually abandons Janis and Damien to focusing on her image.
Regina tries some revenge of her own after she reveals the entire contents of her Burn Book to the school. It causes quite a ruckus around campus too. To make it look like she's just as much a victim as the other students, Regina adds a fake tidbit about herself—hoping Cady, Gretchen, and Karen will front the blame for it.
Principal Duvall eventually quiets the ruckus as the math teacher, Ms. Norbury—who also fell victim to the Burn Book's lies—makes the girls realize they are all guilty of hurting their peers. She makes each one confess and apologize to the rest of the girls.
Is the school full of mean girls?
When Janis' turn comes about, Regina insults her with a joke about her sexuality. As everyone in the crowd laughs, Janis confesses her plan to ruin Regina's reputation with Cady's help. She then mocks Regina to the school's delight. Regina storms off, and Cady runs after her to apologize. Suddenly, a bus hits Regina (after which, rumors around the school suggest Cady actually pushed her in front it).
Now, Cady finds herself alone with everyone not able to trust her including her parents. So she decides to take full blame for the Burn Book. Although her confession results in a severe punishment, she no longer feels guilty, and her old personality returns.
Part of her punishment requires that she join the Mathletes in their competition which is total social suicide. While there, Cady realizes as she competes against a very unattractive girl that even if she made fun of her appearance it wouldn't stop that girl from beating her.
At the Spring Fling dance, the student body elects Cady as their Queen, but in her acceptance speech, she says the little victory is meaningless—they are all wonderful in their own way and thus the victory belongs to everyone. She breaks her tiara, and gives the pieces to her classmates. She then makes up with Janis, Damien, Aaron, and the Plastics.
The film ends with the Plastics disbanding as a clique. Regina joins the lacrosse team. Karen becomes the school weather girl, Gretchen joins the Cool Asians, and Cady hangs out with Damien and Janis. Now the Girl World is drama-free.
Add the film to your collection today!
External Links
Rate the Film!
Paramount Pictures released Mean Girls on April 30, 2004. Mark Waters directed the film starring Lindsay Lohan, Jonathan Bennett, and Rachel McAdams.